In the ever-evolving landscape of personal computing, one name stands out as a true game-changer: the Power Macintosh 6400. Introduced by Apple on October 23, 1996, this formidable machine marked a pivotal moment in computing technology and design. Priced starting at $2,200, the Power Macintosh 6400 was aimed squarely at power users who demanded nothing less than top-tier performance and versatility from their computing devices.
The Power Macintosh 6400 belonged to the esteemed Power Macintosh series and was built upon the PCI-based "Alchemy" architecture, which it shared with its predecessors, the Power Macintosh 5400 and 6300/160.
However, what truly set it apart was its unique tower configuration, providing ample space for a dual riser card capable of accommodating two PCI cards. Furthermore, it featured an L2 cache slot that could be used as a processor direct slot, allowing users to upgrade it to a PowerPC G3 processor—a testament to Apple's commitment to forward compatibility.
Under the hood, the Power Macintosh 6400 packed a powerful punch. Equipped with a blazing-fast 180 MHz or 200 MHz PowerPC 603e processor, it was, without a doubt, one of the fastest personal computers available during its heyday.
Complementing this impressive processing power was 16 MB of RAM, a 1.6 GB or 2.4 GB hard drive, an 8x CD-ROM drive, a 1.44 MB floppy drive, and an SRS 3D surround sound system with a subwoofer. All of this was elegantly housed within a sleek, rounded tower case, making the Power Macintosh 6400 an all-in-one solution for even the most demanding computing needs.
Regrettably, the Power Macintosh 6400 had a relatively short lifespan and was discontinued on May 1, 1997. However, this move was not a sign of stagnation but rather a testament to Apple's unwavering commitment to innovation and product improvement. The technology industry is relentless in its pursuit of progress, and Apple, as always, was at the forefront of this relentless march forward.
While the Power Macintosh 6400 was primarily marketed to the North American education market, its consumer counterpart, the Performa 6400, found its way into homes worldwide. This ensured that the brilliance of this machine touched the lives of users far and wide, cementing its place in computing history.
Today, the Power Macintosh 6400 has reached the ripe age of 27 years, yet its legacy endures undiminished. It serves as a testament to Apple's commitment to innovation and design excellence, a beacon in the annals of computing history. Whether you were one of the fortunate users back in the day or simply appreciate the profound impact it had on the industry, the Power Macintosh 6400 remains an indelible and integral part of the tapestry of technology.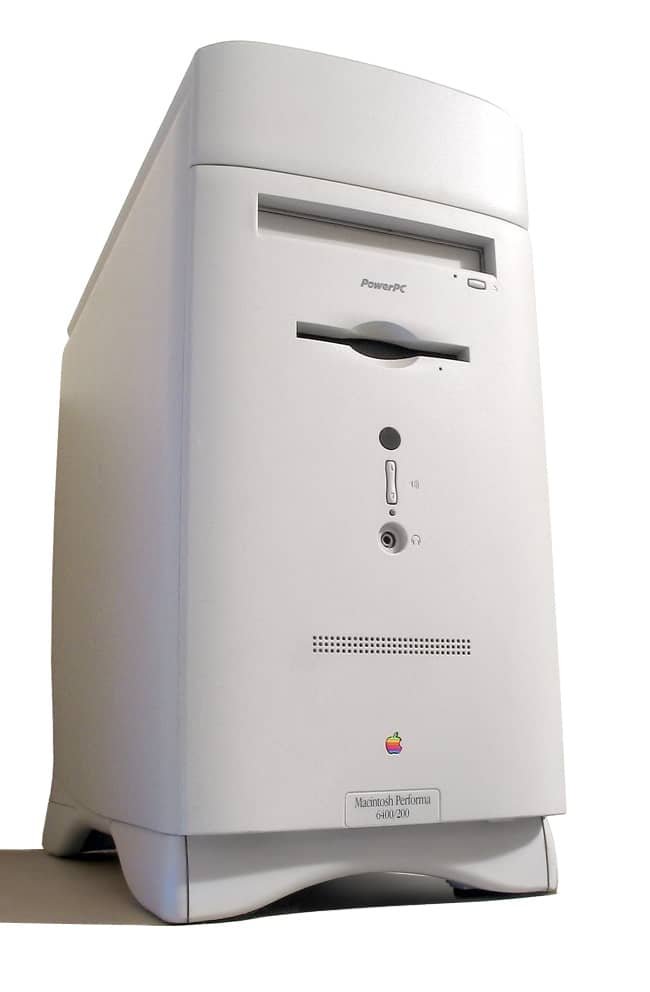 Power Macintosh 6400 Details
Introduced
October 23, 1996
Discontinued
May 1, 1997
Model Identifier
58
Model Number
M3548
Order Number
M5427LL/A
Original Price
$2,200
Colors
Platinum
Weight
44,5 Ibs.
20.184 KG
Dimensions
16" H x 7.8" W x 16.9" D
40.64 cm H x 19.81 cm W x 42.92 cm D
Power Mac 6400 Tech Specs
Processor
Processor
PowerPC 603e
Processor Speed
180 MHz
200 MHz
Architecture
32-bit
Number of Cores
1
System Bus
40 MHz
Cache
32 KB L1
256 KB L2
Coprocessor
Built-in FPU
Storage & Media
Storage
1.6 GB
2.4 GB
Media
1 – 1.44 MB Floppy
1 – 8x CD-ROM
1 – Zip 100 (Optional)
Memory
| | |
| --- | --- |
| Built-in Memory | 16 MB |
| Maximum Memory | 136 MB |
| Memory Slots | 2 – 168 pin DIMM |
| Minimum Speed | 70 ns |
| ROM | Unknown |
| Interleaving Support | No |
Display
Graphics
| | |
| --- | --- |
| Graphics Card | None |
| Graphics Memory | 1 MB |
| Display Connection | 1 – DB-15 |
Expansion
Expansion Slots
2 – 7″ PCI
1 – Comm II
1 – Video I/O
1 – TV
Hard Drive Interface
IDE
Connections
Ethernet
10BASE-T (Optional)
Modem
28.8k
Wi-Fi
None
Bluetooth
None
ADB
1
Serial
2
SCSI
1 – DB-25
Floppy Port
None
Infrared
None
Audio In
1 – 3.5-mm analog input jack
Audio Out
2 – 3.5-mm analog output jack
1 – Built-in subwoofer
1 – Built-in speaker
Display
1 – DB-15
Software
Power
| | |
| --- | --- |
| Backup Battery | 4.5 V Alkaline |
| Maximum Continuous Power | 220 W |
| Line Voltage | 100-125 V / 200-240 V |
Further Reading and References
Would you like to know more about Apple products? Stay up-to-date with the latest Apple News. Check our blog for the latest releases, rumors, and updates in the world of Apple.
Disclaimer: The data presented in this article is under continuous development and has been manually collected from various sources based on their availability. The author of this article may revise this dataset as additional research is conducted and reviewed. Please note that the information is provided "as is" and "as available" without express or implied warranties. The author cannot be held responsible for any omissions, inaccuracies, or errors in the published information. Any warranties relating to this information are hereby disclaimed.
Last updated: September 23, 2023