In the ever-evolving landscape of technology, there are certain devices that mark a turning point, an era of innovation that has shaped the course of progress. The Power Macintosh 7200, a groundbreaking creation by Apple, stands as one such icon. As we journey back to its release in August 1995, we uncover a piece of tech history that not only redefined computing but also forged the path for Apple's ascendancy.
In an era where computing was taking its early steps towards widespread adoption, the Power Macintosh 7200 emerged as a symbol of technological prowess. Starting at a price point of $1,700, it was more than just a machine – it was a gateway to the future. Boasting a 75 MHz / 90 MHz or 120 MHz PowerPC 601 processor, 8 MB or 16 MB of RAM, a 500 MB or 1.2 GB hard drive, a 4x or 8x CD-ROM drive, and a 1.44 MB floppy drive, the 7200 was a marvel in every sense.
One of the most intriguing aspects of the Power Macintosh 7200 was its versatility. While designed primarily for Apple's proprietary operating system, the tech giant recognized the evolving landscape of computing preferences. For those who swore by the MS-DOS or Windows ecosystem, Apple ingeniously offered a PC version powered by a 100 MHz Intel Pentium processor. This move showcased Apple's commitment to inclusivity without compromising its identity.
Fast forward 28 years, and the Power Macintosh 7200 might have been discontinued, but its impact reverberates through the corridors of tech history. This machine wasn't merely a collection of components; it was a catalyst that accelerated Apple's trajectory in the realm of personal computing. The 7200 was a testament to Apple's audacity to push boundaries and redefine the limits of innovation.
In an era where technology races forward at breakneck speed, the Power Macintosh 7200 stands as a relic of the past, a treasure trove of nostalgia. It transports us to a time when Apple was still finding its footing in the personal computing arena. Even today, the 7200 remains a symbol of the raw innovation, boundless creativity, and relentless pursuit of excellence that defines Apple.
One of the defining characteristics of the Power Macintosh 7200 was its new case design, which set it apart from its predecessors. With a slide-off cover, an additional internal drive bay, and a flip-up drive/power supply assembly, accessibility was at the forefront. Apple's commitment to user-friendly design was palpable – the motherboard was no longer a distant entity but a part of daily interaction.
As with any technological advancement, the Power Macintosh 7200 was not without its challenges. It heralded the shift from NuBus to the PCI bus, a significant leap in terms of speed and efficiency. The introduction of the 120 MHz model in 1996 phased out its predecessors, reinforcing Apple's dedication to progress.
Digging deeper into the 7200's capabilities, enthusiasts discovered that its performance could be taken to new heights. Adding a level 2 cache and upgrading VRAM to 2 or 4 MB transformed it into a powerhouse, showcasing its inherent potential. Despite its slightly slower performance due to a 64-bit memory and cache bus, the 7200 retained its charm, captivating users with its capabilities.
However, the journey of the Power Macintosh 7200 wasn't devoid of hiccups. Dubbed the "Compromised Mac" by some, it faced criticisms for the execution of its promised upgrade path. It wasn't until the late 2000s that Sonnet managed to create an accelerator that truly unlocked the machine's potential. This hiccup, however, speaks volumes about the intricacies of technological innovation and the challenges that come with pushing boundaries.
In retrospect, the Power Macintosh 7200 remains a landmark in Apple's journey, a testament to the company's ability to dream big and actualize those dreams. As we look back at this technological relic, we are reminded of Apple's beginnings, a time when the seeds of innovation were sown, destined to bloom into the tech empire we know today. The Power Macintosh 7200 was more than just a computer; it was a harbinger of possibilities, a testament to the perpetual evolution of technology.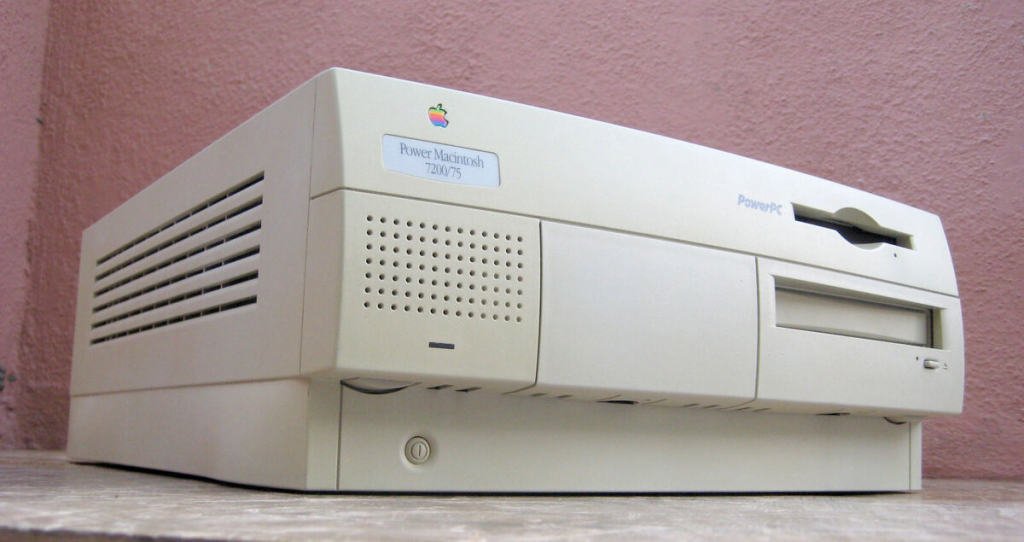 Power Macintosh 7200 Details
Introduced
August 7, 1995 (75 MHz & 90 MHz)
April 22, 1996 (120 MHz)
Discontinued
March 16, 1996 (75 MHz & 90 MHz)
February 1, 1997 (120 MHz)
Model Identifier
108
Model Number
M3979
Order Number
M4303LL/A
M4082LL/A
M4729LL/A
M4628LL/B
M4898LL/A
Original Price
$1,700
$1,900
$2,200
$2,300
$2,800
Colors
Platinum
Weight
22 Ibs.
9.979 KG
Dimensions
6.15" H x 14.37" W x 16.93" D
15.6 cm H x 36.5 cm W x 43 cm D
Power Mac 7200 Tech Specs
Processor
Processor
PowerPC 601
Intel Pentium*
Processor Speed
75 MHz
90 MHz
100 MHz*
120 MHz
Architecture
32-bit
Number of Cores
1
System Bus
37.5 MHz
40 MHz
45 MHz
Cache
32 KB L1
256 KB or 512 KB or 1 MB L2 (Optional)
Coprocessor
Built-in FPU
*PC version only
Storage & Media
Storage
500 MB
1.2 GB
Media
1 – 1.44 MB Floppy
1 – 4x CD-ROM or 8x CD-ROM
Memory
Built-in Memory
8 MB
16 MB
Maximum Memory
512 MB
Memory Slots
4 – 168 pin FPM DIMM
Minimum Speed
70 ns
ROM
Unknown
Interleaving Support
None
Display
Graphics
Graphics Card
None
Graphics Memory
1 MB
4 MB
Display Connection
1 – DB-15
Expansion
| | |
| --- | --- |
| Expansion Slots | 3 – PCI |
| Hard Drive Interface | SCSI |
Connections
Ethernet
1 – AAUI-15
1 – 10BASE-T
Modem
None
Wi-Fi
None
Bluetooth
None
Infrared
None
ADB
1
Serial
2
SCSI
1 – DB-25
Floppy Port
None
Audio In
1 – 3.5-mm analog input jack
Audio Out
1 – 3.5-mm analog output jack
1 – Built-in speaker
Display
1 – DB-15
Software
Power
| | |
| --- | --- |
| Backup Battery | 3.6 V Lithium |
| Maximum Continuous Power | 150 W |
| Line Voltage | 100-240 V |
Further Reading and References
Would you like to know more about Apple products? Stay up-to-date with the latest Apple News. Check our blog for the latest releases, rumors, and updates in the world of Apple.
Disclaimer: The data presented in this article is under continuous development and has been manually collected from various sources based on their availability. The author of this article may revise this dataset as additional research is conducted and reviewed. Please note that the information is provided "as is" and "as available" without express or implied warranties. The author cannot be held responsible for any omissions, inaccuracies, or errors in the published information. Any warranties relating to this information are hereby disclaimed.
Last updated: August 27, 2023