In the early 1990s, Apple was at the forefront of pushing the boundaries of computer technology with its groundbreaking Power Macintosh series. Among the most notable models from this era was the Power Macintosh 8100, a computer that revolutionized personal computing and set new standards for performance and features. Join us as we take a nostalgic journey back to the year 1994 when Apple unveiled this cutting-edge machine that left a lasting mark on the tech industry.
On March 14, 1994, Apple introduced the Power Macintosh 8100, a powerhouse that boasted an array of advanced features. At its core, the 8100 was powered by the robust PowerPC 601 processor, available in three configurations: 80 MHz, 100 MHz, or an impressive 110 MHz. Coupled with 8 MB, 16 MB, or 24 MB of RAM (a significant upgrade for its time), the 8100 demonstrated exceptional speed and multitasking capabilities.
Storage capacities were equally impressive, offering users options ranging from 250 MB to a substantial 2 GB hard drive. Whether for personal use or professional tasks, the Power Macintosh 8100 proved to be a versatile workhorse, equipped with a 2x CD-ROM drive and a 1.44 MB floppy drive.
The Power Macintosh 8100's sleek design, housed in the familiar Quadra 800 enclosure, exuded a sense of modernity and sophistication. However, the case received some criticism for being challenging to work with, as any modifications to the motherboard required extensive disassembly. Nonetheless, the computer's expandable tower design allowed for easy upgrades and customization.
One of the most remarkable features of the 8100 was its optional video-in and video-out capabilities, distinguishing the AV models from the rest of the lineup. This innovative addition provided support for multiple monitors and offered 2 MB of VRAM for enhanced graphics performance.
Despite its initial success, the Power Macintosh 8100's journey was relatively short-lived. In August 1995, Apple discontinued the 8100, paving the way for its successor, the Power Macintosh 8500, to carry on the torch of technological progress.
Today, as we celebrate the 29-year anniversary of the Power Macintosh 8100, it is awe-inspiring to witness the tremendous strides technology has taken since then. Although no longer in production, this classic computer remains a cherished artifact of Apple's history, representing its commitment to innovation and excellence.
In popular culture, the Power Macintosh 8100 left a notable mark as well. In the 1995 movie "The Net," Sandra Bullock's character, Angela Bennett, utilized the 8100 as her primary workstation, showcasing its prominence in the tech landscape of that time.
The Power Macintosh 8100, with its groundbreaking features and high-performance capabilities, redefined the standards of computer technology in the early 1990s. Its PowerPC 601 processor, impressive RAM options, and expansive storage capacities made it a favorite among tech enthusiasts and professionals alike.
Though its time on the market was brief, the impact it left on the tech industry and the hearts of Apple fans endure to this day. As we reflect on the legacy of this iconic computer, we marvel at how far technology has come, while also fondly remembering the Power Macintosh 8100 as an exceptional testament to Apple's pursuit of innovation and excellence in the world of computing.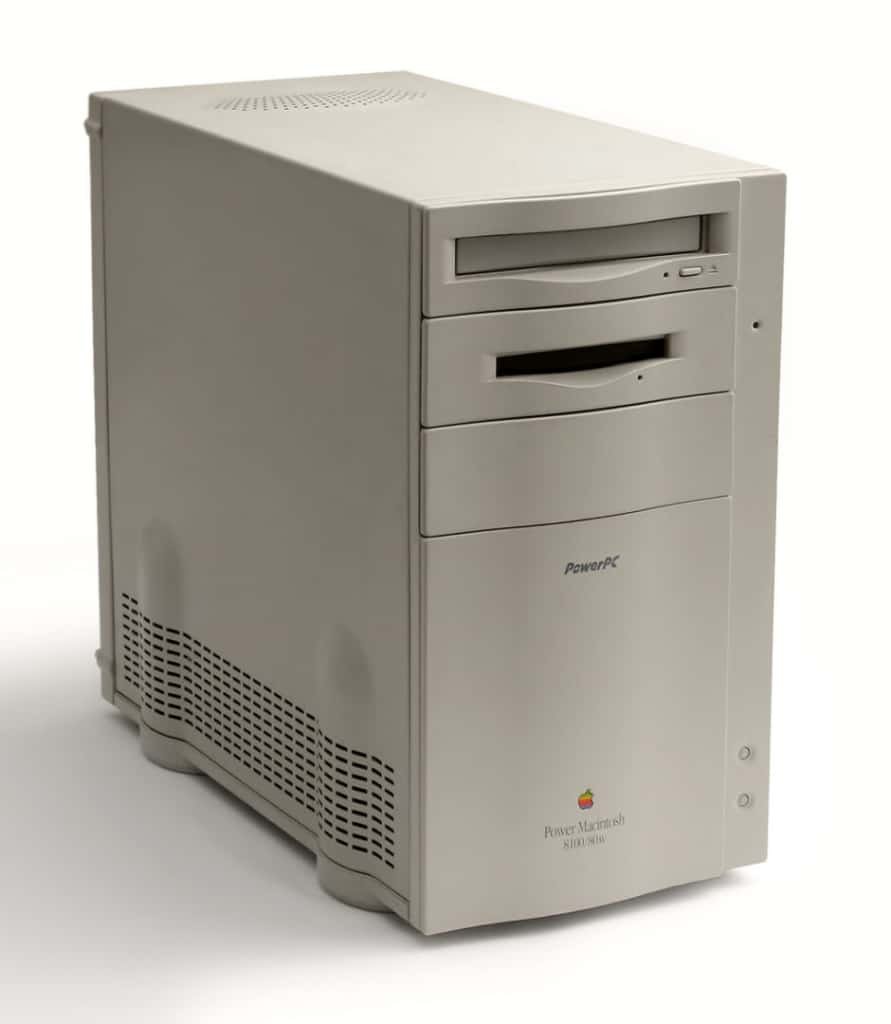 Power Macintosh 8100 Details
Introduced
March 14, 1994 (80 MHz)
November 3, 1994 (110 MHz)
January 3, 1995 (100 MHz)
Discontinued
January 3, 1995 (80 MHz)
October 14, 1995 (100 MHz)
August 5, 1995 (110 MHz)
Model Identifier
40 (110 MHz)
55 (100 MHz)
65 (80 MHz)
Model Number
M3635
M3636
M3637
M3638
M3639
M3640
M3680
Order Number
M1884LL/A
M1880LL/A
M2199LL/A
M3079LL/A
M2284LL/A
M2297LL/A
M2293LL/A
Original Price
$4,250
$4,400
$4,600
$4,800
$5,250
$5,660
$6,500
$6,700
Colors
Platinum
Weight
25 Ibs.
11.339 KG
Dimensions
14" H x 7.7" W x 15.75" D
35.56 cm H x 19.55 cm W x 40 cm D
Power Mac 8100 Tech Specs
Processor
Processor
PowerPC 601
Processor Speed
80 MHz
100 MHz
110 MHz
Architecture
32-bit
Number of Cores
1
System Bus
40 MHz
33.3 MHz
36.7 MHz
Cache
32 KB L1
256 KB L2
Coprocessor
Built-in FPU
Storage & Media
Storage
250 MB
500 MB
700 MB
1 GB
2 GB
Media
1 – 1.44 MB Floppy
1 – 2x CD-ROM (Optional)
Memory
Built-in Memory
8 MB
16 MB
24 MB
Maximum Memory
264 MB
Memory Slots
8 – 72 pin SIMMs (Group of 2)
Minimum Speed
80 ns
ROM
Unknown
Interleaving Support
No
Display
Graphics
Graphics Card
None
Graphics Memory
2 MB
4 MB
Display Connection
1 – DB-15
1 – HDI-45
Expansion
Expansion Slots
3 – 7″ NuBus
1 – PDS (Filled by Video or AV Card)
Hard Drive Interface
SCSI
Connections
Ethernet
AAUI-15
Modem
None
Wi-Fi
None
Bluetooth
None
ADB
1
Serial
2
SCSI
1 – DB-25
Floppy Port
None
Audio In
1 – 3.5-mm analog input jack
Audio Out
1 – 3.5-mm analog output jack
1 – Built-in speaker
Display
1 – DB-15
1 – HDI-45
Software
Original OS
System Software 7.1.2 (80 MHz)
System Software 7.5 (100 MHz and 110 MHz)
Maximum OS
Mac OS 9.1
Firmware
Macintosh ROM
Power
| | |
| --- | --- |
| Backup Battery | 3.6 V lithium |
| Maximum Continuous Power | 150 W |
| Line Voltage | 100-240 V |
Further Reading and References
Would you like to know more about Apple products? Stay up-to-date with the latest Apple News. Check our blog for the latest releases, rumors, and updates in the world of Apple.
Disclaimer: The data presented in this article is under continuous development and has been manually collected from various sources based on their availability. The author of this article may revise this dataset as additional research is conducted and reviewed. Please note that the information is provided "as is" and "as available" without express or implied warranties. The author cannot be held responsible for any omissions, inaccuracies, or errors in the published information. Any warranties relating to this information are hereby disclaimed.
Last updated: July 29, 2023