In the bustling landscape of technological evolution, where new innovations seemingly spring up overnight, there are some iconic relics that still stand tall, defying the sands of time. The Power Macintosh 8500, a true luminary in the realm of computing history, remains an enduring testament to Apple's prowess. Emerged into the world on August 7th, 1995, as a flagship member of Apple's Power Macintosh series, this behemoth marked a zenith of technological prowess and innovation.
Circa the mid-90s, personal computing was undergoing a seismic shift, and Apple was steering the wheel of this transformative journey. The Power Macintosh series, with the 8500 leading the pack, was the vanguard that led the personal computer market. In those days, tech aficionados and casual users alike were treated to a symphony of cutting-edge marvels that the 8500 wielded with finesse.
At the heart of the Power Macintosh 8500 were processors that could only be described as futuristic for its time. Powered by a range of processors, including the 120 MHz / 132 MHz / 150 MHz PowerPC 604 or the blazing 180 MHz PowerPC 604e, it was an embodiment of raw power. To complement this, a generously apportioned RAM, starting at 16 MB or 32 MB, was par for the course. Data hoarders found solace in the 1 GB / 1.2 GB / 2 GB hard drive, while the 4x or 8x CD-ROM drives catered to the voracious digital appetites.
It's one thing to be a trailblazer; it's another to respect the past while crafting the future. The Power Macintosh 8500 artfully merged these two ideologies. A nod to history was reflected in the inclusion of the 1.44 MB floppy drive. This thoughtful touch resonated with the nostalgia aficionados while propelling the march into the digital future.
Time, as it is wont to do, caught up with the Power Macintosh 8500. In a bittersweet move, it bowed out of production on February 17, 1997. But let it be known that even in its absence, the ripples it created are still felt today. The 8500 was more than a machine; it was Apple's pronouncement of unwavering commitment to technology and innovation.
While the external form of the Power Macintosh 8500 bore semblance to its predecessor, the Power Macintosh 8100, it harbored an internal metamorphosis. The shift from the PowerPC 601 processor on NuBus architecture to the lightning-fast PowerPC 604 processor on PCI architecture was nothing short of revolutionary.
The journey of the Power Macintosh 8500 was a symphony of upgrades. The debut model, introduced 28 years ago on August 7, 1995, and boasted a 120 MHz PowerPC 604. Subsequent renditions, gracing the stage on April 22, 1996, strutted with 132 or 150 MHz versions of the 604. The crescendo was reached on September 19, 1996, with the unveiling of the 180 MHz PowerPC 604e version.
Underneath its iconic chassis, the Power Macintosh 8500 carried a medley of software gems. It danced to the rhythm of Mac OS 7.5.2, orchestrated by Finder 7.5.3, while graphical excellence was ensured by QuickTime 2.0 and QuickDraw GX. The symphony further embraced ColorSync 1.0.5, Adobe Type Manager 3.8.3, and a chorus of other applications.
The Power Macintosh 8500, with its blend of audacious power and graceful design, remains an indelible footnote in the annals of computing history. Its legacy thrives not merely in its once-revolutionary hardware but also in the very DNA of every subsequent Apple innovation. As the years unfurl, let's pause to appreciate this marvel, a bridge that links yesterday's nostalgia to the horizon of tomorrow's possibilities.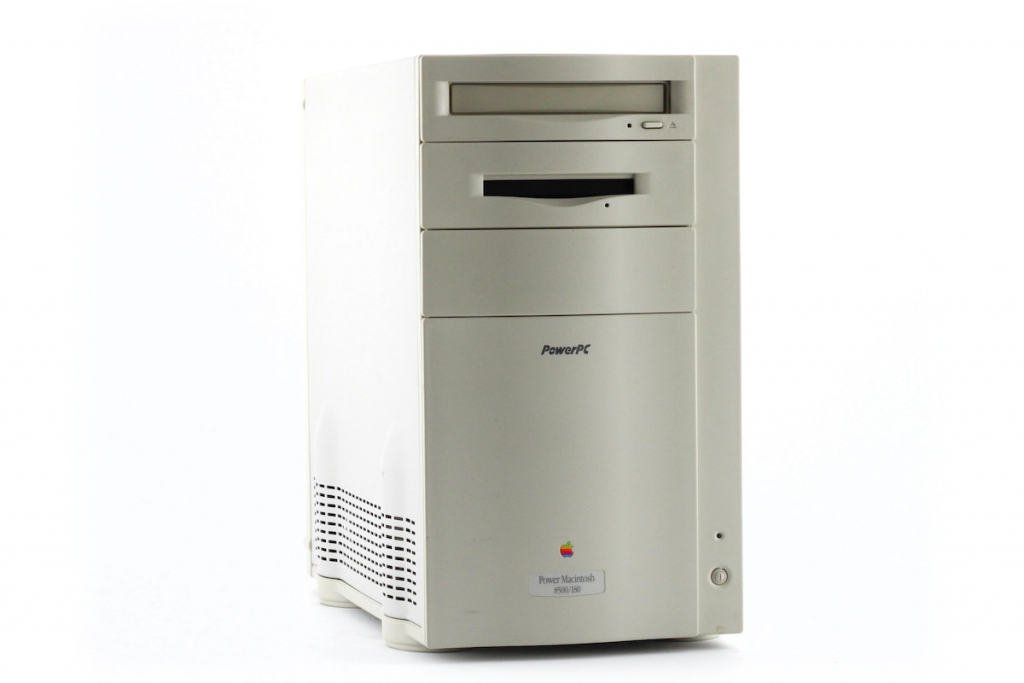 Power Macintosh 8500 Details
Introduced
August 7, 1995 (120 MHz)
April 22, 1996 (132 MHz & 150 MHz)
September 19, 1996 (180 MHz)
Discontinued
April 1, 1996 (120 MHz)
September 19, 1996 (132 MHz & 150 MHz)
February 17, 1997 (180 MHz)
Model Identifier
69
Model Number
M3409
Order Number
M3104LL/A
M3105LL/A
M4889LL/A
M4890LL/A
M5347LL/A
M5348LL/A
M5349LL/A
Original Price
$3,900
$4,000
$4,500
$4,700
Colors
Platinum
Weight
25 Ibs.
11.339 KG
Dimensions
14" H x 7.7" W x 15.75" D
35.56 cm H x 19.55 cm W x 40 cm D
Power Mac 8500 Tech Specs
Processor
Processor
PowerPC 604
Processor Speed
120 MHz
132 MHz
150 MHz
180 MHz
Architecture
32-bit
Number of Cores
1
System Bus
40 MHz
45 MHz
50 MHz
Cache
16/32 KB L1
256 KB L2
Coprocessor
Built-in FPU
Storage & Media
Storage
1 GB
1.2 GB
2 GB
Media
1 – 1.44 MB Floppy
1 – 4x CD-ROM or 8x CD-ROM (Optional)
Memory
Built-in Memory
16 MB
32 MB
Maximum Memory
512 MB (Apple)
1 GB (Actual)
Memory Slots
8 – 168 pin DIMM
Minimum Speed
70 ns
ROM
Unknown
Interleaving Support
Yes
Display
Graphics
Graphics Card
None
Graphics Memory
2 MB
4 MB
Display Connection
1 – DB-15
1 – Composite
1 – S-Video
Expansion
Expansion Slots
3 – PCI
1 – DAV
Hard Drive Interface
SCSI
Connections
Ethernet
1 – AAUI-15
1 – 10BASE-T
Modem
None
Wi-Fi
None
Bluetooth
None
Infrared
None
ADB
1
Serial
2
SCSI
1 – DB-25
Floppy Port
None
Audio In
1 – 3.5-mm analog input jack
2 – RCA input
Audio Out
1 – 3.5-mm analog output jack
1 – Built-in speaker
2 – RCA output
Display
1 – DB-15
1 – Composite
1 – S-Video
Software
Power
Backup Battery
3.6 V Lithium
Maximum Continuous Power
225 W
Line Voltage
100-125 V
200-240 V
Further Reading and References
Would you like to know more about Apple products? Stay up-to-date with the latest Apple News. Check our blog for the latest releases, rumors, and updates in the world of Apple.
Disclaimer: The data presented in this article is under continuous development and has been manually collected from various sources based on their availability. The author of this article may revise this dataset as additional research is conducted and reviewed. Please note that the information is provided "as is" and "as available" without express or implied warranties. The author cannot be held responsible for any omissions, inaccuracies, or errors in the published information. Any warranties relating to this information are hereby disclaimed.
Last updated: August 27, 2023