Apple, a tech juggernaut synonymous with innovation, has a storied history of crafting iconic personal computers. One such gem from its treasure trove is the Power Macintosh 9600, a powerhouse introduced in 1997 that left an indelible mark on the tech landscape before bowing out just a year later.
Emerging from the Power Macintosh series on February 17, 1997, the 9600 was tailor-made for professionals and power users who demanded superior performance. With a starting price of $3,699, this computing marvel targeted users immersed in resource-intensive tasks like video editing, 3D modeling, and graphics design.
While its exterior hinted at uniqueness, the motherboard beneath mirrored its predecessor, the Power Macintosh 9500. Originally priced at $4,700 for the dual 200MHz configuration, $4,200 for the single 233MHz, and $3,699 for the single 200MHz, the 9600 underwent a notable transformation in August. A "speed bump" graced the machine with a 300 or 350 MHz "Mach 5" chip, signaling a new era in processing power. The 350 MHz variant, though short-lived, showcased Apple's dedication to pushing boundaries.
At its core, the Power Macintosh 9600 housed a Single or Dual 200 MHz or 233 MHz PowerPC 604e or 300 MHz or 350 MHz PowerPC 604e Mach V processor. Equipped with 32 MB or 64 MB of RAM, a 4 GB hard drive, 12x CD-ROM or 24x CD-ROM drive, a 1.44 MB floppy drive, and 4 MB ixMicro TwinTurbo graphics, it stood as a technological titan, conquering the most demanding applications of its time with unparalleled ease.
The Mach 5 microprocessor, a technological marvel, boasted on-chip data and instruction caches of 32 KB each, coupled with a processor clock speed reaching up to 7 times the bus clock speed. Memory aficionados were not left disappointed with 12 slots of 168-pin DIMMs, setting a new standard with a minimum speed of 70ns.
The Power Macintosh 9600 bid farewell on March 17, 1998, but its journey was far from over. Today, at 26 years old, it stands as a collector's item, a testament to Apple's commitment to innovation and design. The 9600 serves as a nostalgic reminder of an era when personal computers were crafted to meet the exacting needs of power users.
As we look back, the Power Macintosh 9600's legacy lives on. Its robust features, pioneering design, and unwavering performance continue to captivate Apple enthusiasts and collectors alike. In an ever-evolving tech landscape, this classic Mac remains a beacon, reminding us of a golden era when Apple set the standard for power and precision in personal computing.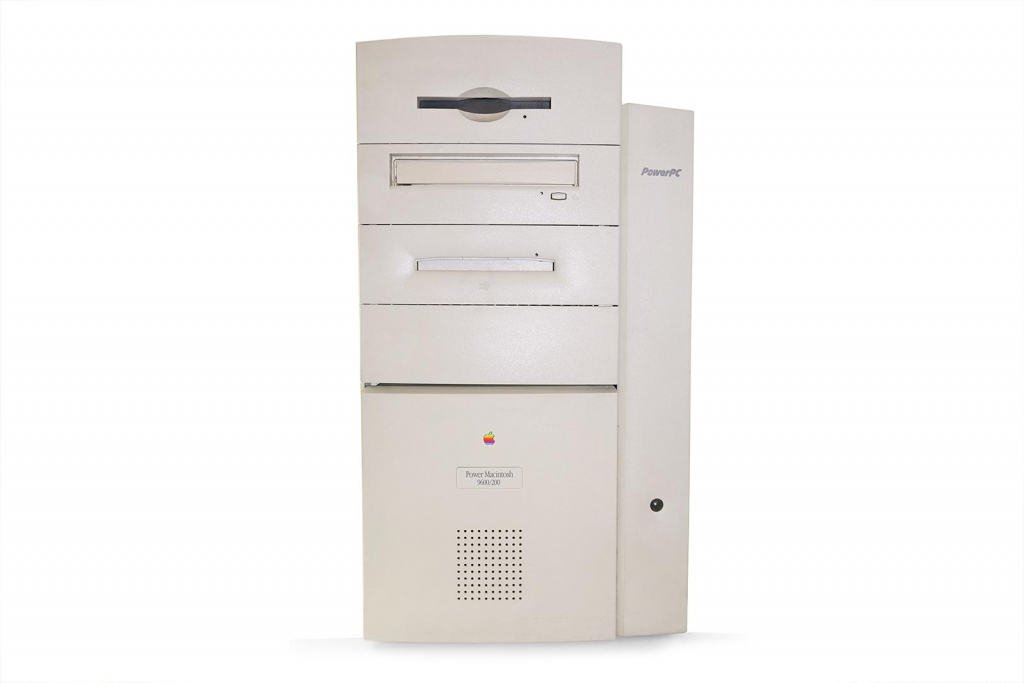 Power Mac 9600 Details
Introduced
February 17, 1997 (200 MHz & 233 MHz)
August 5, 1997 (300 MHz & 350 MHz)
Discontinued
August 5, 1997 (200 MHz & 233 MHz)
February 17, 1998 (300 MHz)
March 17, 1998 (350 MHz)
Model Identifier
67
Model Number
M5433
Order Number
M5456LL/A
M4952LL/A
M5883LL/A
M5901LL/A
M5906LL/A
Original Price
$3,699
$4,199
$4,599
$4,699
$5,399
Colors
Platinum
Weight
35 Ibs.
15.875 KG
Dimensions
17.3" H x 9.7" W x 17.3" D
43.94 cm H x 24.63 cm W x 43.94 cm D
Power Mac 9600 Tech Specs
Processor
Processor
PowerPC 604e
PowerPC 604e Mach V
Processor Speed
200 MHz
Dual 200 MHz
233 MHz
300 MHz
350 MHz
Architecture
32-bit
Number of Cores
1
System Bus
50 MHz
Cache
64 KB L1
512 KB or 1 MB L2 (300 MHz & 350 MHz)
Coprocessor
Built-in FPU
Storage & Media
Storage
4 GB
Media
1 – 1.44 MB Floppy
1 – 12x CD-ROM or 24x CD-ROM
1 – Zip 100 (Optional)
Memory
Built-in Memory
32 MB
64 MB
Maximum Memory
1.5 GB
Memory Slots
12 – 168 pin EDO or FPM DIMM
Minimum Speed
60 ns (300 MHz & 350 MHz)
70 ns
ROM
Unknown
Interleaving Support
Yes
Display
Graphics
Graphics Card
ixMicro TwinTurbo
Graphics Memory
4 MB
8 MB
Display Connection
1 – DB-15
Expansion
| | |
| --- | --- |
| Expansion Slots | 6 – PCI |
| Hard Drive Interface | SCSI |
Connections
Ethernet
10BASE-T and AAUI
Modem
None
Wi-Fi
None
Bluetooth
None
ADB
1
Serial
2
SCSI
1 – DB-25
Floppy Port
None
Infrared
None
Audio In
1 – 3.5-mm analog input jack
Audio Out
1 – 3.5-mm analog output jack
1 – Built-in speaker
Display
1 – DB-15
Software
Power
Backup Battery
3.6 V Lithium
Maximum Continuous Power
390 W
560 W (300 MHz &350 MHz)
Line Voltage
100-125 V / 200-240 V
Further Reading and References
Would you like to know more about Apple products? Stay up-to-date with the latest Apple News. Check our blog for the latest releases, rumors, and updates in the world of Apple.
Disclaimer: The data presented in this article is under continuous development and has been manually collected from various sources based on their availability. The author of this article may revise this dataset as additional research is conducted and reviewed. Please note that the information is provided "as is" and "as available" without express or implied warranties. The author cannot be held responsible for any omissions, inaccuracies, or errors in the published information. Any warranties relating to this information are hereby disclaimed.
Last updated: November 22, 2023