On March 23, 1992, Apple unveiled the AppleCD 150, an external CD drive that captured the imagination of Apple users worldwide. Priced at $599, this cutting-edge device brought the power of CD-ROM technology to Macintosh and Apple IIGS computers. Though it was eventually discontinued in 1994, the AppleCD 150 remains a cherished relic of Apple's commitment to innovation and its drive to provide customers with state-of-the-art technology. As we reflect on this iconic device, it's evident that its impact can still be felt today, even as Apple continues to evolve and revolutionize the tech industry.
The AppleCD 150's standout feature was its user-friendly Caddy-Loading CD-ROM Drive, which simplified the process of inserting and removing CDs. With a generous capacity of up to 748 MB, users could store and access a significant amount of data and multimedia content. Additionally, the drive boasted a range of connectivity options, including a SCSI connection port, a 3.5-mm headphone jack, and two RCA stereo output ports. These features allowed users to integrate the AppleCD 150 seamlessly into their audio-visual setups.
Sadly, the AppleCD 150's lifespan was relatively brief, as it was discontinued on June 7, 1994. However, during its time on the market, it garnered a loyal following and left an indelible mark on Apple's history. The device offered Apple enthusiasts a glimpse into the future, showcasing the potential of CD-ROM technology and its impact on computing and multimedia consumption. Despite its discontinuation, the AppleCD 150's legacy lives on in the memories of those who experienced its innovation firsthand.
Looking back on the AppleCD 150, it becomes apparent just how far technology has come since its introduction. With the advent of cloud storage, streaming services, and portable media devices, physical media like CDs have largely been phased out. Today's consumers enjoy instant access to vast libraries of digital content, whether it be music, movies, or software. The AppleCD 150's existence serves as a reminder of the rapid pace of technological evolution and the profound impact it has had on our daily lives.
Apple has always been at the forefront of technological advancements, constantly pushing the boundaries of innovation. While the AppleCD 150 may no longer be in production, it exemplifies Apple's unwavering commitment to delivering groundbreaking products that captivate users and drive the industry forward.
As we reminisce about the AppleCD 150, it's only natural to wonder if we will ever see a resurgence of this iconic device. While it remains uncertain if Apple will revisit the concept of an external CD drive, one thing is clear: the company's future will be shaped by its ongoing pursuit of groundbreaking technology. With each passing year, Apple introduces new products and updates that captivate the market and shape the way we interact with technology.
After 31 years the AppleCD 150 still holds a special place in the hearts of Apple enthusiasts, representing an era of innovation and forward-thinking. Though discontinued, it reminds us of Apple's commitment to delivering cutting-edge technology to its customers. As we forge ahead into the future, we can only look back fondly at the AppleCD 150 and appreciate how far we've come.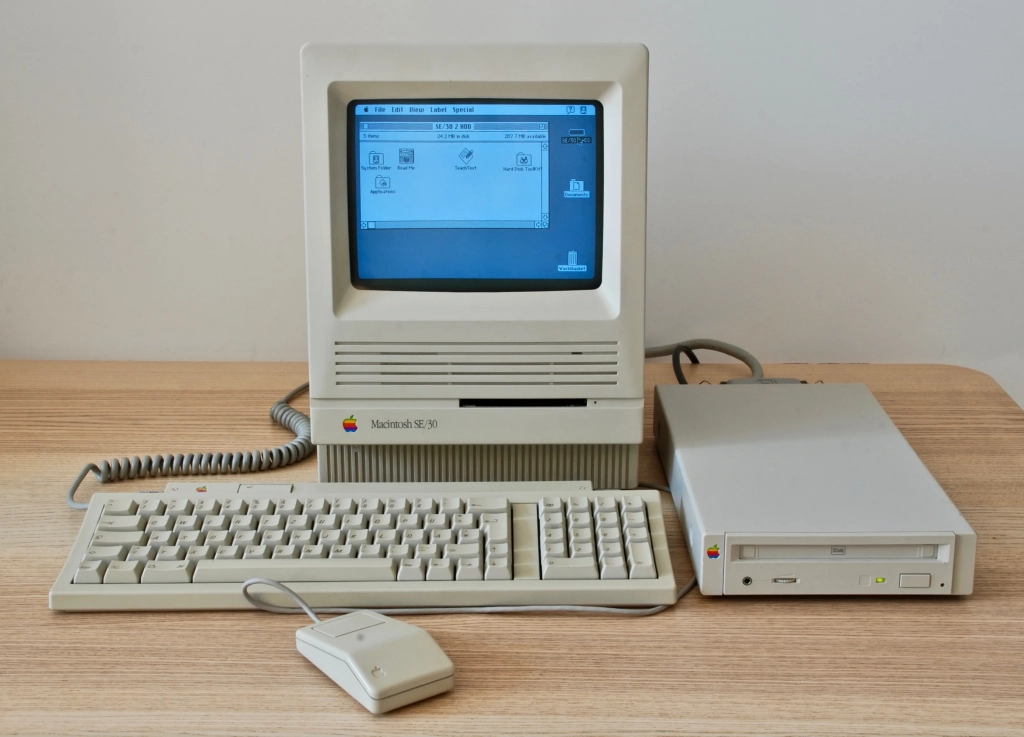 AppleCD 150 Details
Introduced
March 23, 1992
Discontinued
June 7, 1994
Model Identifier
Unknown
Model Number
M3022
EMC
Unknown
Order Number
Unknown
Original Price
$599
Colors
Beige
Weight
6.5 Ibs.
2.948 KG
Dimensions
1.95" H x 7" W x 12.9" D
4.95 cm H x 17.78 cm W x 32.76 cm D
System Requirements
Drive Specs
Type
Caddy-Loading CD-ROM Drive
Capacity
656 MB (1st Mode)
748 MB (2nd Mode)
Data Transfer Rate
1X
Connections
Connection
SCSI
Ports
2- RCA Stereo output
2 – 50-pin DB-25 SCSI
1 – 3.5-mm Headphone jack
Power
Further Reading and References
Would you like to know more about Apple products? Stay up-to-date with the latest Apple News. Check our blog for the latest releases, rumors, and updates in the world of Apple.
Disclaimer: The data presented in this article is under continuous development and has been manually collected from various sources based on their availability. The author of this article may revise this dataset as additional research is conducted and reviewed. Please note that the information is provided "as is" and "as available" without express or implied warranties. The author cannot be held responsible for any omissions, inaccuracies, or errors in the published information. Any warranties relating to this information are hereby disclaimed.
Last updated: June 4, 2023