In the vast tapestry of Apple's product lineup, there are specific devices that stand out as true icons, leaving an indelible mark on the tech landscape. One such device is the Macintosh Classic II, which made its debut on October 21, 1991, and captured the hearts of users with its cutting-edge technology and sleek design.
Despite its relatively short lifespan of just two years, this personal computer remains a cherished piece of Apple history, evoking nostalgia and admiration from dedicated enthusiasts. Let's take a trip down memory lane and explore the features and impact of the Macintosh Classic II.
At the heart of the Macintosh Classic II beats the 16 MHz Motorola 68030 processor, a powerhouse that delivered ample processing power for everyday tasks such as word processing and spreadsheet creation. This impressive performance made it a reliable workhorse for countless users, who found themselves immersed in productivity while benefiting from the Classic II's sleek and user-friendly package.
Complementing the processor was a 9-inch monochrome display, which offered users a crisp and clear visual experience. Whether working on documents, creating graphics, or engaging in other tasks, the Macintosh Classic II provided a viewing canvas that was both efficient and visually pleasing.
Recognizing the importance of storage capacity, Apple equipped the Macintosh Classic II with 2 MB of RAM and a choice between a 40 MB or 80 MB hard drive. This generous storage space allowed users to store an abundance of documents, images, and other files without concerns about running out of space. Additionally, the inclusion of a 1.44 MB floppy disk drive provided a convenient means for file transfer between computers, further enhancing the Classic II's connectivity capabilities.
The Mac Classic II boasted a dedicated operating system called System Software, specifically designed to provide users with a seamless and reliable computing experience. This tailored OS ensured effortless navigation and access to all the computer's features, further cementing the Classic II as a user-friendly device that catered to the needs of its users.
Despite its impressive specifications and user-friendly design, the Macintosh Classic II's time in the spotlight was fleeting. On September 13, 1993, Apple made the decision to discontinue this beloved device, marking the end of an era. Although the Classic II had its strengths, it struggled to replace its predecessor, the revered SE/30, due to limitations such as a slower processor and the absence of an expansion slot. These factors earned it the nickname "Compromised Mac." Nonetheless, the Macintosh Classic II has managed to etch its place in history, retaining a special spot in the hearts of Apple enthusiasts even after 31 years.
The Macintosh Classic II holds a special place in the memories of Apple fans, serving as a reminder of the company's commitment to innovation and user experience. Despite its shortcomings, this compact and elegant machine played a vital role in the evolution of personal computing, contributing to the foundation upon which modern Macs are built.
As time moves forward and technology progresses, it is important to pay homage to the devices that paved the way for the present. The Macintosh Classic II stands tall as a symbol of Apple's dedication to providing cutting-edge technology in a sleek and user-friendly package. Though its lifespan was relatively short, the Classic II remains an enduring icon, cherished by Apple enthusiasts and serving as a reminder of the company's rich history.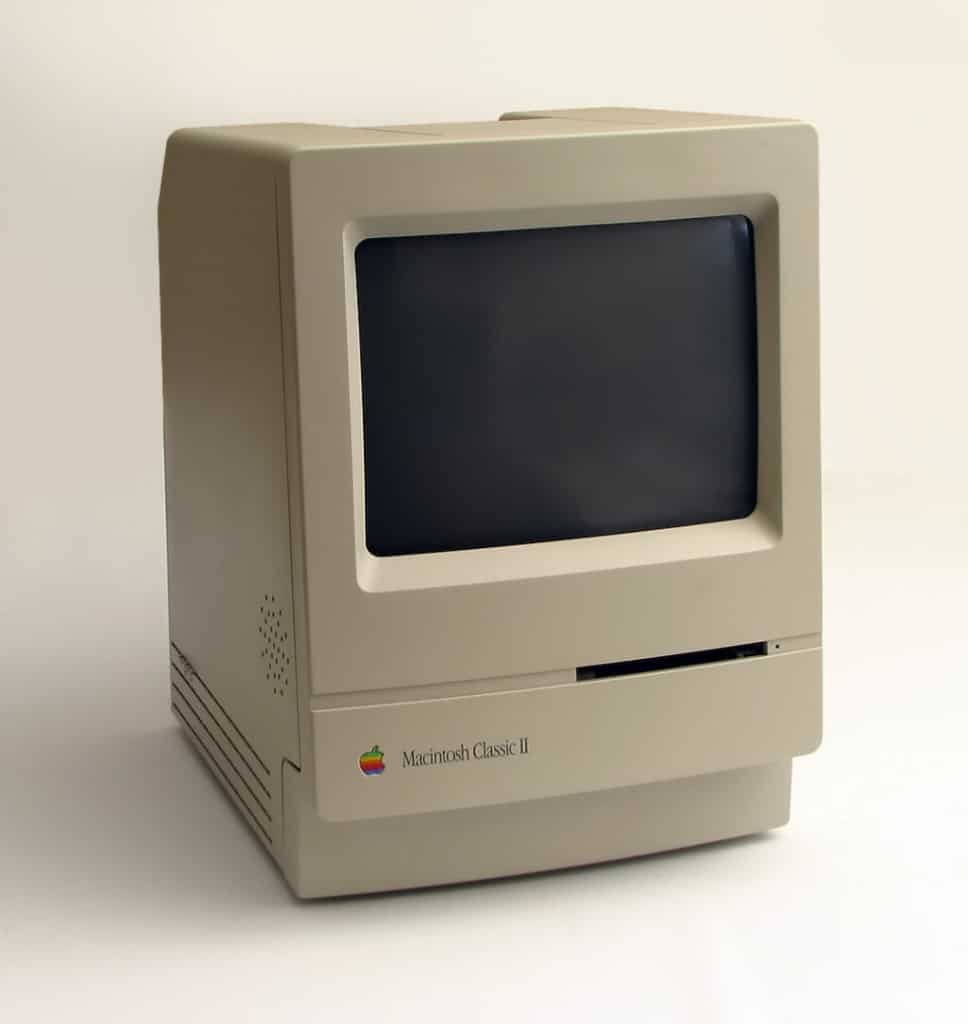 Macintosh Classic II Details
Introduced
October 21, 1991
Discontinued
September 13, 1993
Model Identifier
23
Model Number
M4150
Order Number
M1540LL/A
M1543LL/A
M1542LL/A
Original Price
$1,900
Colors
Platinum
Weight
16 Ibs.
7.257 KG
Dimensions
13.2" H x 9.7" W x 11.2" D
33.52 cm H x 24.63 cm W x 28.44 cm D
Mac Classic II Tech Specs
Processor
| | |
| --- | --- |
| Processor | Motorola 68030 |
| Processor Speed | 16 MHz |
| Architecture | 32-bit |
| Number of Cores | 1 |
| System Bus | 16 MHz |
| Cache | 0.5 KB L1 |
| Coprocessor | None |
Storage & Media
Storage
40 MB
80 MB
Media
1.44 MB floppy
Memory
| | |
| --- | --- |
| Built-in Memory | 2 MB |
| Maximum Memory | 10 MB |
| Memory Slots | 2 – 30 pin SIMM (Groups of 2) |
| Minimum Speed | 100 ns |
| ROM | Unknown |
| Interleaving Support | No |
Display
| | |
| --- | --- |
| Built-in Display | 9" monochrome display |
| Resolution | 512 x 342 |
| Pixel Density | 72 ppi |
Graphics
| | |
| --- | --- |
| Graphics Card | None |
| Graphics Memory | None |
| Display Connection | Unknown |
Expansion
| | |
| --- | --- |
| Expansion Slots | None |
| Hard Drive Interface | SCSI |
Software
Connections
Ethernet
None
Modem
None
ADB
1
Serial
2
SCSI
1 – DB-25
Floppy Port
1 – DB-19
Audio In
1 – 3.5-mm mono input jack
Audio Out
1 – 3.5-mm mono output jack
1 – Built-in speaker
Display
Unknown
Power
| | |
| --- | --- |
| Backup Battery | 3.6 V lithium |
| Maximum Continuous Power | 76 W |
| Line Voltage | Unknown |
Further Reading and References
Would you like to know more about Apple products? Stay up-to-date with the latest Apple News. Check our blog for the latest releases, rumors, and updates in the world of Apple.
Disclaimer: The data presented in this article is under continuous development and has been manually collected from various sources based on their availability. The author of this article may revise this dataset as additional research is conducted and reviewed. Please note that the information is provided "as is" and "as available" without express or implied warranties. The author cannot be held responsible for any omissions, inaccuracies, or errors in the published information. Any warranties relating to this information are hereby disclaimed.
Last updated: June 3, 2023