On October 15, 1990, Apple made a significant impact on the world of personal computing with the introduction of the Macintosh Classic. This powerful and innovative machine was part of the Macintosh series, designed, manufactured, and sold by Apple from 1990 to 1992. Despite its eventual discontinuation, the Macintosh Classic remains an important milestone in computer history, changing the way people perceived and interacted with personal computers.
The Macintosh Classic boasted impressive specifications for its time. Equipped with an 8 MHz Motorola 68000 processor, a 9-inch monochrome display, 1 MB or 2 MB of RAM, a 40 MB hard drive, and a 1.44 MB floppy disk drive, it was a force to be reckoned with. Apple developed a dedicated operating system, System Software, specifically tailored to enhance the capabilities of the Macintosh Classic.
Despite its revolutionary features, the Macintosh Classic was not without its flaws. Perhaps the most significant criticism was its high price, starting at $999, which limited accessibility for some potential users. This factor, among others, contributed to its discontinuation on September 14, 1992. Nonetheless, the Macintosh Classic had already amassed a loyal following during its short lifespan.
The Macintosh Classic played a crucial role in shaping the future of the Macintosh line of computers. Its release marked a turning point, setting the stage for subsequent Macintosh models. The user-friendly interface and innovative design elements introduced by the Classic became defining characteristics of Apple's approach to personal computing.
One notable feature of the Macintosh Classic was its simplified memory expansion. Unlike previous models that required motherboard removal, the Classic introduced a 1 MB daughter card with two open slots. Users could easily upgrade the memory by adding a pair of 256 KB or 1 MB SIMMs, making it more accessible for those seeking to enhance their computing experience.
Some critics questioned Apple's decision to release an 8 MHz computer in 1990, a time when faster processors were becoming the norm. With the rapid advancement of technology, 8 MHz seemed sluggish for practical use. Nonetheless, Apple pushed ahead with the Macintosh Classic, and its sales demonstrated that speed was not the sole determinant of success.
The Macintosh Classic introduced several noteworthy features. One such innovation was the elimination of the brightness knob, replaced by a Brightness control panel for more precise adjustments. Another unique aspect was the ability to boot from ROM using a specific command during startup, providing quick access to the system software and streamlining the booting process.
While the Macintosh Classic's reign was short-lived, lasting only two years, its impact on the computer industry cannot be understated. It represented a significant shift in how personal computers were perceived and used, contributing to the evolution of the Macintosh line and influencing future iterations of Apple's iconic machines.
The Macintosh Classic, introduced in 1990, marked a turning point in personal computing history. Despite its eventual discontinuation due to pricing constraints, this groundbreaking machine left an indelible mark on the industry. With its powerful specifications, user-friendly interface, and unique features, the Macintosh Classic set the stage for the future of Macintosh computers. Today, Mac Classic is 32 years old and became a testament to Apple's commitment to innovation and serves as a reminder of the rich legacy that continues to shape the world of technology.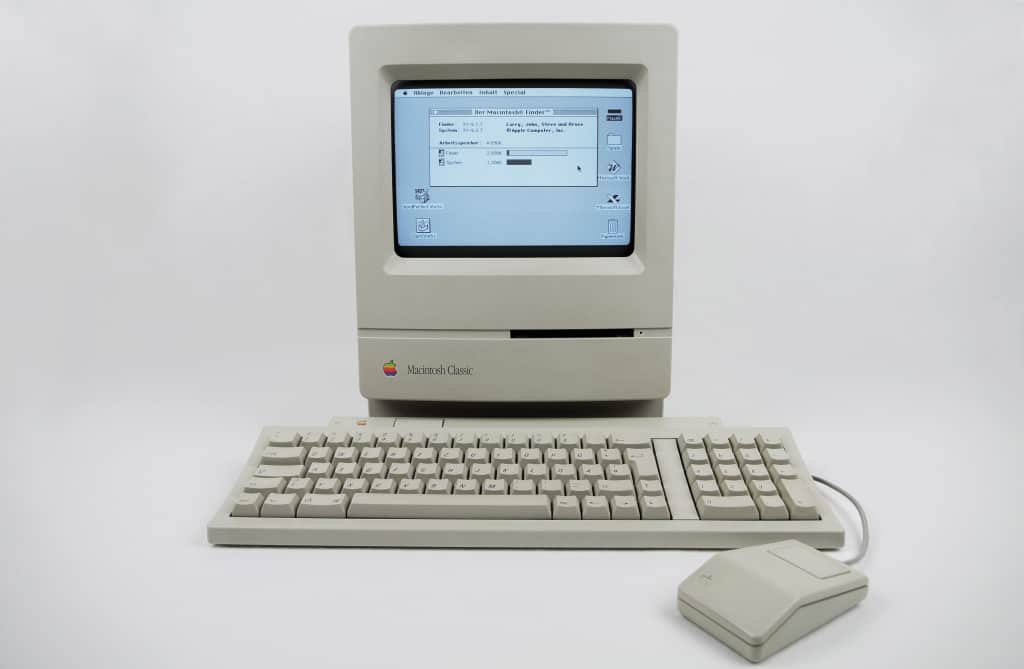 Macintosh Classic Details
Introduced
October 15, 1990
Discontinued
September 14, 1992
Model Identifier
17
Model Number
M0420
M1420
Order Number
M0421LL/A
M0435LL/A
Original Price
$999
$1,499
Colors
Platinum
Weight
16 Ibs.
7.257 KG
Dimensions
13.2" H x 9.7" W x 11.2" D
33.52 cm H x 24.63 cm W x 28.44 cm D
Mac Classic Tech Specs
Processor
| | |
| --- | --- |
| Processor | Motorola 68000 |
| Processor Speed | 8 MHz |
| Architecture | 32-bit |
| Number of Cores | 1 |
| System Bus | 8 MHz |
| Cache | None |
| Coprocessor | None |
Storage & Media
| | |
| --- | --- |
| Storage | 40 MB |
| Media | 1.44 MB floppy |
Memory
| | |
| --- | --- |
| Built-in Memory | 1 MB |
| Maximum Memory | 4 MB |
| Memory Slots | 2 – 30 pin SIMM on Memory Expansion Card |
| Minimum Speed | 120 ns |
| ROM | Unknown |
| Interleaving Support | No |
Display
| | |
| --- | --- |
| Built-in Display | 9" monochrome display |
| Resolution | 512 x 342 |
| Pixel Density | 72 ppi |
Graphics
| | |
| --- | --- |
| Graphics Card | None |
| Graphics Memory | None |
| Display Connection | Unknown |
Expansion
| | |
| --- | --- |
| Expansion Slots | None |
| Hard Drive Interface | SCSI |
Connections
Ethernet
None
Modem
None
ADB
1
Serial
2
SCSI
1 – DB-25
Floppy Port
1 – DB-19
Audio In
None
Audio Out
1 – 3.5-mm mono output jack
1 – Built-in speaker
Display
Unknown
Software
Power
| | |
| --- | --- |
| Backup Battery | 3.6 V lithium |
| Maximum Continuous Power | 76 W |
| Line Voltage | Unknown |
Further Reading and References
Would you like to know more about Apple products? Stay up-to-date with the latest Apple News. Check our blog for the latest releases, rumors, and updates in the world of Apple.
Disclaimer: The data presented in this article is under continuous development and has been manually collected from various sources based on their availability. The author of this article may revise this dataset as additional research is conducted and reviewed. Please note that the information is provided "as is" and "as available" without express or implied warranties. The author cannot be held responsible for any omissions, inaccuracies, or errors in the published information. Any warranties relating to this information are hereby disclaimed.
Last updated: May 22, 2023