Apple's Macintosh Color Classic II, released on October 1st, 1993, may have had a short lifespan of just one year before being discontinued on May 1st, 1994, but its impact on the world of personal computing was profound. This remarkable computer, part of the iconic Macintosh series, continues to hold a special place in the hearts of tech enthusiasts and Apple fans even after 29 years since its initial release. In this article, we delve into the impressive specifications, unique features, and lasting legacy of the Macintosh Color Classic II.
Equipped with a 33 MHz Motorola 68030 processor and a Motorola 68882 FPU coprocessor, the Macintosh Color Classic II stood as a powerhouse in its time. Complementing its processing power was a vibrant 10″ color display that brought visuals to life. With a choice of either 4 MB or 8 MB of RAM and an 80 MB or 160 MB hard drive, the Color Classic II provided ample storage and memory for users' computing needs. Additionally, it boasted a 1.44 MB floppy disk drive and a dedicated operating system, System Software, to ensure seamless functionality.
Priced at $1,500, the Macintosh Color Classic II was considered a significant investment during the early 90s. However, the computer's remarkable specifications and sleek design made it an attractive choice for users seeking a high-quality computing experience. The attention to detail and craftsmanship that went into the creation of the Color Classic II resonated with tech enthusiasts and Apple fans, further solidifying its place as a coveted device.
While the Macintosh Color Classic II was not sold in the home US market, it found its way to consumers in Canada, Asia, and Europe. Referred to as the Performa 275 in the consumer market, this model shared the same motherboard design as the LC III, offering expandable memory options of up to 36 MB. Interestingly, the Color Classic II/Performa 275 and Performa/LC 550 shared the same motherboard, making the latter a cost-effective option for those seeking a motherboard transplant. Due to its limited availability and rarity, the Color Classic II has become highly sought after on the used market, especially in the United States, commanding premium prices.
One distinguishing feature of the Color Classic II is that it was the last Macintosh computer to feature a built-in 10″ (9″ viewable) color monitor. As technology progressed, Apple shifted its focus to larger displays and more advanced models, making the Color Classic II a unique and cherished part of Apple's computing history.
Apple's Macintosh Color Classic II, with its powerful performance, sleek design, and limited availability, remains a beloved and highly regarded device among tech enthusiasts and Apple fans. Despite its short time on the market, the Color Classic II made a lasting impact on personal computing, pushing boundaries and setting a new standard for what a compact, all-in-one computer could be.
Even today, 29 years after its initial release, the Macintosh Color Classic II stands as a testament to Apple's commitment to innovation and design excellence in the world of technology.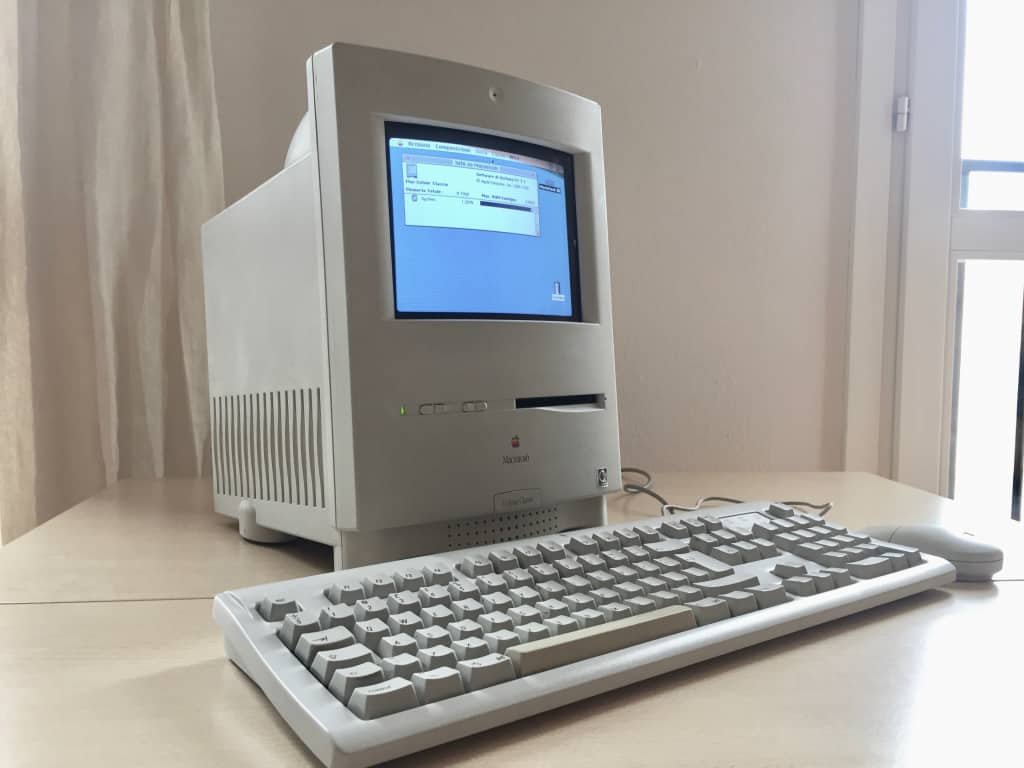 Macintosh Color Classic II Details
Introduced
October 1, 1993
Discontinued
May 1, 1994
Model Identifier
83
Model Number
M1600
Order Number
M2158J/A
Original Price
$1,500
Colors
Platinum
Weight
22.5 Ibs.
10.205 KG
Dimensions
14.5" H x 9.9" W x 12.6" D
36.83 cm H x 25.14 cm W x 32 cm D
Mac Color Classic II Tech Specs
Processor
| | |
| --- | --- |
| Processor | Motorola 68030 |
| Processor Speed | 33 MHz |
| Architecture | 32-bit |
| Number of Cores | 1 |
| System Bus | 33 MHz |
| Cache | 0.5 KB L1 |
| Coprocessor | Motorola 68882 FPU (Optional) |
Storage & Media
Storage
80 MB
160 MB
Media
1.44 MB floppy
Memory
| | |
| --- | --- |
| Built-in Memory | 4 MB |
| Maximum Memory | 36 MB |
| Memory Slots | 1 – 72 pin SIMM |
| Minimum Speed | 100 ns |
| ROM | Unknown |
| Interleaving Support | No |
Display
| | |
| --- | --- |
| Built-in Display | 10" RGB CRT display |
| Resolution | 512 x 384 |
| Pixel Density | Unknown |
Graphics
Graphics Card
None
Graphics Memory
256 KB (256 colors)
512 KB (32,768 colors)
Display Connection
N/A
Expansion
| | |
| --- | --- |
| Expansion Slots | 1 – LC PDS |
| Hard Drive Interface | SCSI |
Connections
Ethernet
None
Modem
None
ADB
2
Serial
2
SCSI
1 – DB-25
Floppy Port
None
Audio In
1 – 3.5-mm mono input jack
Audio Out
1 – 3.5-mm mono output jack
1 – Built-in speaker
Display
N/A
Software
Power
| | |
| --- | --- |
| Backup Battery | 3.6 V lithium |
| Maximum Continuous Power | 100 W |
| Line Voltage | N/A |
Further Reading and References
Would you like to know more about Apple products? Stay up-to-date with the latest Apple News. Check our blog for the latest releases, rumors, and updates in the world of Apple.
Disclaimer: The data presented in this article is under continuous development and has been manually collected from various sources based on their availability. The author of this article may revise this dataset as additional research is conducted and reviewed. Please note that the information is provided "as is" and "as available" without express or implied warranties. The author cannot be held responsible for any omissions, inaccuracies, or errors in the published information. Any warranties relating to this information are hereby disclaimed.
Last updated: July 8, 2023