In the ever-evolving world of personal computing, few brands have left as indelible a mark as Apple. Known for its commitment to innovation and design, Apple has consistently introduced groundbreaking products that have shaped the tech industry over the years. One such product that holds a special place in the hearts of Apple enthusiasts and tech historians is the Macintosh Performa 6115CD, a personal computer that made waves in the mid-1990s.
The Macintosh Performa 6115CD was part of the esteemed Macintosh Performa series, and it graced the market on November 1, 1994, with an initial price tag of $2,600. Its launch was a pivotal moment for Apple and its users, as this computer packed some impressive features for its time.
Under the hood, the Performa 6115CD housed a 60 MHz PowerPC 601 processor, 8 MB of RAM, a 350 MB hard drive, a 2x CD-ROM drive, and a 1.44 MB floppy drive. For those who experienced computing in the 90s, these specifications were considered top-notch, and users found themselves drawn to its capabilities.
The Performa 6115CD catered to a variety of users, from students to professionals, thanks to its bundled 15″ Apple color monitor and "home office" software package. The computer's versatility allowed it to become a reliable companion for various tasks, making it a popular choice across different demographics.
Despite its initial success, the Macintosh Performa 6115CD's journey was cut short, with Apple discontinuing the model on July 1, 1995. However, its untimely demise marked the beginning of a new era for Apple, paving the way for subsequent computers in the Performa series.
Fast forward 29 years, and the Macintosh Performa 6115CD holds a place of honor as a collector's item. For Apple enthusiasts and tech history buffs alike, this vintage computer serves as a reminder of Apple's continuous evolution and impact on the personal computing industry.
Notably, the Performa 6115CD's legacy extends beyond its own existence. It laid the groundwork for the business-oriented Power Macintosh 6100 and the server-focused Workgroup Server 6150. These successors further exemplify Apple's commitment to tailoring products for specific user needs, a strategy that has fueled the company's long-lasting success.
As we reminisce about the Performa 6115CD, it's impossible not to recognize how far personal computing has come since its launch. From the sleek and powerful laptops of today to the seamless integration of hardware and software, Apple's influence remains prevalent.
So, whether you're a seasoned tech aficionado or a newcomer to the Apple ecosystem, taking a moment to appreciate the Performa 6115CD's impact can deepen your understanding of the brand's journey. It's a testament to how innovation, even in its earlier forms, has shaped the way we interact with technology.
As we embrace the future of personal computing, let's not forget the legacy of the Macintosh Performa 6115CD. It serves as a time capsule of Apple's history, reminding us of the brand's dedication to pushing the boundaries of what's possible in the world of technology.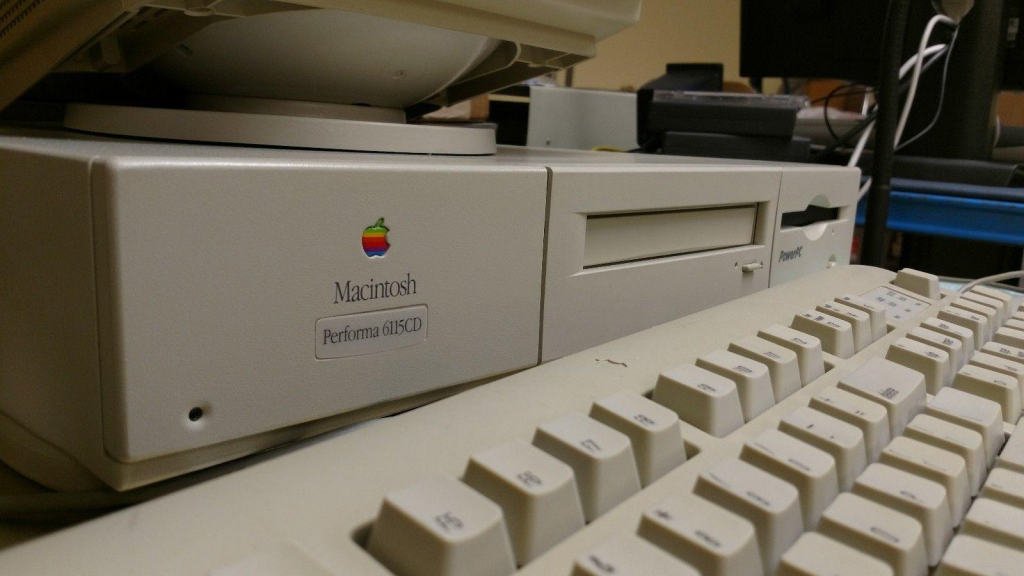 Macintosh Performa 6115CD Details
Introduced
November 1, 1994
Discontinued
July 1, 1995
Model Identifier
75
Model Number
M1596
Order Number
M34351LL/A
Original Price
$2,600
Colors
Platinum
Weight
14 Ibs.
6.350 KG
Dimensions
3.4" H x 16.3" W x 15.6" D
8.63 cm H x 41.4 cm W x 39.62 cm D
Mac Performa 6115CD Tech Specs
Processor
Processor
PowerPC 601
Processor Speed
60 MHz
Architecture
32-bit
Number of Cores
1
System Bus
30 MHz
Cache
32 KB L1
256 KB L2 (Optional)
Coprocessor
Built-in FPU
Storage & Media
Storage
350 MB
Media
1 – 1.44 MB Floppy
1 – 2x CD-ROM (Optional for AV models)
Memory
Built-in Memory
8 MB
Maximum Memory
132 MB (Actual)
72 MB (Apple)
Memory Slots
2 – 72 pin SIMMs (Group of 2)
Minimum Speed
80 ns
ROM
Unknown
Interleaving Support
No
Display
Graphics
| | |
| --- | --- |
| Graphics Card | None |
| Graphics Memory | 2 MB DRAM |
| Display Connection | 1 – HDI-45 |
Expansion
| | |
| --- | --- |
| Expansion Slots | 1 – 7″ PDS or NuBus |
| Hard Drive Interface | SCSI |
Connections
Ethernet
AAUI-15
Modem
28.8k (external)
Bluetooth
None
ADB
1
Serial
2
SCSI
1 – DB-25
Floppy Port
None
Audio In
1 – 3.5-mm analog input jack
Audio Out
1 – 3.5-mm analog output jack
1 – Built-in speaker
Display
1 – HDI-45
Software
Power
| | |
| --- | --- |
| Backup Battery | 3.6 V lithium |
| Maximum Continuous Power | 210 W |
| Line Voltage | 100-240 V |
Further Reading and References
Would you like to know more about Apple products? Stay up-to-date with the latest Apple News. Check our blog for the latest releases, rumors, and updates in the world of Apple.
Disclaimer: The data presented in this article is under continuous development and has been manually collected from various sources based on their availability. The author of this article may revise this dataset as additional research is conducted and reviewed. Please note that the information is provided "as is" and "as available" without express or implied warranties. The author cannot be held responsible for any omissions, inaccuracies, or errors in the published information. Any warranties relating to this information are hereby disclaimed.
Last updated: August 4, 2023