In the ever-evolving landscape of technology, milestones are marked by the innovations that shape the course of the industry. On March 7, 1997, Apple made a significant mark with the introduction of the eMate 300, a personal digital assistant that not only broke new ground but laid the foundation for the future of portable computing.
The eMate 300, part of the Newton series, emerged as a versatile personal digital assistant designed, manufactured, and sold by Apple. Priced at $800, this innovative device showcased a 6.8″ 480×320 resolution 16-shade grayscale display, complete with a stylus pen, a compact keyboard, an infrared port, and standard Macintosh serial/LocalTalk ports.
Powering the eMate 300 were built-in rechargeable batteries, offering an impressive 28 hours of usage on a full charge. This feature, coupled with its portable design, made the device a convenient companion for users on the go. The keyboard, though roughly 85% the size of a standard one, added a tactile dimension to the user experience.
To achieve its affordability, the eMate 300 made strategic compromises. It utilized a 25 MHz ARM 710a RISC processor and had less memory compared to its contemporary counterpart, the MessagePad 2000. However, it outpaced its predecessor, the MessagePad 130. Notable was the inclusion of an internal memory expansion slot, a feature absent in the MessagePad line, opening doors for future customization.
The eMate 300's expansion slot, located under the battery door, allowed for memory enhancements and featured compatibility with various expansion cards. The device also sported a single non-CardBus PCMCIA slot, offering flexibility for modems, Ethernet cards, wireless cards, Bluetooth cards, and flash memory.
Wrapped in a green-colored translucent case, the eMate 300 was built for durability, especially suited for the rigors of classroom use. Though it may not have achieved the commercial success of other Apple products, its impact on the development of personal digital assistants is undeniable.
As we reflect on 26 years of the eMate 300, it's clear that this device played a crucial role in shaping the future of portable computing. While today's smartphones boast advanced features, we owe a debt to the trailblazers like the eMate 300 that paved the way.
The Apple eMate 300 may no longer grace our pockets, but its legacy lives on in the devices we use today. Here's to the innovation, durability, and pioneering spirit of the eMate 300, a device that sparked a revolution in personal digital assistants and left an indelible mark on the ever-evolving tech industry.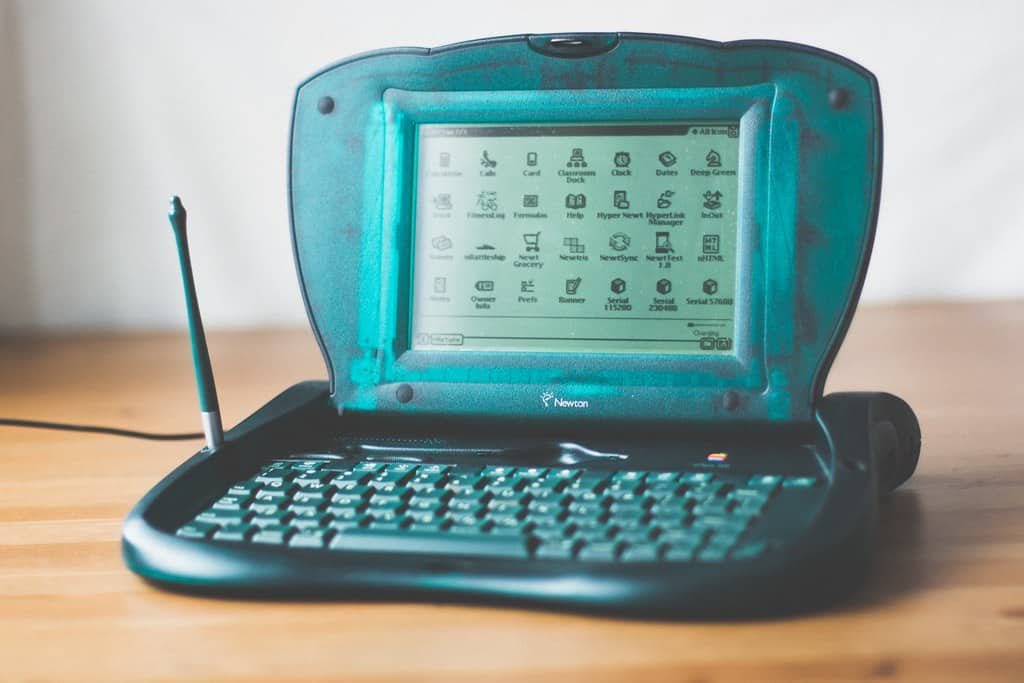 Newton eMate 300 Details
Introduced
March 7, 1997
Discontinued
February 27, 1998
Model Number
Unknown
Order Number
Unknown
Original Price
$800
Colors
Dark Grey
Weight
4 Ibs.
1.814 KG
Dimensions
12" H x 11.4" W x 2.1" D
30.48 cm H x 28.95 cm W x 5.33 cm
eMate 300 Tech Specs
Processor
| | |
| --- | --- |
| Processor | ARM 710a RISC |
| Processor Speed | 25 MHz |
| Architecture | 32-bit |
| Number of Cores | 1 |
Memory
Display
| | |
| --- | --- |
| Input Method | eMate Pen |
| Resolution | 480 x 320 |
Expansion
| | |
| --- | --- |
| Expansion Slots | 1 – PCMCIA-Slot I & II & III |
Connections
Serial
1 – Serial
1 – Newton InterConnect
Infrared
1 – 115k with 3.3 feet (1 meter)
Audio In
1 – 3.5-mm analog input jack
Audio Out
1 – 3.5-mm analog output jack
1 – Built-in speaker
Keyboard
| | |
| --- | --- |
| Keyboard | Built-in keyboard with 77 (U.S.) or 77 (ISO) keys |
Software
Power
| | |
| --- | --- |
| Battery | NiMH rechargeable battery or external power supply |
| Battery Life | 12-28 hours |
Further Reading and References
Would you like to know more about Apple products? Stay up-to-date with the latest Apple News. Check our blog for the latest releases, rumors, and updates in the world of Apple.
Disclaimer: The data presented in this article is under continuous development and has been manually collected from various sources based on their availability. The author of this article may revise this dataset as additional research is conducted and reviewed. Please note that the information is provided "as is" and "as available" without express or implied warranties. The author cannot be held responsible for any omissions, inaccuracies, or errors in the published information. Any warranties relating to this information are hereby disclaimed.
Last updated: November 23, 2023