In the ever-evolving world of technology, few names resonate as strongly as Apple. The year was 1996 when Apple dropped a game-changer that would redefine the computing experience – the Power Macintosh 7215. This mid-90s marvel was more than just a computer; it was a statement of power and innovation, altering the course of professionals and creatives who craved cutting-edge technology.
On January 11, 1996, Apple ushered in a new era with the grand unveiling of the Power Macintosh 7215. This sleek and robust machine was destined to become a favored choice among professionals and creatives seeking an unparalleled computing experience. As part of Apple's esteemed Power Macintosh series, the 7215 stood as a testament to the company's unwavering commitment to pushing the boundaries of technology.
The Power Macintosh 7215 was more than just a pretty face; it packed a punch under its hood. Boasting a 90 MHz PowerPC 601 processor, 8 MB of RAM, an 800 MB hard drive, and a CD-ROM drive capable of blazing speeds of 4x or 8x, this machine was a force to be reckoned with. The inclusion of a 1.44 MB floppy drive was a cherry on top, facilitating seamless data transfers from diverse sources.
Despite its impressive specifications and capabilities, the Power Macintosh 7215's shining moment was fleeting. Apple pulled the plug just over a year after its launch, discontinuing it on February 17, 1997. However, like a star that burns brightest before its fall, the 7215 had already etched itself into the hearts of Apple aficionados and those who harnessed its potential during its brief existence.
The price tag of $1,900 was indeed substantial in the mid-90s, placing the Power Macintosh 7215 in the league of considered investments. Yet, for those who dared to venture into this technological marvel, the returns were ample. Whether you were a graphic designer crafting masterpieces, a video editor piecing narratives together, or simply engaged in everyday tasks, the Power Macintosh 7215 proved to be the ultimate accomplice.
As we journey through the annals of time, the Power Macintosh 7215 continues to exude its influence. The echoes of its impact remain as a resounding testament to Apple's unyielding dedication to furnishing the world with powerful and pioneering products. Though its physical presence vanished over two decades ago, its legacy endures, serving as a beacon for generations of technology enthusiasts and innovators.
In retrospection, the Power Macintosh 7215 stands tall as an embodiment of the audacious spirit that defines Apple. Its brief but impactful existence marked a juncture where innovation met aspiration, leaving an indelible mark on the landscape of computing.
In the grand tapestry of Apple's history, the Power Macintosh 7215 remains a thread that, even 27 years later, refuses to unravel. It wasn't just a computer; it was a revolution.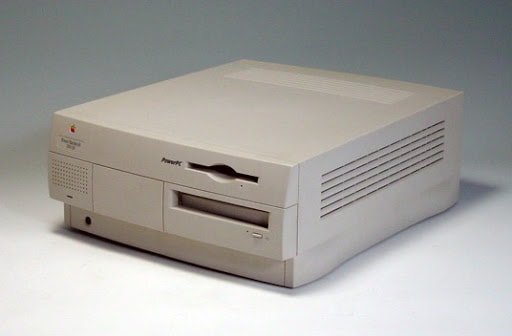 Power Macintosh 7215 Details
Introduced
January 11, 1996
Discontinued
February 17, 1997
Model Identifier
108
Model Number
Unknown
Order Number
Unknown
Original Price
$1,900
Colors
Platinum
Weight
22 Ibs.
9.979 KG
Dimensions
6.15" H x 14.37" W x 16.93" D
15.6 cm H x 36.5 cm W x 43 cm D
Power Mac 7215 Tech Specs
Processor
Processor
PowerPC 601
Processor Speed
90 MHz
Architecture
32-bit
Number of Cores
1
System Bus
45 MHz
Cache
32 KB L1
256 KB or 512 KB or 1 MB L2 (Optional)
Coprocessor
Built-in FPU
Storage & Media
Storage
800 MB
Media
1 – 1.44 MB Floppy
1 – 4x CD-ROM or 8x CD-ROM
Memory
| | |
| --- | --- |
| Built-in Memory | 8 MB |
| Maximum Memory | 512 MB |
| Memory Slots | 4 – 168 pin FPM DIMM |
| Minimum Speed | 70 ns |
| ROM | Unknown |
| Interleaving Support | No |
Display
Graphics
| | |
| --- | --- |
| Graphics Card | None |
| Graphics Memory | 1 – 4 MB |
| Display Connection | 1 – DB-15 |
Expansion
| | |
| --- | --- |
| Expansion Slots | 3 – PCI |
| Hard Drive Interface | SCSI |
Connections
Ethernet
1 – AAUI-15
1 – 10BASE-T
Modem
None
Wi-Fi
None
Bluetooth
None
Infrared
None
ADB
1
Serial
2
SCSI
1 – DB-25
Floppy Port
None
Audio In
1 – 3.5-mm analog input jack
Audio Out
1 – 3.5-mm analog output jack
1 – Built-in speaker
Display
1 – DB-15
Software
Power
| | |
| --- | --- |
| Backup Battery | 3.6 V Lithium |
| Maximum Continuous Power | 150 W |
| Line Voltage | 100-240 V |
Further Reading and References
Would you like to know more about Apple products? Stay up-to-date with the latest Apple News. Check our blog for the latest releases, rumors, and updates in the world of Apple.
Disclaimer: The data presented in this article is under continuous development and has been manually collected from various sources based on their availability. The author of this article may revise this dataset as additional research is conducted and reviewed. Please note that the information is provided "as is" and "as available" without express or implied warranties. The author cannot be held responsible for any omissions, inaccuracies, or errors in the published information. Any warranties relating to this information are hereby disclaimed.
Last updated: August 29, 2023