In the ever-evolving landscape of technology, Apple has carved its name as a pioneer, consistently pushing the boundaries of innovation. Amidst its impressive array of products, the mid-90s saw Apple introducing a groundbreaking addition – the AppleVision 1710AV Display. With its launch on December 1, 1995, this display quickly became a symbol of cutting-edge technology. Let's take a journey back in time to explore the legacy of the AppleVision 1710AV Display, a device that marked a significant chapter in Apple's history.
In an era when display technology was rapidly advancing, Apple stepped onto the scene with the AppleVision 1710AV Display. Designed as a companion for Power Macintosh computers, this 17-inch color RGB monitor was more than just a screen – it was a window into the digital realm. With a remarkable pixel density of up to 102 dpi and a resolution of 1280 x 1024 pixels, the display presented images and graphics in stunning clarity.
Diving into the specifications, the AppleVision 1710AV Display boasted the capability to exhibit an astonishing 16.7 million colors. This vibrant color palette was a testament to Apple's commitment to delivering exceptional visual experiences. At a time when such color depth was a rarity, Apple was setting new standards for display technology.
The AppleVision 1710AV Display wasn't just about visuals; it was a holistic sensory experience. Equipped with two ADB ports, built-in stereo speakers, and a microphone, it facilitated seamless communication and multimedia interactions. The inclusion of both a 3.5-mm jack input port and a 3.5-mm jack output port showcased Apple's foresight in catering to audio needs. Additionally, the DA-15 video connection ensured compatibility with a range of devices.
With innovation often comes a price, and the AppleVision 1710AV Display was no exception. Retailing at $1,159 upon its release, it was considered a luxury investment. However, enthusiasts and professionals alike recognized its value. The display was met with widespread acclaim for its exceptional display quality and advanced features. Its user-friendly design and seamless integration with Power Macintosh computers made it a staple for those seeking top-tier visual experiences.
As with all technological marvels, the AppleVision 1710AV Display's journey had a finite timeline. On August 5, 1997, the curtain fell on this iconic display. Yet, even as it bid adieu to the market, its impact endured. Today, 28 years later, the AppleVision 1710AV Display remains a poignant piece of Apple's history, a symbol of the brand's relentless pursuit of excellence.
Though the AppleVision 1710AV Display may no longer be available for purchase, its legacy lives on in the hearts of those fortunate enough to experience its technological prowess. As we marvel at the strides made in display technology since its time, it's important to pay homage to the devices that paved the way.
In the annals of Apple's storied history, the AppleVision 1710AV Display remains an emblem of innovation, a reminder that each advancement builds upon the last. So, as we navigate the frontiers of modern technology, let's remember the luminous pixels of the past that illuminate our present and future.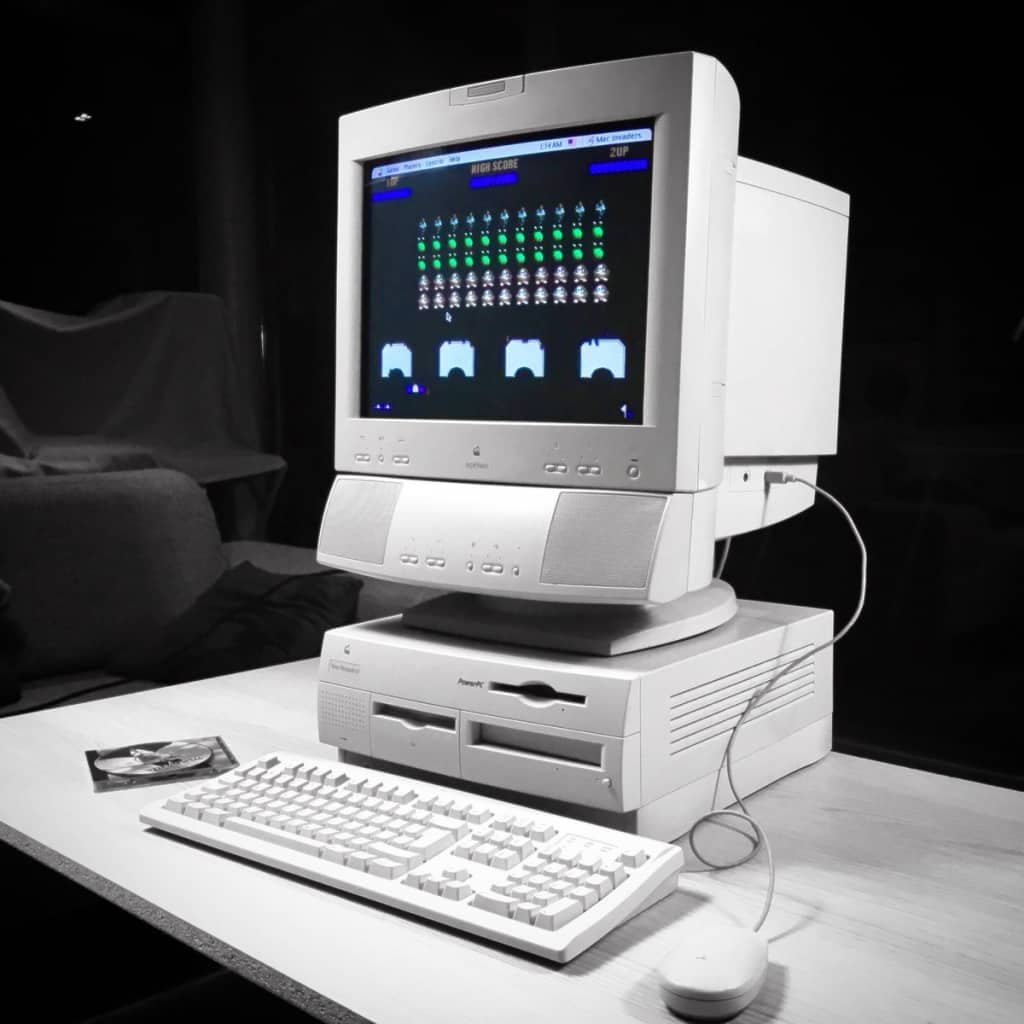 AppleVision 1710AV Display Details
Introduced
December 1, 1995
Discontinued
August 5, 1997
Model Number
M2942
Order Number
Unknown
Original Price
$1,159
Colors
Platinum
Weight
60 Ibs.
27.215 KG
Dimensions
16.8" H x 16.2" W x 17.6" D
42.67 cm H x 41.14 cm W x 44.7 cm D
System Requirements
Display Specs
Type
Trinitron CRT
Size
17"
Viewable Area
16.1"
Colors
16.7 million
Brightness
N/A
Resolutions
640 x 480
800 x 600
832 x 624
1024 x 768
1152 x 870
1280 x 1024
Viewing Angle
N/A
Contrast Ratio
N/A
Response Time
N/A
Pixel Pitch
0.26 mm
Pixel Density
50 dpi
62 dpi
65 dpi
80 dpi
90 dpi
102 dpi
Connections
Connection
DA-15
Audio
2 – Built-in stereo speakers
1 – Built-in microphone
Camera
None
Ports
2 – ADB
1 – 3.5-mm analog input jack
1 – 3.5-mm analog output jack
Power
| | |
| --- | --- |
| Maximum Continuous Power | 130 W |
Further Reading and References
Would you like to know more about Apple products? Stay up-to-date with the latest Apple News. Check our blog for the latest releases, rumors, and updates in the world of Apple.
Disclaimer: The data presented in this article is under continuous development and has been manually collected from various sources based on their availability. The author of this article may revise this dataset as additional research is conducted and reviewed. Please note that the information is provided "as is" and "as available" without express or implied warranties. The author cannot be held responsible for any omissions, inaccuracies, or errors in the published information. Any warranties relating to this information are hereby disclaimed.
Last updated: August 29, 2023