In the early 1990s, Apple was making waves in the personal computer market with its Macintosh II series. Among the lineup was the Macintosh IIvi, a machine that may not have received the same fanfare as its counterparts, but nevertheless left an indelible mark on Apple's product history. Today, as we celebrate 30 years since its release, let's take a closer look at this underpowered gem.
The Macintosh IIvi made its debut on October 19th, 1992, with a starting price tag of $3,000. It boasted a sleek metal case, a departure from the traditional beige boxes of the era, instantly capturing the attention of design enthusiasts. Apple's dedication to aesthetics was evident in this machine.
Underneath its stylish exterior, the Macintosh IIvi featured a 16 MHz Motorola 68030 processor, a Motorola 68882 FPU coprocessor, and 4 MB of RAM. While not the most powerful specifications of its time, the IIvi managed to hold its own in performance tests, surprising users and critics alike. Its hard drive options ranged from a modest 40 MB to a more impressive 400 MB, providing ample storage for the era's demands.
One standout feature of the Macintosh IIvi was its built-in CD-ROM drive, a first for a Macintosh computer. This addition opened up new possibilities for users, enabling them to enjoy multimedia content and access a vast array of software on CD-ROMs. Additionally, the IIvi sported a 1.44 MB floppy drive, a common storage medium of the time.
While the Macintosh IIvi found its way to markets in Europe, South America, and Japan, it remained conspicuously absent from the shelves of American retailers. Perhaps Apple deemed it more suitable for international markets, focusing its efforts on other models for the US consumer base. However, IIvi's absence in the United States did not diminish its significance.
Despite its international availability, the Macintosh IIvi lived in the shadow of its more powerful sibling, the Macintosh Performa 600. The Performa line, introduced around the same time, offered improved specifications and performance, relegating the IIvi to the role of an underpowered alternative.
Interestingly, the Macintosh IIvi lacked the capability to accept a level 2 (L2) cache, setting it apart from its counterparts. However, users had the option to install an accelerator, providing a potential performance boost. Though the IIvi couldn't match the Macintosh IIvx in raw power, it did manage to hold its own in certain benchmarks, surprising those who doubted its capabilities.
Apple eventually discontinued the Macintosh IIvi on February 10, 1993, ending its short-lived production run. However, its impact on the Macintosh lineup and Apple's design legacy cannot be overlooked. The IIvi's metal case design became a signature element for future Macintosh computers, emphasizing Apple's commitment to elegant aesthetics.
Even today, 30 years after its release, the Macintosh IIvi stands as a testament to Apple's relentless pursuit of innovation. While it may not have been the most powerful or well-known machine of its time, its inclusion of a built-in CD-ROM drive, the first in a Macintosh, set a new standard for the industry.
Moreover, the IIvi's legacy lives on in the shared floppy drive mounting sled it shares with other models like the IIvx, Centris 650, Quadra 650, and Power Mac 7100. This versatile feature allowed users to repurpose the sled for a hard drive, offering a convenient upgrade path for those seeking additional storage capacity.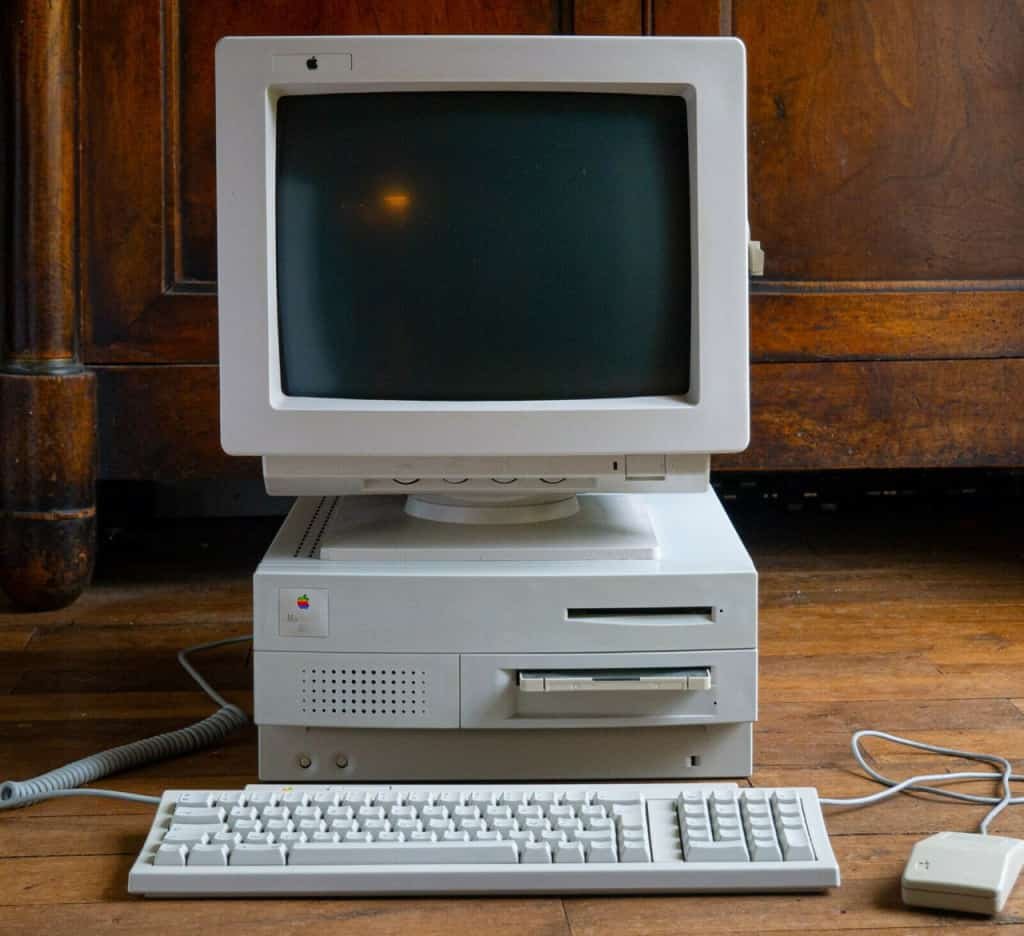 Macintosh IIvi Details
Introduced
October 19, 1992
Discontinued
February 10, 1993
Model Identifier
44
Model Number
M1350
Order Number
M1378J/A
M1354J/A
Original Price
$3,000
Colors
Platinum
Weight
35 Ibs.
15.875 KG
Dimensions
6" H x 13" W x 16.5" D
15.24 cm H x 33 cm W x 41.91 cm D
Mac IIvi Tech Specs
Processor
| | |
| --- | --- |
| Processor | Motorola 68030 |
| Processor Speed | 16 MHz |
| Architecture | 32-bit |
| Number of Cores | 1 |
| System Bus | 16 MHz |
| Cache | 0.5 KB L1 |
| Coprocessor | Motorola 68882 FPU (Optional) |
Storage & Media
Storage
40 MB
80 MB
160 MB
400 MB
Media
1 – CD-ROM (Optional)
1 – 1.44 MB Floppy
Memory
| | |
| --- | --- |
| Built-in Memory | 4 MB |
| Maximum Memory | 68 MB |
| Memory Slots | 4 – 30 pin SIMMs |
| Minimum Speed | 80 ns |
| ROM | Unknown |
| Interleaving Support | No |
Display
Graphics
| | |
| --- | --- |
| Graphics Card | None |
| Graphics Memory | Unknown |
| Display Connection | Unknown |
Expansion
Expansion Slots
3 – NuBus
1 – Cache Bus (PDS)
Hard Drive Interface
SCSI
Connections
| | |
| --- | --- |
| Ethernet | None |
| Modem | None |
| ADB | 2 |
| Serial | 2 |
| SCSI | 1 – DB-25 |
| Floppy Port | None |
| Audio In | 1 – 3.5-mm mono input jack |
| Audio Out | 1 – 3.5-mm stereo output jack |
| Display | Unknown |
Software
Power
| | |
| --- | --- |
| Backup Battery | 3.6 V lithium |
| Maximum Continuous Power | 230 W |
| Line Voltage | Unknown |
Further Reading and References
Would you like to know more about Apple products? Stay up-to-date with the latest Apple News. Check our blog for the latest releases, rumors, and updates in the world of Apple.
Disclaimer: The data presented in this article is under continuous development and has been manually collected from various sources based on their availability. The author of this article may revise this dataset as additional research is conducted and reviewed. Please note that the information is provided "as is" and "as available" without express or implied warranties. The author cannot be held responsible for any omissions, inaccuracies, or errors in the published information. Any warranties relating to this information are hereby disclaimed.
Last updated: June 19, 2023