In 1995, Apple revolutionized the personal computing world with the launch of the Macintosh LC 580, a powerful computer that boasted top-notch specifications for its time. This iconic machine left a lasting impression on users, despite its short lifespan of just four months.
Today, 28 years later, the Macintosh LC 580 stands as a sought-after vintage item, evoking nostalgia for the golden era of personal computing and highlighting Apple's unwavering commitment to innovation and technology.
The Macintosh LC 580 was introduced to the world on April 3, 1995, as part of Apple's prestigious Macintosh LC series. It packed a punch with its 33 MHz Motorola 68LC040 processor, 14″ CRT Color Display, 8 MB of RAM, a 500 MB hard drive, a CD-ROM drive, and a 1.44 MB floppy drive. These specifications were ahead of their time, placing it firmly at the cutting edge of computing technology in the mid-1990s.
Apple's dedication to creating powerful and user-friendly machines was evident in the Macintosh LC 580's design, manufacturing, and overall performance. The computer boasted remarkable capabilities, making it a favorite among tech enthusiasts and educators alike.
Despite its impressive features, the Macintosh LC 580's time in the spotlight was brief. Just four months after its grand debut, Apple made the unexpected decision to discontinue the product on August 1, 1995. This move left many users disappointed, as they had only begun to explore the full potential of this innovative machine.
However, even in its short lifespan, the Macintosh LC 580 managed to etch itself into Apple's history, serving as a reminder of the company's trailblazing spirit and the constant pursuit of technological excellence.
Fast forward to the present, and the Macintosh LC 580 is now a highly sought-after vintage item. Collectors and enthusiasts scour auction sites and antique stores to get their hands on this cherished piece of computing history.
For those fortunate enough to have used the Mac LC 580 during its heyday, the memories it evokes hold a special place in their hearts. It symbolizes a time of exploration and discovery, where computing was transitioning from a niche technology to an integral part of our lives.
Though externally resembling its predecessor, the LC 575, the Macintosh LC 580 featured significant internal upgrades. The lower-quality display and support for cheaper IDE hard drives, among other changes, made it a unique and more cost-effective option for users.
Additionally, the inclusion of new video input/output expansion and support for Apple's TV tuner card added versatility to the machine, catering to various needs and preferences.
While the Macintosh LC 580 targeted the education market, its consumer-oriented counterpart, the Performa 580CD series, was exclusively available in Canada, Asia, and Australia. These two versions catered to distinct user bases, ensuring that the LC 580 could make an impact across various sectors.
Running on System 7, the Macintosh LC 580 boasted a 32-bit processor, enabling seamless multitasking and virtual memory access. It shipped with 8 MB of RAM and a built-in 2x speed Apple 300i CD, providing users with ample storage and media capabilities.
The inclusion of software like ClarisWorks v3.0, Quicken v5.0, and QuickTime 2.0 enhanced the productivity and entertainment value of the Macintosh LC 580. From business tasks to multimedia experiences, this versatile machine delivered on multiple fronts.
The Macintosh LC 580 may have had a short-lived existence, but its impact on the computing world remains profound. As a treasured vintage item, it serves as a reminder of a time when technology was rapidly advancing, and Apple was at the forefront of innovation.
Today, we look back at the Macintosh LC 580 with nostalgia and admiration, celebrating its contributions to the golden era of personal computing. With a powerful legacy that continues to inspire, this iconic machine reminds us of the never-ending quest to push the boundaries of technology and the enduring spirit of innovation.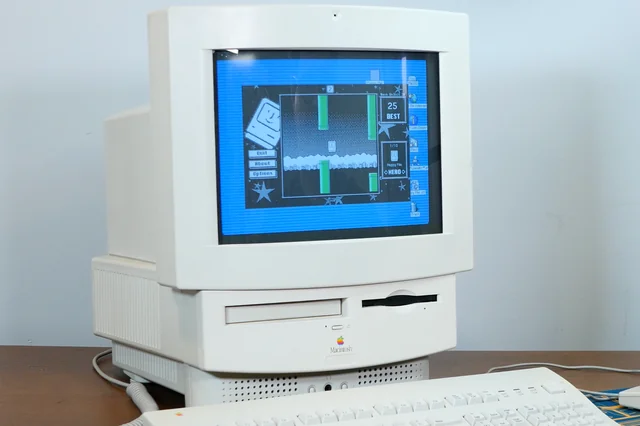 Macintosh LC 580 Details
Introduced
April 3, 1995
Discontinued
August 1, 1995
Model Identifier
99
Model Number
M3872
Order Number
Unknown
Original Price
$1,300
$1,700
Colors
Platinum
Weight
40.5 Ibs.
18.370 KG
Dimensions
17.9" H x 13.5" W x 16.5" D
45.46 cm H x 34.29 cm W x 41.91 cm D
Mac LC 580 Tech Specs
Processor
| | |
| --- | --- |
| Processor | Motorola 68LC040 |
| Processor Speed | 33 MHz |
| Architecture | 32-bit |
| Number of Cores | 1 |
| System Bus | 33 MHz |
| Cache | 8 KB L1 |
| Coprocessor | None |
Storage & Media
Storage
500 MB
Media
1 – CD-ROM
1 – 1.44 MB Floppy
Memory
| | |
| --- | --- |
| Built-in Memory | 8 MB |
| Maximum Memory | 52 MB |
| Memory Slots | 2 – 72 pin SIMM |
| Minimum Speed | 80 ns |
| ROM | Unknown |
| Interleaving Support | No |
Display
| | |
| --- | --- |
| Built-in Display | 14″ RGB CRT Display |
| Resolution | 640 x 480 |
Graphics
| | |
| --- | --- |
| Graphics Card | None |
| Graphics Memory | 1 MB |
| Display Connection | None |
Expansion
Expansion Slots
1 – LC PDS (Cache Bus)
1 – Comm. Slot
1 – Video I/O
Hard Drive Interface
IDE
Connections
Ethernet
None
Modem
None
ADB
1
Serial
2
SCSI
1 – DB-25
Floppy Port
None
Audio In
1 – 3.5-mm analog input jack
1 – Built-in microphone
Audio Out
2 – 3.5-mm analog output jack
2 – Built-in speaker
Display
None
Software
Power
| | |
| --- | --- |
| Backup Battery | 4.5 V Alkaline |
| Maximum Continuous Power | 40 W |
| Line Voltage | Unknown |
Further Reading and References
Would you like to know more about Apple products? Stay up-to-date with the latest Apple News. Check our blog for the latest releases, rumors, and updates in the world of Apple.
Disclaimer: The data presented in this article is under continuous development and has been manually collected from various sources based on their availability. The author of this article may revise this dataset as additional research is conducted and reviewed. Please note that the information is provided "as is" and "as available" without express or implied warranties. The author cannot be held responsible for any omissions, inaccuracies, or errors in the published information. Any warranties relating to this information are hereby disclaimed.
Last updated: August 7, 2023