In the fast-paced world of personal computing, few machines have left a mark as indelible as Apple's Performa 5410CD. Launched on April 22, 1996, as part of the Performa series, this sleek personal computer swiftly gained favor among home and small business users. In this retrospective, we delve into the groundbreaking features and untimely demise of the Performa 5410CD, a machine that played a pivotal role in shaping Apple's reputation for innovation and design.
Boasting a stunning design and cutting-edge specs, the Performa 5410CD was a force to be reckoned with in the personal computing landscape of the mid-'90s. Its beating heart was a robust 120 MHz PowerPC 603e processor, ensuring blazing-fast performance. Complementing this was a vibrant 15″ color CRT display, which was nothing short of revolutionary at the time. With 16 MB of RAM, a capacious 1.6 GB hard drive, a zippy 4x CD-ROM drive, and a reliable 1.44 MB floppy drive, the Performa 5410CD was a powerhouse built to tackle both personal and professional tasks with finesse.
Despite its meteoric rise, the Performa 5410CD's journey was unexpectedly short-lived. After just eight months on the market, Apple pulled the plug on February 1, 1997. This sudden discontinuation left many enthusiasts and industry insiders puzzled. However, in hindsight, the Performa 5410CD's legacy is undeniable. It not only showcased Apple's knack for pushing technological boundaries but also laid the foundation for the company's enduring commitment to innovation.
As the Performa 5410CD turns 27, its legacy endures. Though no longer in production, it holds a special place in the annals of Apple's history. For enthusiasts and collectors, it remains a cherished relic, a tangible reminder of a pivotal moment in personal computing history. Its sleek design and formidable specs continue to captivate, serving as a testament to Apple's enduring quest for excellence.
One intriguing aspect of the Performa 5410CD is its distinction from the Performa 5400CD. The 5410CD notably shipped without a pre-installed Ethernet card, setting it apart from its sibling model. This nuanced difference catered to a specific demographic, further highlighting Apple's commitment to tailoring its offerings to varying user needs.
The Performa 5410CD's availability was not uniform across the globe. While this model found its niche in Europe and Asia, Apple concurrently released an educational variant, the Power Macintosh 5400, exclusively in North America. This strategic market segmentation further exemplifies Apple's astute approach to catering to distinct regional demands.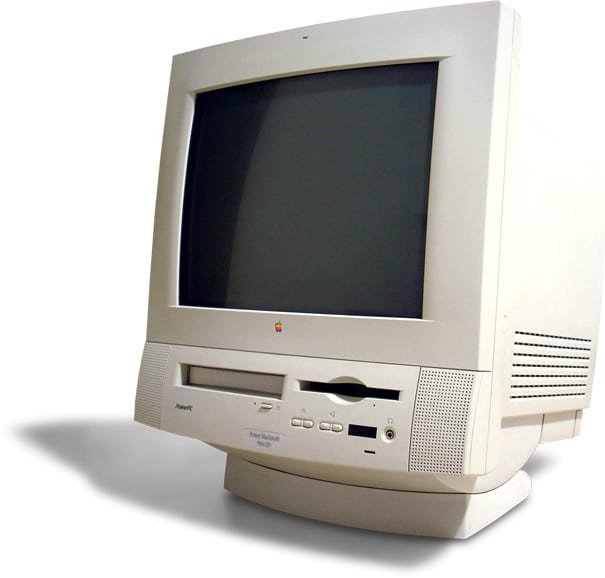 Macintosh Performa 5410CD Details
Introduced
April 22, 1996
Discontinued
February 1, 1997
Model Identifier
74
Model Number
M3046
Order Number
M4798J/A
Original Price
Unknown
Colors
Platinum
Weight
47 Ibs.
21.318 KG
Dimensions
17.5" H x 15.1" W x 16" D
44.45 cm H x 38.35 cm W x 40.64 cm D
Mac Performa 5410 Tech Specs
Processor
Processor
PowerPC 603e
Processor Speed
120 MHz
Architecture
32-bit
Number of Cores
1
System Bus
40 MHz
Cache
32 KB L1
256 KB L2 (Optional)
Coprocessor
Built-in FPU
Storage & Media
Storage
1.6 GB
Media
1 – 1.44 MB Floppy
1 – 4x CD-ROM
Memory
| | |
| --- | --- |
| Built-in Memory | 16 MB |
| Maximum Memory | 136 MB |
| Memory Slots | 2 – 168 pin DIMM |
| Minimum Speed | 70 ns |
| ROM | Unknown |
| Interleaving Support | No |
Display
Built-in Display
15″ Shadow Mask RGB CRT Display
Resolution
640×480 at 16-bit
800×600 at 8-bit
832×624 at 8-bit
Graphics
| | |
| --- | --- |
| Graphics Card | None |
| Graphics Memory | 1 MB |
| Display Connection | None |
Expansion
Expansion Slots
1 – LC PDS (Cache Bus)
1 – Comm. II Slot
1 – Video I/O
1 – TV Tuner
Hard Drive Interface
IDE
Connections
Ethernet
1 – 10BASE-T (Optional)
Modem
None
ADB
1
Serial
2
SCSI
1 – DB-25
Floppy Port
None
Audio In
1 – 3.5-mm analog input jack
1 – Built-in microphone
Audio Out
2 – 3.5-mm analog output jack
2 – Built-in speaker
Display
None
Software
Power
| | |
| --- | --- |
| Backup Battery | 4.5 V Alkaline |
| Maximum Continuous Power | 220 W |
| Line Voltage | Unknown |
Further Reading and References
Would you like to know more about Apple products? Stay up-to-date with the latest Apple News. Check our blog for the latest releases, rumors, and updates in the world of Apple.
Disclaimer: The data presented in this article is under continuous development and has been manually collected from various sources based on their availability. The author of this article may revise this dataset as additional research is conducted and reviewed. Please note that the information is provided "as is" and "as available" without express or implied warranties. The author cannot be held responsible for any omissions, inaccuracies, or errors in the published information. Any warranties relating to this information are hereby disclaimed.
Last updated: September 15, 2023