In the ever-evolving landscape of technology, certain milestones stand out as pivotal moments that shaped the industry. One such moment was on August 28, 1995, when Apple unveiled the Macintosh Performa 6214CD, a jewel in their esteemed Performa series. This PC powerhouse, which graced the scene for just over a year, remains a testament to Apple's relentless pursuit of innovation.
At a time when computing was finding its footing, the Performa 6214CD burst onto the scene with a bang. It was powered by a 75 MHz PowerPC 603 processor, an engineering marvel that provided users with processing capabilities that were the envy of the era. Backed by 8 MB of RAM and a 1 GB hard drive, this machine was built for serious computing tasks. The inclusion of a 4x CD-ROM drive and a 1.44 MB floppy drive further solidified its position as a top-tier option for users yearning for a truly robust Mac experience.
Apple has always been known for its groundbreaking designs, and the Performa 6214CD was no exception. With its sleek lines and unmistakable Apple aesthetic, this computer was more than a tool; it was a work of art. Its classic design resonated with users, showcasing Apple's commitment to merging form and function seamlessly. As a result, the machine found a devoted following among those who recognized the convergence of beauty and power.
Despite its brief existence, the Performa 6214CD left an indelible mark on the tech landscape. However, the sunset on this magnificent machine on July 1, 1996, just over a year after its debut. Yet, its legacy lives on in the hands of collectors and tech enthusiasts who understand its historical significance. Today, the Macintosh Performa 6214CD stands tall at 28 years old, a living relic of a time when computing was finding its footing.
Pioneering in its own right, the Performa 6214CD shipped with a 15″ Apple color monitor, adding vibrancy to the computing experience. Additionally, it featured an external 14.4k modem, a forward-looking feature that hinted at the importance of connectivity in the years to come. Moreover, the Performa 6214CD boasted a unique distinction – it was identical to the Performa 6200CD, except for the inclusion of a "college student" software bundle. This spotlighted Apple's penchant for catering to various user needs.
While the Performa 6214CD was a worldwide sensation, its business-oriented sibling, the Power Macintosh 6200, had an exclusive presence in Asia. This regional distinction added a layer of intrigue to Apple's strategy, showcasing its ability to tailor products for specific markets.
The Macintosh Performa 6214CD may have graced the tech scene for a mere moment in history, but its impact is immeasurable. An embodiment of power, elegance, and innovation, this computer encapsulated the essence of a company that continuously pushed the boundaries of what technology could achieve. As we look back on the journey that led us to today's digital wonders, the Performa 6214CD stands as a beacon of Apple's dedication to shaping the future, one technological masterpiece at a time.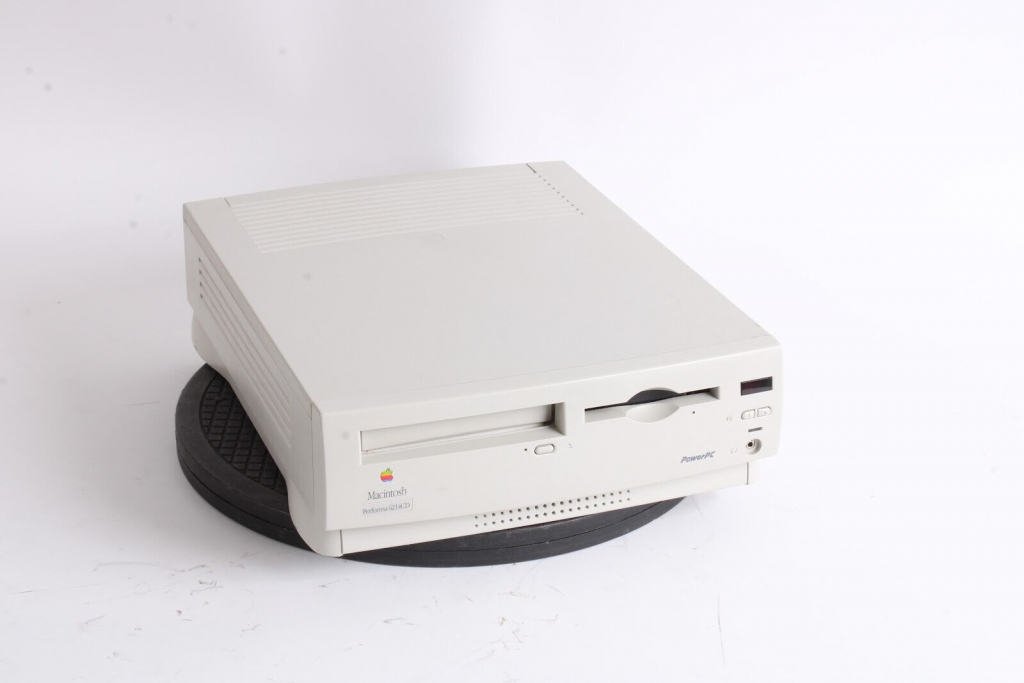 Macintosh Performa 6214CD Details
Introduced
August 28, 1995
Discontinued
July 1, 1996
Model Identifier
42
Model Number
M3076
Order Number
M4646LL/A
Original Price
$2,300
Colors
Platinum
Weight
19 Ibs.
8.618 KG
Dimensions
4.3" H x 12.6" W x 16.5" D
10.92 cm H x 32 cm W x 41.91 cm D
Mac Performa 6214CD Tech Specs
Processor
Processor
PowerPC 603
Processor Speed
75 MHz
Architecture
32-bit
Number of Cores
1
System Bus
37.5 MHz
Cache
16 KB L1
256 KB L2
Coprocessor
Built-in FPU
Storage & Media
Storage
1 GB
Media
1 – 1.44 MB Floppy
1 – 4x CD-ROM
Memory
| | |
| --- | --- |
| Built-in Memory | 8 MB |
| Maximum Memory | 64 MB |
| Memory Slots | 2 – 72 pin SIMM |
| Minimum Speed | 80 ns |
| ROM | Unknown |
| Interleaving Support | No |
Display
Graphics
| | |
| --- | --- |
| Graphics Card | None |
| Graphics Memory | 1 MB |
| Display Connection | 1 – DB-15 |
Expansion
Expansion Slots
1 – LC PDS
1 – Comm
1 – Video I/O
1 – TV
Hard Drive Interface
IDE
Connections
Ethernet
None
Modem
14.4k (external)
Wi-Fi
None
Bluetooth
None
ADB
1
Serial
2
SCSI
1 – DB-25
Floppy Port
None
Audio In
1 – 3.5-mm analog input jack
Audio Out
1 – 3.5-mm analog output jack
1 – Built-in speaker
Display
1 – DB-15
Software
Power
| | |
| --- | --- |
| Backup Battery | 4.5 V Alkaline |
| Maximum Continuous Power | 55 W |
| Line Voltage | Unknown |
Further Reading and References
Would you like to know more about Apple products? Stay up-to-date with the latest Apple News. Check our blog for the latest releases, rumors, and updates in the world of Apple.
Disclaimer: The data presented in this article is under continuous development and has been manually collected from various sources based on their availability. The author of this article may revise this dataset as additional research is conducted and reviewed. Please note that the information is provided "as is" and "as available" without express or implied warranties. The author cannot be held responsible for any omissions, inaccuracies, or errors in the published information. Any warranties relating to this information are hereby disclaimed.
Last updated: August 28, 2023