In the annals of tech history, 1996 was a pivotal year. It was the year when Apple unveiled a groundbreaking device that would forever alter the landscape of mobile computing. On November 20, 1996, the world witnessed the birth of the Macintosh PowerBook 1400c, a notebook computer that redefined the very concept of portable computing. This remarkable device was part of the illustrious Macintosh PowerBook series and marked a significant milestone in Apple's journey to becoming the tech giant we know today.
The Macintosh PowerBook 1400c arrived with a powerful punch, boasting a range of options for its PowerPC 603e processors, including 117 MHz, 133 MHz, or 166 MHz variants. The laptop also featured an 11.3-inch color LCD display that was considered cutting-edge at the time, along with 16 MB of RAM. Storage options were abundant, with hard drives ranging from 750 MB to a whopping 2 GB, catering to various user needs.
What truly set the PowerBook 1400c apart from its contemporaries was its revolutionary 6x CD-ROM drive, offering blazing-fast speeds for the era. Users had the option to choose between 6x, 8x, or 12x CD-ROM drives, making it a multimedia powerhouse. This leap in optical drive technology was a sign of Apple's commitment to pushing the boundaries of what was possible in mobile computing.
Despite its impressive specifications and groundbreaking features, the Macintosh PowerBook 1400c did come with its fair share of drawbacks. The most notable of these was its hefty price tag, starting at a lofty $3,500. Additionally, its design was considered bulky and somewhat dated, especially when compared to the sleeker and more modern laptops emerging in the late '90s.
The PowerBook 1400c's built-in display supports 16-bit color, ensuring vibrant visuals for users. Moreover, it could handle up to 8-bit color on an external monitor with an optional video card, demonstrating its versatility.
An interesting sibling in the PowerBook 1400 series was the PowerBook 1400cs, which shared many similarities with the 1400c, but the 1400cs featured a lower-quality dual-scan display.
The PowerBook 1400 series marked a series of firsts for Apple's PowerBook line. It introduced an internal CD-ROM drive, a feature that would soon become standard in laptops worldwide. The concept of "stackable" memory modules allowed users to customize and expand their laptops' capabilities effortlessly. The introduction of "BookCovers" allowed users to personalize the look of each PowerBook, adding a touch of individuality to their devices.
Regrettably, the PowerBook 1400c's journey was cut short. Just two years after its groundbreaking debut, Apple discontinued this pioneering laptop on May 6, 1998. Nevertheless, today, the Macintosh PowerBook 1400c is 27 years old and has achieved the status of a classic among Apple enthusiasts and tech aficionados alike. Its enduring legacy serves as a testament to Apple's innovative spirit and unwavering commitment to pushing the boundaries of what's possible in the world of technology.
As we look back on the Macintosh PowerBook 1400c, it's impossible not to marvel at the impact it had on the laptop market and Apple's journey to greatness. Despite its brief moment in the spotlight, this iconic device left an indelible mark on the history of mobile computing. The Macintosh PowerBook 1400c was not just a laptop; it was a symbol of Apple's relentless pursuit of innovation and its determination to redefine the tech landscape.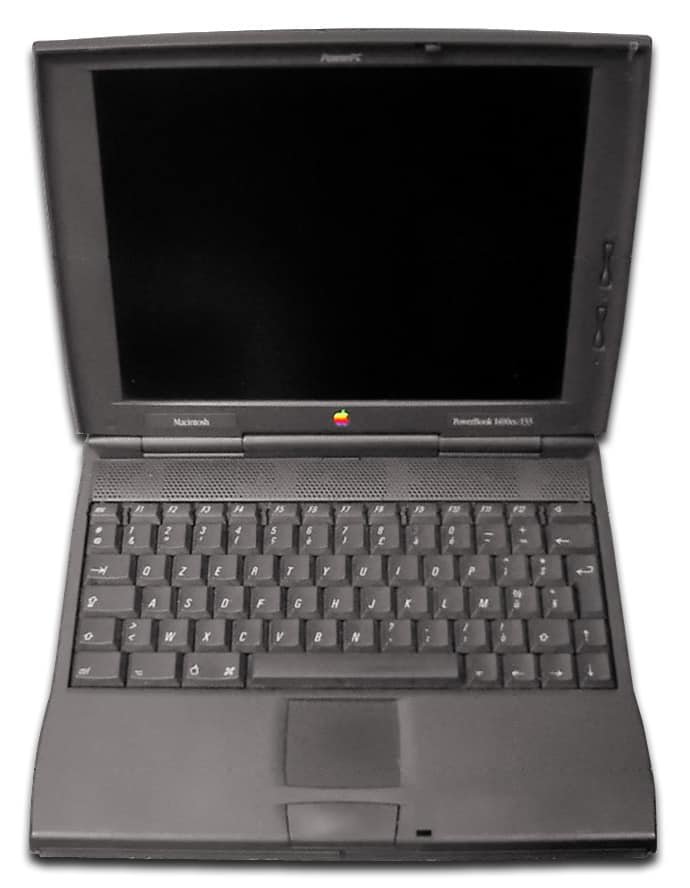 Macintosh PowerBook 1400c Details
Introduced
November 20, 1996 (117 MHz & 133 MHz)
July 14, 1997 (166 MHz)
Discontinued
July 14, 1997 (117 MHz)
December 13, 1997 (133 MHz)
May 6, 1998 (166 MHz)
Model Identifier
311
Model Number
M3571
Order Number
M4856LL/A
M5576LL/A
M4909LL/A
Original Price
$3,500
$4,000
Colors
Dark Grey
Weight
6.7 Ibs.
3.039 KG
Dimensions
2" H x 11.5" W x 9" D
5.08 cm H x 29.21 cm W x 22.86 cm D
PowerBook 1400c Tech Specs
Processor
Processor
PowerPC 603e
Processor Speed
117 MHz
133 MHz
166 MHz
Architecture
32-bit
Number of Cores
1
System Bus
33.3 MHz
Cache
32 KB L1
128 KB L2 (on later models)
Coprocessor
Built-in FPU
Storage & Media
Storage
750 MB
1.0 GB
1.3 GB
2.0 GB
Media
1 – 1.44 MB floppy
1 – 6x CD-ROM or 8x CD-ROM or 12x CD-ROM
Memory
| | |
| --- | --- |
| Built-in Memory | 16 MB |
| Maximum Memory | 64 MB |
| Memory Slots | 1 – PowerBook 1400 |
| Minimum Speed | 70 ns |
| ROM | Unknown |
| Interleaving Support | No |
Display
| | |
| --- | --- |
| Built-in Display | 11.3″ active-matrix color TFT Display |
| Resolutions | 800 x 600 |
Graphics
| | |
| --- | --- |
| Graphics Card | None |
| Graphics Memory | 1 MB |
| Display Connection | 1 – Mini-15 (Optional) |
Expansion
| | |
| --- | --- |
| Expansion Slots | 2 – Type II or 1 – Type III PC Card |
| Hard Drive Interface | ATA |
| Bays | 1 – 5.25-inch bay |
Connections
Wi-Fi
None
Ethernet
None
Modem
None
Bluetooth
None
Infrared
1 – up to 230k
ADB
1
Serial
1
SCSI
1 – HDI-30
Floppy Port
None
Audio In
1 – 3.5-mm analog input jack
1 – Built-in microphone
Audio Out
1 – 3.5-mm analog output jack
1 – Built-in speaker
Display
1 – Mini-15
Keyboard and trackpad
| | |
| --- | --- |
| Keyboard | Built-in Full-size 77-key (U.S.) or 78-key (ISO) incl. 12 function and 4 arrow keys |
| Trackpad | Built-in Solid-state trackpad (Double-tap and drag) |
Software
Power
| | |
| --- | --- |
| System Battery | NiMH |
| Backup Battery | 3V Lithium (922-2429) |
| Maximum Continuous Power | 40 W |
| Line Voltage | Unknown |
| Power Adapter | Unknown |
Further Reading and References
Would you like to know more about Apple products? Stay up-to-date with the latest Apple News. Check our blog for the latest releases, rumors, and updates in the world of Apple.
Disclaimer: The data presented in this article is under continuous development and has been manually collected from various sources based on their availability. The author of this article may revise this dataset as additional research is conducted and reviewed. Please note that the information is provided "as is" and "as available" without express or implied warranties. The author cannot be held responsible for any omissions, inaccuracies, or errors in the published information. Any warranties relating to this information are hereby disclaimed.
Last updated: September 24, 2023