On February 17th, 1997, Apple unveiled a technological marvel that would imprint itself in the annals of history—the Power Macintosh 7220. Fast forward 26 years, and this iconic computer continues to resonate, reminding us of a bygone era when Apple was pioneering its way to the summit of the tech industry. Join us as we embark on a journey back in time to explore the lasting impact of the Power Macintosh 7220.
Designed with power and performance as its guiding ethos, the Power Macintosh 7220 was a tour de force in the late '90s computing landscape. Sporting a 200 MHz PowerPC 603e processor, 16 MB or 32 MB of RAM, and a 1.2 GB or 2 GB hard drive, the 7220 delivered an unparalleled computing experience. Accompanied by an 8x or 12x CD-ROM drive and a 1.44 MB floppy drive, it stood at the pinnacle of technological innovation for its time.
In a strategic move, Apple introduced a PC version of the Power Macintosh 7220, equipped with a 166 MHz Cyrix P1666x86 processor. This variant catered to a broader audience, seamlessly running MS-DOS or Windows alongside the Mac operating system. The PC Compatible version featured a 166 MHz Cyrix 6×86 PCI card with up to 80 MB of RAM allocated to the DOS/Windows environment. Notably, the Power Macintosh 7220/200 (PC) was exclusive to the Australian market, mirroring the Power Macintosh 4400/200 (PC).
Regrettably, the Power Macintosh 7220's journey was cut short on January 1st, 1998, merely a year after its grand entrance into the tech arena. Despite its brief existence, the 7220 left an indelible mark, paving the way for future Mac computers and solidifying Apple's position as a trailblazer in the computer industry.
The Power Macintosh 7220 may have faded into the archives of history, but its legacy lives on. Its robust architecture and forward-thinking design influenced subsequent Mac models, shaping the trajectory of Apple's hardware innovations. As we celebrate its 26-year anniversary, let's raise a virtual toast to the Power Macintosh 7220—a timeless testament to Apple's enduring impact on the ever-evolving tech landscape.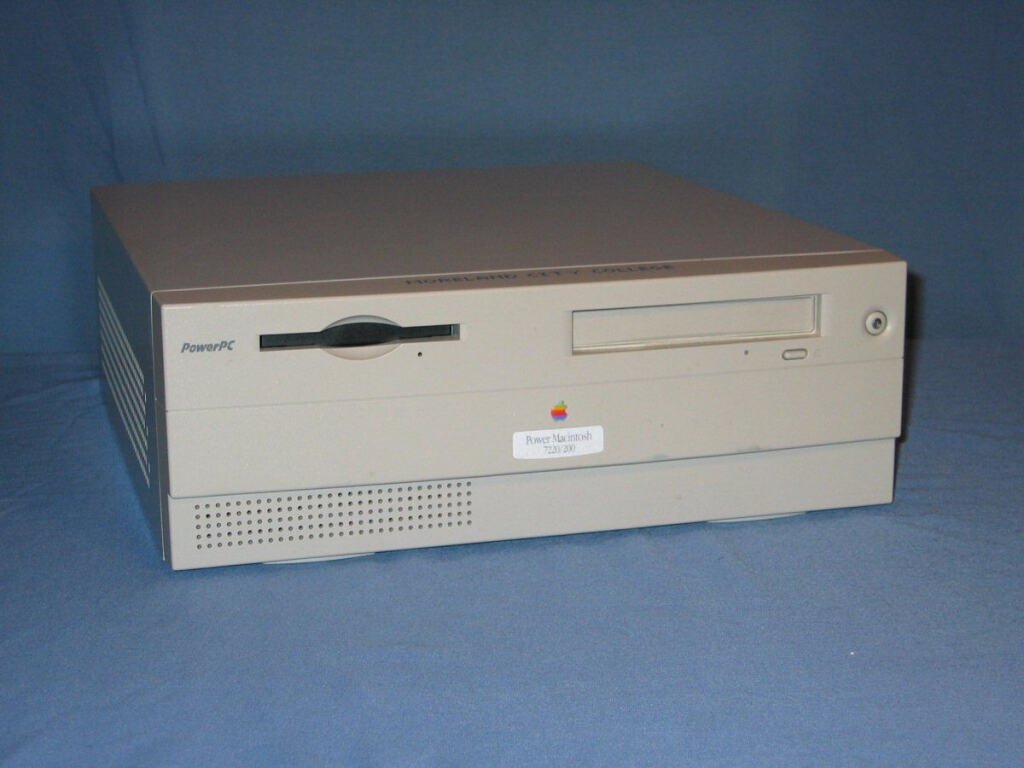 Power Mac 7220 Details
Introduced
February 17, 1997
Discontinued
January 1, 1998
Model Identifier
515
Model Number
M3959
Order Number
Unknown
Original Price
Unknown
Colors
Platinum
Weight
24 Ibs.
10.886 KG
Dimensions
5.43" H x 15.12" W x 17.37" D
13.79 cm H x 38.4 cm W x 44.11 cm D
Power Mac 7220 Tech Specs
Processor
Processor
PowerPC 603e
Cyrix P1666x86*
Processor Speed
166 MHz*
200 MHz
Architecture
32-bit
Number of Cores
1
System Bus
40 MHz
Cache
32 KB L1
256 KB L2
Coprocessor
Built-in FPU
*PC version only
Storage & Media
Storage
1.2 GB
2.0 GB
Media
1 – 1.44 MB Floppy
1 – 8x CD-ROM or 12x CD-ROM
Memory
Built-in Memory
16 MB
32 MB
Maximum Memory
160 MB
Memory Slots
3 – 168 pin EDO DIMM
Minimum Speed
60 ns
ROM
Unknown
Interleaving Support
No
Display
Graphics
Graphics Card
None
Graphics Memory
1 MB
4 MB
Display Connection
1 – DB-15
Expansion
Expansion Slots
2 – 12″ PCI
1 – Comm II
Hard Drive Interface
IDE / ATA
Connections
Ethernet
None
Modem
10BASE-T
Wi-Fi
None
Bluetooth
None
ADB
1
Serial
2
SCSI
1 – DB-25
Floppy Port
None
Audio In
1 – 3.5-mm analog input jack
Audio Out
1 – 3.5-mm analog output jack
1 – Built-in speaker
Display
1 – DB-15
Software
Power
| | |
| --- | --- |
| Backup Battery | 4.5 V Alkaline |
| Maximum Continuous Power | 150 W |
| Line Voltage | 100-130 V or 200-230 V |
Further Reading and References
Would you like to know more about Apple products? Stay up-to-date with the latest Apple News. Check our blog for the latest releases, rumors, and updates in the world of Apple.
Disclaimer: The data presented in this article is under continuous development and has been manually collected from various sources based on their availability. The author of this article may revise this dataset as additional research is conducted and reviewed. Please note that the information is provided "as is" and "as available" without express or implied warranties. The author cannot be held responsible for any omissions, inaccuracies, or errors in the published information. Any warranties relating to this information are hereby disclaimed.
Last updated: November 19, 2023