In the realm of portable computers, the Apple Macintosh PowerBook 180c stands as a timeless icon that left an indelible mark on the Macintosh PowerBook series. Launched on June 7, 1993, by the tech giant Apple, this sleek and powerful notebook quickly captured the hearts of Mac enthusiasts worldwide. With its impressive specifications and innovative features, the PowerBook 180c set a new standard for performance and design in the realm of portable computing.
At its core, the PowerBook 180c boasted a 33 MHz Motorola 68030 processor, accompanied by a Motorola 68882 FPU coprocessor, ensuring smooth multitasking and efficient number crunching. Backed by 4 MB of RAM, this machine was capable of handling resource-intensive tasks with ease. Furthermore, the 8.4″ color LCD display brought vibrant visuals to life, making it a delight for multimedia enthusiasts.
Storage options included an 80 MB or 160 MB hard drive, providing ample space for documents, media files, and applications of the era. Additionally, the built-in 1.44 MB floppy drive allowed for easy file transfer and sharing, a vital feature in the pre-internet era.
One of the standout features of the PowerBook 180c was its support for 8-bit color on both its internal display and external monitors. Users had the option to extend their desktops to dual displays or mirror them, enhancing productivity and offering flexibility in various usage scenarios. This capability, inherited from its predecessor, the PowerBook 165c, was a game changer at the time and allowed users to enjoy rich, vibrant visuals, setting a new standard for portable computing.
The PowerBook 180c came at a premium price tag of $4,110, positioning it as a high-end option for those seeking top-of-the-line performance and design. While the cost may have been a barrier for some, it didn't diminish the impact and appeal of this powerful machine among Macintosh enthusiasts.
However, the PowerBook 180c had a relatively short lifespan. Apple discontinued it on March 14, 1994, leaving behind a legacy that continues to resonate with Mac aficionados to this day. Despite its limited availability, the PowerBook 180c played a crucial role in shaping the future of the Macintosh PowerBook series, setting the stage for subsequent models.
For those fortunate enough to own a PowerBook 180c, the experience was nothing short of exceptional. It represented the perfect amalgamation of power, design, and performance, encapsulating the spirit of Apple's commitment to innovation. The sleek and compact form factor, combined with its impressive hardware capabilities, made the PowerBook 180c a symbol of sophistication and status among Mac enthusiasts.
Today, the Macintosh PowerBook 180c celebrates its 30-year anniversary, serving as a testament to its enduring legacy. While technology has progressed significantly since its heyday, the PowerBook 180c remains etched in the hearts of those who experienced its power and elegance firsthand. It stands as a nostalgic relic of an era when Apple's portable computers were paving the way for a new wave of possibilities.
The Apple Macintosh PowerBook 180c holds an esteemed position in the history of portable computing. Its cutting-edge specifications, innovative color display, and sleek design made it a game changer in the Macintosh PowerBook series. Although its production was short-lived, the impact it left on the Macintosh community and the advancements it brought to the world of portable computers cannot be overstated. The PowerBook 180c will forever be remembered as a symbol of power, design, and performance in the annals of Macintosh's history.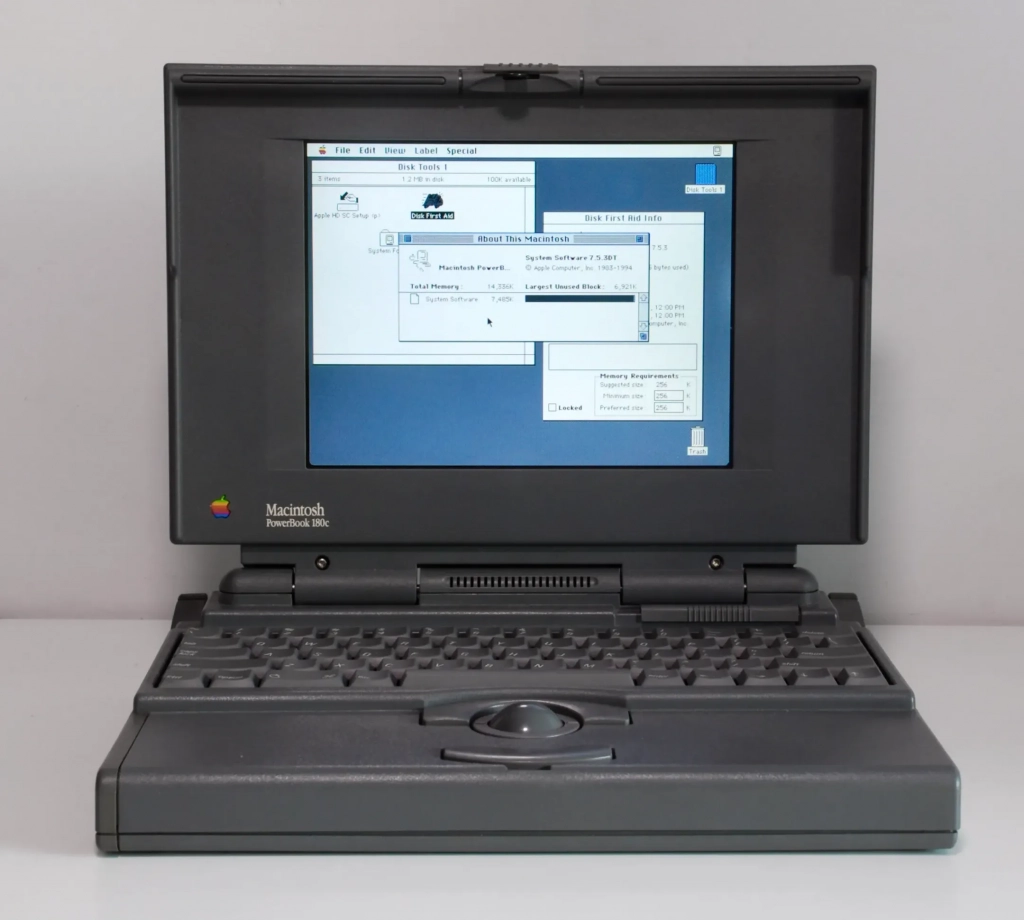 Macintosh PowerBook 180c Details
Introduced
June 7, 1993
Discontinued
March 14, 1994
Model Identifier
71
Model Number
M7950LL/A (80 MB hard drive)
M7960LL/A (160 MB hard drive)
Original Price
$4,110
Colors
Grey
Weight
7.1 Ibs.
3.220 KG
Dimensions
2.25" H x 11.25" W x 9.3" D
5.71 cm H x 28.57 cm W x 23.62 cm D
PowerBook 180c Tech Specs
Processor
| | |
| --- | --- |
| Processor | Motorola 68030 |
| Processor Speed | 33 MHz |
| Architecture | 32-bit |
| Number of Cores | 1 |
| System Bus | 33 MHz |
| Cache | 0.5 KB L1 |
| Coprocessor | Motorola 68882 FPU |
Storage & Media
Storage
80 MB
160 MB
Media
1.44 MB floppy
Memory
| | |
| --- | --- |
| Built-in Memory | 4 MB |
| Maximum Memory | 14 MB |
| Memory Slots | 1 – PowerBook 1xx (70-pin connector) |
| Minimum Speed | 85 ns |
| ROM | Unknown |
| Interleaving Support | No |
Display
| | |
| --- | --- |
| Built-in Display | 8.4″ 8-bit RGB active matrix reflective LCD |
| Resolutions | 640 x 480 |
Graphics
| | |
| --- | --- |
| Graphics Card | None |
| Graphics Memory | 512 KB |
| Display Connection | 1- Mini-15 |
Expansion
| | |
| --- | --- |
| Expansion Slots | Internal 20-pin connector for the optional 2400-baud modem card |
| Hard Drive Interface | 40-pin SCSI |
| Bays | Unknown |
Connections
Wi-Fi
None
Ethernet
None
Modem
14.4 kbps
Bluetooth
None
ADB
1
Serial
2
SCSI
HDI-30
Floppy Port
None
Audio In
1 – 3.5-mm analog input jack
1 – Built-in microphone
Audio Out
1 – 3.5-mm analog output jack
1 – Built-in speaker
Infrared
None
Display
1 – Mini-15
Keyboard and trackpad
| | |
| --- | --- |
| Keyboard | Built-in 64-key (U.S.) or 64-key (ISO) 3.0-mm travel keyboard |
| Trackpad | Built-in 25-mm trackball pointing device |
Software
Power
| | |
| --- | --- |
| System Battery | 2.8-ampere-hour NiCad battery |
| Backup Battery | 3 V lithium |
| Maximum Continuous Power | 24 W |
| Line Voltage | Unknown |
| Power Adapter | Unknown |
Further Reading and References
Would you like to know more about Apple products? Stay up-to-date with the latest Apple News. Check our blog for the latest releases, rumors, and updates in the world of Apple.
Disclaimer: The data presented in this article is under continuous development and has been manually collected from various sources based on their availability. The author of this article may revise this dataset as additional research is conducted and reviewed. Please note that the information is provided "as is" and "as available" without express or implied warranties. The author cannot be held responsible for any omissions, inaccuracies, or errors in the published information. Any warranties relating to this information are hereby disclaimed.
Last updated: July 2, 2023