In the ever-evolving world of technology, where devices quickly become obsolete, some hold a timeless charm that captures the hearts of enthusiasts. The Apple Macintosh Quadra 630, released on July 15th, 1994, was one such iconic personal computer that left a lasting impact on the computer industry. In this article, we'll delve into the Quadra 630's impressive specifications, its significance in Apple's history, and the unique features that made it stand out during its time.
The Quadra 630 was a personal computer that boasted cutting-edge specifications during its launch. Equipped with a 33 MHz Motorola 68040 processor, 4 MB of RAM, a 230 MB hard drive, a CD-ROM drive, and a 1.44 MB Floppy drive, it was a beast of a machine that catered to users seeking high-performance for tasks like video editing and graphic design. Back in the mid-'90s, this level of power was a game-changer for users who demanded more from their computers.
Although the Quadra 630 had a starting price of $1,280, which was quite expensive for its time, it found a devoted audience among Apple enthusiasts. Its unique blend of specifications and capabilities justified the price tag for users who needed top-notch performance. The Quadra 630 was the pinnacle of Apple's Macintosh Quadra series, becoming an essential part of the company's storied history in the computer industry.
The Macintosh Quadra 630 was also sold under different names, namely the Macintosh LC 630 and Macintosh Performa 630. This dual identity allowed Apple to offer the same powerful machine under various branding options, catering to a wider range of customers. It was introduced as the successor to the Quadra 610 and gained popularity as the most budget-friendly computer in the Macintosh lineup, with prices starting at $1,199 USD.
While Apple was already transitioning to PowerPC CPUs at the time of Quadra 630's release, the machine was built around the older Motorola 68040 and 68LC040 chips. The decision was driven by two key factors: cost-effectiveness and the limited availability of PowerPC-native education software. Despite this, the Quadra 630 remained a popular choice due to its excellent performance and capabilities.
The Quadra 630 introduced a new case design to the Macintosh family, featuring a headphone jack and volume up/down buttons on the front, a first for any Macintosh computer. Additionally, an infrared receiver was included, intended for use with the remote that came with the TV tuner card for the Performa 637CD and 638CD models. These innovations showcased Apple's commitment to pushing the boundaries of computer design and functionality.
With 4 MB of memory soldered onto the logic board, the Quadra 630 offered sufficient memory for most tasks. The system featured one or two SIMM slots, supporting up to 52 MB for two-slot systems and 36 MB for one-slot systems. It was a significant improvement over its predecessors, ensuring smoother multitasking and enhanced performance.
The Quadra 630's choice to use cheaper IDE drives instead of SCSI brought mixed opinions. While IDE drives reduced costs, they also resulted in slower performance compared to higher-end Macintosh models. Nevertheless, an external SCSI port was available, providing flexibility for users who required faster data transfer.
With support for one external monitor through a DA-15 connector, the Quadra 630 offered a resolution of up to 640×480 with 16-bit color or 832×624 with 8-bit color. For 24-bit color or higher resolutions, users needed a separate video card. The computer featured a 2×-speed SCSI CD-ROM drive, capable of reading both data CDs and audio CDs, thanks to the tray-based loading mechanism.
The Quadra 630's performance was comparable to the earlier Quadra 950 but slightly slower than the 800. Its exceptional power and capabilities earned it a special place among Apple's lineup during its time. Today, despite being 29 years old, the Quadra 630 remains a beloved relic among Apple enthusiasts, reminding them of the company's innovation and dedication to producing groundbreaking technology.
The Apple Macintosh Quadra 630 was a remarkable personal computer that set new standards for performance and design in the mid-'90s. It's powerful specifications and innovative features made it a popular choice for users in need of a reliable machine for demanding tasks.
Though discontinued in 1995, the Quadra 630's legacy lives on as a timeless icon in Apple's rich computer history. As technology continues to evolve, we can look back on the Quadra 630 with fondness, appreciating the role it played in shaping the digital landscape we know today.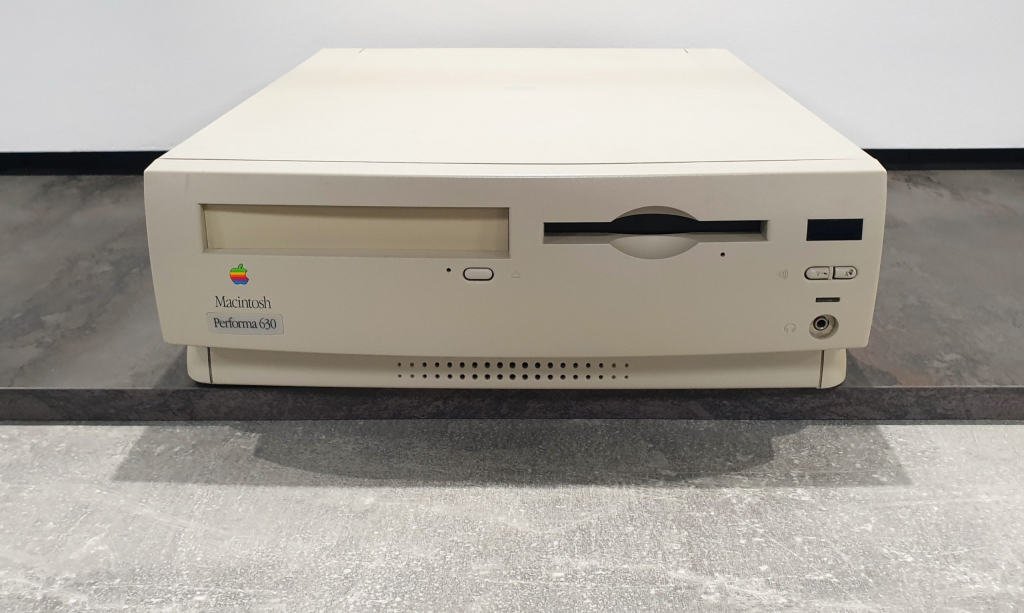 Macintosh Quadra 630 Details
Introduced
July 15, 1994
Discontinued
October 5, 1995
Model Identifier
98
Model Number
M3076
Order Number
M3491LL/A
Original Price
$1,280
$2,200
Colors
Platinum
Weight
19 Ibs.
8.618 KG
Dimensions
4.3" H x 12.6" W x 16.5" D
10.92 cm H x 32 cm W x 41.91 cm D
Mac Quadra 630 Tech Specs
Processor
| | |
| --- | --- |
| Processor | Motorola 68040 |
| Processor Speed | 33 MHz |
| Architecture | 32-bit |
| Number of Cores | 1 |
| System Bus | 33 MHz |
| Cache | 8 KB L1 |
| Coprocessor | Integrated FPU |
Storage & Media
Storage
250 MB
Media
1 – 1.44 MB Floppy
1 – CD-ROM (Optional)
Memory
| | |
| --- | --- |
| Built-in Memory | 4 MB |
| Maximum Memory | 36 MB |
| Memory Slots | 1 – 72 pin SIMM |
| Minimum Speed | 80 ns |
| ROM | Unknown |
| Interleaving Support | No |
Display
Graphics
| | |
| --- | --- |
| Graphics Card | None |
| Graphics Memory | 1 MB |
| Display Connection | 1 – DB-15 |
Expansion
Expansion Slots
1 – LC PDS
1 – Comm
1 – Video I/O
Hard Drive Interface
IDE
Connections
Ethernet
AAUI-15
Modem
None
Wi-Fi
None
Bluetooth
None
ADB
1
Serial
2
SCSI
1 – DB-25
Floppy Port
None
Audio In
1 – 3.5-mm analog input jack
Audio Out
1 – 3.5-mm analog output jack
1 – Built-in speaker
Display
1 – DB-15
Software
Power
| | |
| --- | --- |
| Backup Battery | 4.5 V Alkaline |
| Maximum Continuous Power | 45 W |
| Line Voltage | Unknown |
Further Reading and References
Would you like to know more about Apple products? Stay up-to-date with the latest Apple News. Check our blog for the latest releases, rumors, and updates in the world of Apple.
Disclaimer: The data presented in this article is under continuous development and has been manually collected from various sources based on their availability. The author of this article may revise this dataset as additional research is conducted and reviewed. Please note that the information is provided "as is" and "as available" without express or implied warranties. The author cannot be held responsible for any omissions, inaccuracies, or errors in the published information. Any warranties relating to this information are hereby disclaimed.
Last updated: July 31, 2023