Apple has long been synonymous with powerful and innovative computer systems, and the Workgroup Server 80 is no exception. Released on March 22, 1993, as part of Apple's renowned Workgroup Server series, this server computer was designed to cater to the needs of businesses and organizations requiring a reliable and robust computing solution.
Equipped with a 33 MHz Motorola 68040 processor, 8 MB or 16 MB of RAM, and a capacious hard drive capable of storing up to 1 GB of data, the WGS 80 effortlessly tackled the demands of most businesses at the time. Its notable features included a CD-ROM drive and a 1.44 MB floppy drive, which facilitated data transfer and the installation of new software.
Despite its impressive specifications, the Mac Workgroup Server 80 had a relatively short lifespan. It was discontinued on October 17, 1994, but its legacy lives on, firmly establishing itself as a noteworthy product in Apple's storied history. The server serves as a testament to Apple's ability to create powerful and innovative computer systems, even within the realm of enterprise-grade solutions.
The Apple Workgroup Server 80 was undoubtedly a significant offering for its time, providing businesses and organizations with a powerful and reliable server that met their needs. However, as with all technology, the passage of time has brought forth new servers boasting more advanced features and capabilities.
Let's dive deeper into the specifications of the Apple Macintosh WGS 80. This server, with its 33 MHz 68040 processor, 8 MB or 16 MB of RAM, and a choice between 230 MB or 500 MB hard drive capacities, exemplified the prowess of Apple's engineering team. Furthermore, the inclusion of an optional 2X CD-ROM drive and DAT drive, as well as the expandable tower case, added versatility to the system. The Workgroup Server 80 also came pre-installed with AppleShare 4.0 server software, further enhancing its appeal to businesses.
It is worth noting that the business variant of the Workgroup Server 80 was the Quadra 800. This further emphasized Apple's commitment to providing tailored solutions for various market segments, ensuring that businesses had access to a comprehensive range of computing options.
Today, after 30 years the Apple Workgroup Server 80 may be a relic of the past, but its impact on Apple's server legacy remains significant. It showcased the company's dedication to producing cutting-edge technology and delivering powerful computing solutions to businesses. While it may have been succeeded by more advanced servers with the passage of time, the Workgroup Server 80 holds a special place in the annals of Apple's history.
As Apple continues to innovate and shape the technology landscape, it's important to reflect on the remarkable products that have paved the way. The Workgroup Server 80 serves as a reminder of Apple's commitment to excellence and the company's continued endeavor to push the boundaries of what is possible in computing.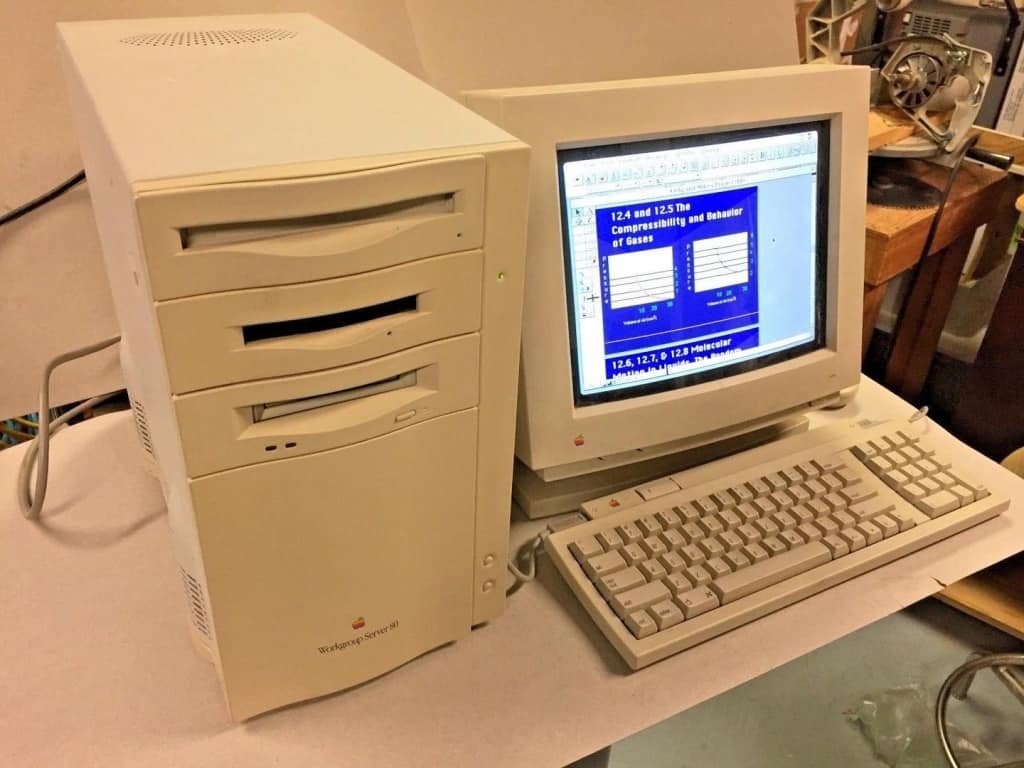 Workgroup Server 80 Details
Introduced
March 22, 1993
Discontinued
October 17, 1994
Model Identifier
35
Model Number
M1206
Order Number
M1681LL/A
M1685LL/A
M1685LL/A
Original Price
$6,400
Colors
Platinum
Weight
24 Ibs.
10.886 KG
Dimensions
14" H x 7.7" W x 15.75" D
35.56 cm H x 19.55 cm W x 40 cm D
Mac WGS 80 Tech Specs
Processor
| | |
| --- | --- |
| Processor | Motorola 68040 |
| Processor Speed | 33 MHz |
| Architecture | 32-bit |
| Number of Cores | 1 |
| System Bus | 33 MHz |
| Cache | 8 KB L1 |
| Coprocessor | Build-in FPU |
Storage & Media
Storage
230 MB
500 MB
1 GB
Media
1 – CD-ROM (Optional)
1 – 1.44 MB Floppy
Memory
Built-in Memory
8 MB
16 MB
Maximum Memory
136 MB
Memory Slots
4 – 72 pin SIMMs
Minimum Speed
60 ns
ROM
Unknown
Interleaving Support
Yes
Display
Graphics
Graphics Card
None
Graphics Memory
512 KB
1 MB
Display Connection
1 – DB-15
Expansion
Expansion Slots
3 – NuBus
1 – PDS (Cache Bus)
Hard Drive Interface
SCSI
Connections
| | |
| --- | --- |
| Ethernet | AAUI-15 |
| Modem | None |
| Wi-Fi | None |
| Bluetooth | None |
| ADB | 2 |
| Serial | 2 |
| SCSI | 2 – DB-25 |
| Floppy Port | None |
| Audio In | 1 – 3.5-mm analog input jack |
| Audio Out | 1 – 3.5-mm analog output jack |
| Display | 1 – DB-15 |
Software
Power
| | |
| --- | --- |
| Backup Battery | 3.6 V lithium |
| Maximum Continuous Power | 200 W |
| Line Voltage | 100 V – 240 V AC |
Further Reading and References
Would you like to know more about Apple products? Stay up-to-date with the latest Apple News. Check our blog for the latest releases, rumors, and updates in the world of Apple.
Disclaimer: The data presented in this article is under continuous development and has been manually collected from various sources based on their availability. The author of this article may revise this dataset as additional research is conducted and reviewed. Please note that the information is provided "as is" and "as available" without express or implied warranties. The author cannot be held responsible for any omissions, inaccuracies, or errors in the published information. Any warranties relating to this information are hereby disclaimed.
Last updated: July 2, 2023