In the mid-1990s, Apple was a company undergoing a significant transformation. Amid this shift, the Power Macintosh 5300 LC emerged as a notable milestone, fusing cutting-edge hardware with a compact design at an affordable price point. While its time in the spotlight was brief, its impact on Apple's trajectory remains undeniable.
August 28, 1995, marked a day of innovation for Apple enthusiasts as the Power Macintosh 5300 LC burst onto the scene. This compact wonder, part of the revered Power Macintosh series, brought forth a wave of excitement with its compelling blend of features. Sporting a robust 100 MHz PowerPC 603e processor at its core, the 5300 LC ushered in an era of powerful performance, tailored to meet the demands of both professionals and home users.
The 5300 LC's hardware ensemble was no less impressive. Anchored by a vivid 15″ color CRT display, it packed a punch with 16 MB of RAM, a 1.2 GB hard drive, a 4x CD-ROM drive, and a 1.44 MB floppy drive. This symphony of specifications elevated the 5300 LC to a prime choice for those seeking reliability, performance, and affordability in a single package.
Regrettably, the Power Macintosh 5300 LC's brilliance was fleeting, as it bid adieu on April 1, 1996, a mere eight months after its grand entrance. While its time in the limelight may have been brief, its significance echoed loudly in Apple's historical narrative. This computer's discontinuation marked a pivotal moment as it paved the way for the ascension from the classic Macintosh lineage to the more potent Power Macintosh series.
Today, the Power Macintosh 5300 LC stands tall as a 28-year-old testament to Apple's innovation. Its sleek design and formidable hardware lineup continue to capture the hearts of Apple enthusiasts worldwide. Whether you're drawn to vintage technology or intrigued by the evolution of the computer industry, the Power Macintosh 5300 LC remains a treasure trove of nostalgia and history.
Beneath its sleek exterior, the Power Macintosh 5300 LC harbored impressive specifications. It closely resembled the Power Macintosh 5260/100, but with a notable upgrade to 16 MB of RAM, catering to the educational market. At its heart, the 100 MHz PowerPC 603e processor featured twice the L1 cache of its predecessor, delivering remarkable gains in 68k emulation performance.
This powerhouse also boasted a built-in 15″ shadow mask display, armed with 1 MB of VRAM that supported up to 8-bit color at an impressive resolution of 832 x 624 pixels and 16-bit color at 640 x 480 pixels. Codenamed "Cordyceps," its logic board was grounded in the older LC architecture, akin to its modular counterpart, the Performa 6300, which modestly impacted performance. The Power Macintosh 5300 LC offered room for memory expansion, housing two 72-pin SIMM slots that could elevate RAM from the base 16 MB to a capacious 64 MB.
The Power Macintosh 5300 LC flaunted its versatility through three distinct expansion slots: a 32-bit LC PDS slot, a Comm Slot poised for an internal modem or Ethernet card, and a video-in slot tailored to accommodate an Apple TV Tuner Card. The SCSI bus facilitated connections to CD-ROMs and external hard drives, while an IDE bus supported the internal hard drive. Notably, the built-in floppy drive stood ready to handle 1.44 MB high-density disks.
While the 5300 LC was primarily available in North America for the educational market, its counterpart—the Performa 5300CD—found a global audience, underscoring Apple's strategic global approach.
In an age where technology's pace is relentless, the Power Macintosh 5300 LC shines as a symbol of Apple's adaptive spirit. Its short yet impactful journey leaves us with a sense of wonder and a testament to the company's ever-evolving pursuit of excellence. As we peer into the past, we find ourselves immersed in a narrative that reflects not just a computer's legacy, but a company's unwavering commitment to pushing boundaries.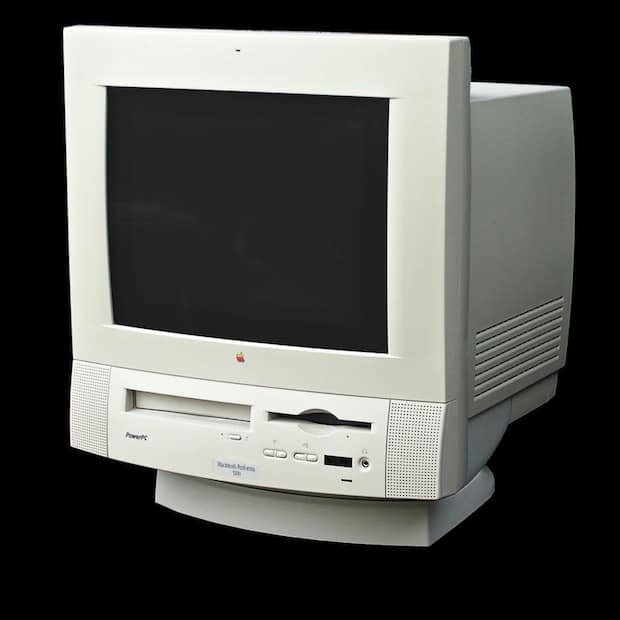 Power Macintosh 5300 LC Details
Introduced
August 28, 1995
Discontinued
April 1, 1996
Model Identifier
41
Model Number
Unknown
Order Number
M4364LL/A
Original Price
Unknown
Colors
Platinum
Weight
47 Ibs.
21.318 KG
Dimensions
17.5" H x 15.1" W x 16" D
44.45 cm H x 38.35 cm W x 40.64 cm D
Power Mac 5300 LC Tech Specs
Processor
Processor
PowerPC 603e
Processor Speed
100 MHz
Architecture
32-bit
Number of Cores
1
System Bus
40 MHz
Cache
32 KB L1
256 KB L2
Coprocessor
Built-in FPU
Storage & Media
Storage
1.2 GB
Media
1 – 1.44 MB Floppy
1 – 4x CD-ROM
Memory
| | |
| --- | --- |
| Built-in Memory | 16 MB |
| Maximum Memory | 64 MB |
| Memory Slots | 2 – 72 pin SIMM |
| Minimum Speed | 80 ns |
| ROM | Unknown |
| Interleaving Support | No |
Display
Built-in Display
15″ Shadow Mask RGB CRT display
Resolution
640×480 at 16-bit
800×600 at 8-bit
832×624 at 8-bit
Graphics
| | |
| --- | --- |
| Graphics Card | None |
| Graphics Memory | 1 MB |
| Display Connection | 1 – DB-15 (Optional) |
Expansion
Expansion Slots
1 – LC PDS (Cache Bus)
1 – Comm. Slot
1 – Video I/O
1 – TV Tuner
Hard Drive Interface
IDE
Connections
Ethernet
None
Modem
None
ADB
1
Serial
2
SCSI
1 – DB-25
Floppy Port
None
Audio In
1 – 3.5-mm analog input jack
1 – Built-in microphone
Audio Out
2 – 3.5-mm analog output jack
2 – Built-in speaker
Display
1 – DB-15 (Optional)
Software
Power
| | |
| --- | --- |
| Backup Battery | 4.5 V Alkaline |
| Maximum Continuous Power | 125 W |
| Line Voltage | 100-240 V |
Further Reading and References
Would you like to know more about Apple products? Stay up-to-date with the latest Apple News. Check our blog for the latest releases, rumors, and updates in the world of Apple.
Disclaimer: The data presented in this article is under continuous development and has been manually collected from various sources based on their availability. The author of this article may revise this dataset as additional research is conducted and reviewed. Please note that the information is provided "as is" and "as available" without express or implied warranties. The author cannot be held responsible for any omissions, inaccuracies, or errors in the published information. Any warranties relating to this information are hereby disclaimed.
Last updated: August 27, 2023