In the ever-evolving landscape of technology, certain artifacts stand as a testament to the leaps and bounds we've made. One such artifact is the Macintosh Performa 5200CD, an iconic personal computer from Apple's historic Performa series that etched its mark from 1995 to 1996.
Picture this: it's May 1, 1995. Apple introduces the world to the Macintosh Performa 5200CD, an embodiment of power and finesse. Priced at $1,900, this formidable machine packs a punch with its 75 MHz PowerPC 603 processor. In a time when computing speeds were measured in megahertz, the Performa 5200CD confidently strides ahead.
But it's not just the processor that turns heads. The 15-inch color CRT display renders images with remarkable clarity, while the 8 MB of RAM ensures multitasking capabilities that were a luxury back then. Storage was commodious, offering a hard drive that could house 500 MB, 700 MB, or an impressive 1 GB of data. And who could forget the thrill of the 2x or 4x CD-ROM drive, ready to transport you to the digital realm?
Apple's Performa 5200CD didn't merely exist; it thrived. In a market bustling with personal computers vying for attention, this machine held its own. Competitors had to take notice as the Performa 5200CD boasted a 1.44 MB floppy drive – a staple for data transfer and storage. The stage was set for a technological showdown, and the Performa 5200CD emerged as a contender.
Alas, like all good things, the reign of the Macintosh Performa 5200CD was short-lived. On February 1, 1996, it bid its adieu, leaving behind a legacy that defied its brief existence. A testament to Apple's commitment to innovation, this machine showcased the company's pioneering spirit and willingness to push the boundaries of technology.
As we peer into the past, we unravel the architectural intricacies that defined the Performa 5200CD. Its integration of video input and a TV tuner, albeit optional, foreshadowed the convergence of technologies that we now take for granted. A noteworthy feat was the 75 MHz Performa 5200's integration of an integrated monitor – an unprecedented move at the time.
Yet, a closer inspection reveals the quirks of this enigmatic machine. To balance performance and cost-effectiveness, Apple borrowed from the Quadra 605's motherboard, showcasing an intriguing blend of a 64-bit chip and a 32-bit memory. Similarly, the 8-bit IDE controller for the hard drive offered a glimpse into the intricate trade-offs that technology demands.
For those who embarked on the journey with the Macintosh Performa 5200CD, a few guiding stars illuminated the path. The installation of a 25-pin SCSI terminator lent stability to network connectivity. Open Transport 1.2, a companion of Mac OS 8, offered solutions to prevalent network woes. And a nugget of wisdom: connecting a serial printer to the modem port circumvented network dilemmas, highlighting the intricate dance between hardware and software.
As we look back at the Macintosh Performa 5200CD, we glimpse the distant shores from which we embarked on our technological voyage. This machine, though retired for over 28 years ago, reverberates as a testament to innovation's ebbs and flows. From its powerhouse processor to its network intricacies, the Performa 5200CD reverberates as a harbinger of its time.
Apple's Macintosh Performa 5200CD may have faded into the annals of history, but its impact endures, reminding us that every advancement stands on the shoulders of the past.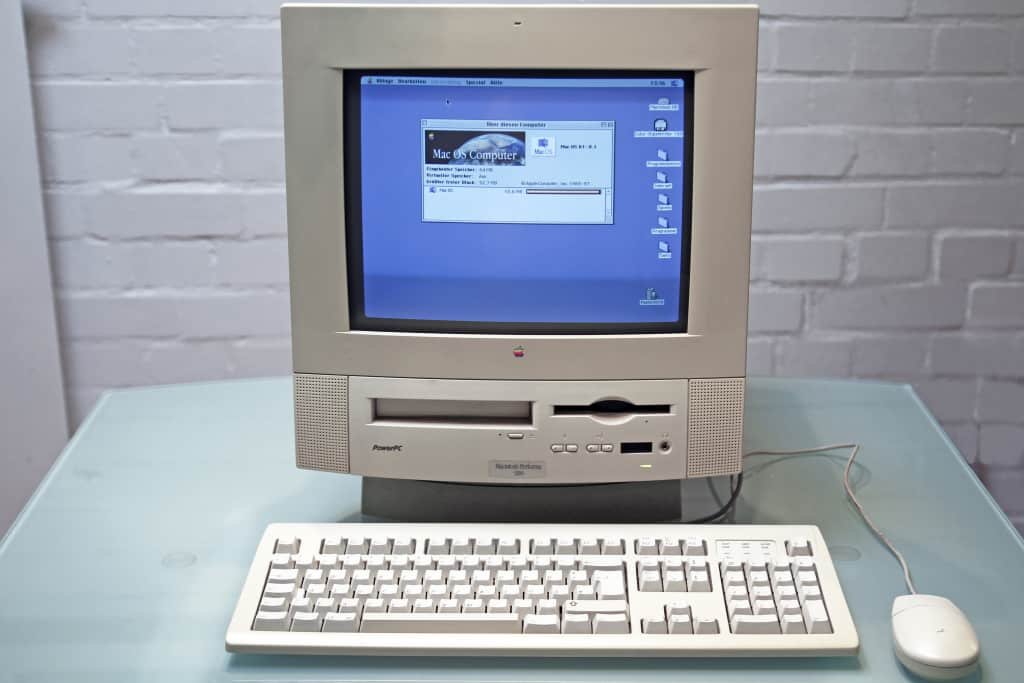 Macintosh Performa 5200CD Details
Introduced
May 1, 1995
Discontinued
February 1, 1996
Model Identifier
41
Model Number
M3046
Order Number
M3940LL/A
M3941LL/A
M4110LL/A
Original Price
$1,900
$2,300
Colors
Platinum
Weight
47 Ibs.
21.318 KG
Dimensions
17.5" H x 15.1" W x 16" D
44.45 cm H x 38.35 cm W x 40.64 cm D
Mac Performa 5200CD Tech Specs
Processor
Processor
PowerPC 603
Processor Speed
75 MHz
Architecture
32-bit
Number of Cores
1
System Bus
37.5 MHz
Cache
16 KB L1
256 KB L2 (Optional)
Coprocessor
Built-in FPU
Storage & Media
Storage
500 MB
700 MB
1 GB
Media
1 – 1.44 MB Floppy
1 – 2x CD-ROM or 4x CD-ROM
Memory
| | |
| --- | --- |
| Built-in Memory | 8 MB |
| Maximum Memory | 64 MB |
| Memory Slots | 2 – 72 pin SIMM |
| Minimum Speed | 80 ns |
| ROM | Unknown |
| Interleaving Support | No |
Display
Built-in Display
15″ Shadow Mask RGB CRT display
Resolution
640×480 at 16-bit
800×600 at 8-bit
832×624 at 8-bit
Graphics
| | |
| --- | --- |
| Graphics Card | None |
| Graphics Memory | 1 MB |
| Display Connection | 1 – DB-15 (Optional) |
Expansion
Expansion Slots
1 – LC PDS (Cache Bus)
1 – Comm. Slot
1 – Video I/O
1 – TV Tuner
Hard Drive Interface
IDE
Connections
Ethernet
None
Modem
None
ADB
1
Serial
2
SCSI
1 – DB-25
Floppy Port
None
Audio In
1 – 3.5-mm analog input jack
1 – Built-in microphone
Audio Out
2 – 3.5-mm analog output jack
2 – Built-in speaker
Display
1 – DB-15 (Optional)
Software
Power
| | |
| --- | --- |
| Backup Battery | 4.5 V Alkaline |
| Maximum Continuous Power | 220 W |
| Line Voltage | Unknown |
Further Reading and References
Would you like to know more about Apple products? Stay up-to-date with the latest Apple News. Check our blog for the latest releases, rumors, and updates in the world of Apple.
Disclaimer: The data presented in this article is under continuous development and has been manually collected from various sources based on their availability. The author of this article may revise this dataset as additional research is conducted and reviewed. Please note that the information is provided "as is" and "as available" without express or implied warranties. The author cannot be held responsible for any omissions, inaccuracies, or errors in the published information. Any warranties relating to this information are hereby disclaimed.
Last updated: August 11, 2023