In the annals of tech history, there are certain moments that stand as pivotal milestones, showcasing a company's unwavering commitment to innovation. The year was 1995, and Apple was about to make waves yet again with the introduction of the Macintosh Performa 640CD.
As part of the illustrious Macintosh Performa series, this personal computer embodied Apple's dedication to pushing the boundaries of what was possible. Let's dive into the fascinating journey of the Macintosh Performa 640CD and uncover why, even after 28 years, it remains an iconic emblem of Apple's trailblazing spirit.
Unveiled on May 14, 1995, the Macintosh Performa 640CD took the tech world by storm. With a starting price of $2,300, this cutting-edge machine was a prized possession for tech enthusiasts and professionals alike. Sporting a 33 MHz Motorola 68LC040 processor, 8 MB of RAM, a 500 MB hard drive, a 2x CD-ROM drive, and a 1.44 MB floppy drive, the Performa 640CD was more than just a computer – it was a technological marvel.
Apple's unrelenting pursuit of excellence extended beyond the Mac ecosystem. The company simultaneously offered a PC version of the Performa 640, tailored for the burgeoning MS-DOS and Windows market. Boasting a 66 MHz Intel 486DX2 processor, this iteration demonstrated Apple's versatility and determination to bridge gaps in the tech landscape.
While time has marched on, the impact of the Mac Performa 640CD endures. Its discontinuation on February 1, 1996, marked the end of an era, but its legacy lives on. The Performa 640CD stands as a testament to Apple's indomitable spirit and its pursuit of excellence, even in the face of evolving technologies.
At the heart of the Macintosh Performa 640CD's legacy lies an intriguing tale of versatility. The Performa 640CD PC-Compatible version, equipped with a formidable 66 MHz Intel 486DX2 processor card, was a nod to the world of DOS and Windows. With the ability to accommodate up to 32 MB of RAM dedicated to the DOS/Windows operating system, this configuration was a bridge between two distinct tech universes.
Distinct from its Mac counterpart, the PC-Compatible configuration arrived sans monitor. This intentional separation underscored Apple's commitment to catering to diverse user preferences and needs, a hallmark that continues to define the company's approach to this day.
The Macintosh Performa 640CD's journey, spanning just a year, encapsulates the essence of Apple's innovation prowess. It was more than just a computer; it was a symbol of audacity, a harbinger of Apple's future triumphs.
As we reflect on the 28 years that have passed since its discontinuation, the Performa 640CD reminds us that the quest for excellence and innovation knows no bounds. Apple's legacy, forged by trailblazers and exemplified by products like the Macintosh Performa 640CD, continues to shape the tech landscape, inspiring generations to come.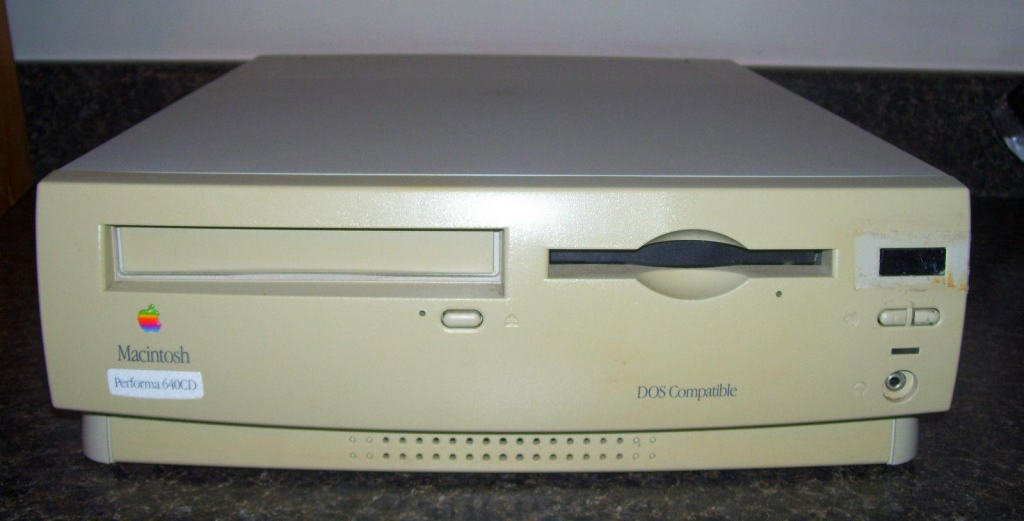 Macintosh Performa 640CD Details
Introduced
May 14, 1995
Discontinued
February 1, 1996
Model Identifier
98
Model Number
M3076
Order Number
M3939LL/A
Original Price
$2,300
Colors
Platinum
Weight
19 Ibs.
8.618 KG
Dimensions
4.3" H x 12.6" W x 16.5" D
10.92 cm H x 32 cm W x 41.91 cm D
Mac Performa 640CD Tech Specs
Processor
Processor
Motorola 68LC040
Intel 486DX2*
Processor Speed
33 MHz
66 MHz*
Architecture
32-bit
Number of Cores
1
System Bus
33 MHz
Cache
8 KB L1
Coprocessor
None
*PC version only
Storage & Media
Storage
500 MB
Media
1 – 1.44 MB Floppy
1 – 2x CD-ROM (Optional)
Memory
| | |
| --- | --- |
| Built-in Memory | 8 MB |
| Maximum Memory | 52 MB |
| Memory Slots | 2 – 72 pin SIMM |
| Minimum Speed | 80 ns |
| ROM | Unknown |
| Interleaving Support | No |
Display
Graphics
| | |
| --- | --- |
| Graphics Card | None |
| Graphics Memory | 1 MB |
| Display Connection | 1 – DB-15 |
Expansion
Expansion Slots
1 – LC PDS
1 – Comm
1 – Video I/O
Hard Drive Interface
IDE
Connections
Ethernet
None
Modem
14.4k (external)
Wi-Fi
None
Bluetooth
None
ADB
1
Serial
2
SCSI
1 – DB-25
Floppy Port
None
Audio In
1 – 3.5-mm analog input jack (8-bit mono)
Audio Out
1 – 3.5-mm analog output jack (8-bit stereo)
1 – Built-in speaker
Display
1 – DB-15
Software
Power
| | |
| --- | --- |
| Backup Battery | 4.5 V Alkaline |
| Maximum Continuous Power | 45 W |
| Line Voltage | Unknown |
Further Reading and References
Would you like to know more about Apple products? Stay up-to-date with the latest Apple News. Check our blog for the latest releases, rumors, and updates in the world of Apple.
Disclaimer: The data presented in this article is under continuous development and has been manually collected from various sources based on their availability. The author of this article may revise this dataset as additional research is conducted and reviewed. Please note that the information is provided "as is" and "as available" without express or implied warranties. The author cannot be held responsible for any omissions, inaccuracies, or errors in the published information. Any warranties relating to this information are hereby disclaimed.
Last updated: August 13, 2023