In the ever-evolving landscape of technology, it's essential to reflect on the devices that laid the foundation for the gadgets we take for granted today. One such device that shines in the annals of tech history is the Apple Macintosh Performa 5215CD. Unveiled in the mid-90s as part of Apple's Performa series, this computer left an indelible mark during its brief yet impactful existence.
Back in the summer of 1995, precisely on July 14th, Apple introduced the Macintosh Performa 5215CD to the world. Priced at a relatively affordable $2,300, this computer aimed to make the Mac OS experience accessible to a broader audience without burning a hole in their pockets. It was an era when the digital realm was gradually becoming affordable, and Apple was determined to ensure that this technological wave embraced everyone.
Powered by a 75 MHz PowerPC 603 processor, the 5215CD was not just a computer; it was a portal to the future. A 15″ Color CRT display enriched the visual experience, while 8 MB of RAM provided the muscle for efficient multitasking. The 1 GB hard drive seemed generous at the time, accommodating precious digital treasures. The inclusion of a 4x CD-ROM drive and a 1.44 MB floppy drive was revolutionary, cementing the computer's reputation as a well-rounded performer.
While these specifications might seem quaint by contemporary standards, they were the epitome of the state-of-the-art in the mid-90s.
Despite its short lifespan, the Macintosh Performa 5215CD etched its legacy in Apple's history. Merely a year after its debut, on July 1, 1996, the curtains fell on this innovative marvel. Yet, its memory lingered on in the hearts of its users. Now, 28 years later, the 5215CD stands as a nostalgic time capsule, reminding us of a simpler era in the world of tech.
The Macintosh Performa 5215CD wasn't just a computer; it was a gateway to a new world of interaction and multimedia immersion. The 75-megahertz PowerPC 603 microprocessor was the engine behind its prowess, a collaborative marvel by Apple, IBM, and Motorola. Boasting 8 megabytes of RAM, expandable to 64 megabytes, and a 1 gigabyte hard disk drive, the 5215CD embraced data and storage like never before.
But it was the multimedia features that truly set it apart. Equipped with a quadruple-speed CD-ROM drive, the 5215CD offered swift access to CD-based data. The 16-bit stereo sound delivered audio playback of unparalleled quality via built-in speakers. The 15-inch multiscan color display, supporting up to 32,000 colors, was a visual treat, heralding a new era of vibrant computing.
The Macintosh Performa 5215CD wasn't content with being just a computer; it was a canvas for creativity. Its potential expanded with additional features like a video-in card, connecting to external sources like VCRs and camcorders. This allowed users to manipulate and incorporate video images seamlessly. The innovation continued with the option of an internal TV tuner, complete with a remote control, transforming the screen into a window to the world of television channels.
Connectivity was at the heart of the Macintosh Performa 5215CD. An internal 14.4-kilobits-per-second data and electronic fax modem, equipped with a full-duplex speakerphone and digital answering machine capability, kept users connected. Multiple ports facilitated connections to peripherals such as printers, scanners, and external disk drives. The LC processor direct slot opened the door to Ethernet networking expansion, making the 5215CD a hub of digital connections.
As we journey through the modern tech landscape, it's crucial to pay homage to devices like the Macintosh Performa 5215CD. Its brief but impactful presence paved the way for the gadgets we now consider everyday companions. It's a reminder of how far we've come and a testament to the innovative spirit that continues to drive the tech industry forward. So, let's raise a metaphorical glass to the Macintosh Performa 5215CD—a true icon of its time.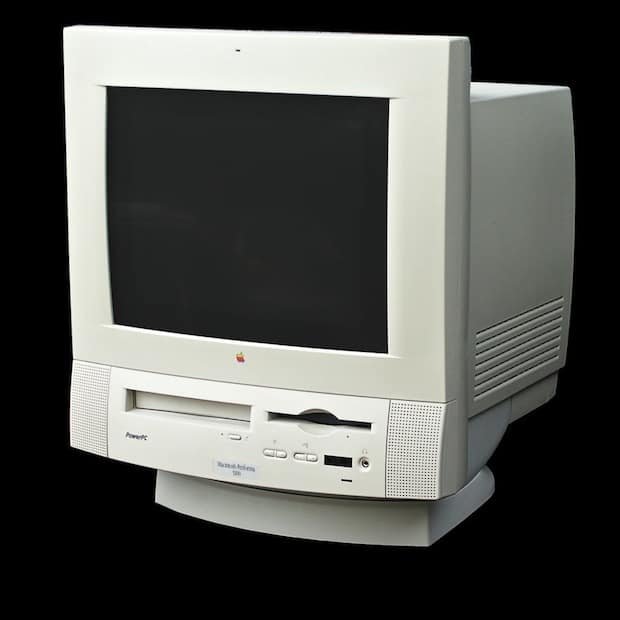 Macintosh Performa 5215CD Details
Introduced
July 14, 1995
Discontinued
July 1, 1996
Model Identifier
41
Model Number
M3046
Order Number
M4107LL/A
Original Price
$2,300
Colors
Platinum
Weight
47 Ibs.
21.318 KG
Dimensions
17.5" H x 15.1" W x 16" D
44.45 cm H x 38.35 cm W x 40.64 cm D
Mac Performa 5215CD Tech Specs
Processor
Processor
PowerPC 603
Processor Speed
75 MHz
Architecture
32-bit
Number of Cores
1
System Bus
37.5 MHz
Cache
16 KB L1
256 KB L2
Coprocessor
Built-in FPU
Storage & Media
Storage
1 GB
Media
1 – 4x CD-ROM
1 – 1.44 MB Floppy
Memory
| | |
| --- | --- |
| Built-in Memory | 8 MB |
| Maximum Memory | 64 MB |
| Memory Slots | 2 – 72 pin SIMM |
| Minimum Speed | 80 ns |
| ROM | Unknown |
| Interleaving Support | No |
Display
Built-in Display
15″ Shadow Mask RGB CRT display
Resolution
640×480 at 16-bit
800×600 at 8-bit
832×624 at 8-bit
Graphics
| | |
| --- | --- |
| Graphics Card | None |
| Graphics Memory | 1 MB |
| Display Connection | 1 – DB-15 (Optional) |
Expansion
Expansion Slots
1 – LC PDS (Cache Bus)
1 – Comm. Slot
1 – Video I/O
1 – TV Tuner
Hard Drive Interface
IDE
Connections
Ethernet
None
Modem
None
ADB
1
Serial
2
SCSI
1 – DB-25
Floppy Port
None
Audio In
1 – 3.5-mm analog input jack
1 – Built-in microphone
Audio Out
2 – 3.5-mm analog output jack
2 – Built-in speaker
Display
1 – DB-15 (Optional)
Software
Power
| | |
| --- | --- |
| Backup Battery | 4.5 V Alkaline |
| Maximum Continuous Power | 220 W |
| Line Voltage | Unknown |
Further Reading and References
Would you like to know more about Apple products? Stay up-to-date with the latest Apple News. Check our blog for the latest releases, rumors, and updates in the world of Apple.
Disclaimer: The data presented in this article is under continuous development and has been manually collected from various sources based on their availability. The author of this article may revise this dataset as additional research is conducted and reviewed. Please note that the information is provided "as is" and "as available" without express or implied warranties. The author cannot be held responsible for any omissions, inaccuracies, or errors in the published information. Any warranties relating to this information are hereby disclaimed.
Last updated: August 27, 2023