In the ever-evolving landscape of personal computing, few names resonate as powerfully as Apple. From its inception, the tech titan has continually pushed the boundaries of innovation and design, and a pivotal chapter in this journey unfolds with the Apple Macintosh Performa 5320CD. Debuting on November 1st, 1995, this gem, nestled within the iconic Performa series, offers a window into the evolution of personal computers and Apple's steadfast commitment to redefining the tech sphere.
As the world bid adieu to 1995 and welcomed the digital dawn of 1996, the Macintosh Performa 5320CD made a stunning entrance into the limelight. The brainchild of Apple's masterminds, this personal computer dared to challenge conventions with its awe-inspiring features and cutting-edge technology. Designed, meticulously manufactured, and proudly borne by Apple, the Performa 5320CD was a vision transformed into reality.
In an era where computing prowess was a rarity, the Performa 5320CD flexed its muscles with a commanding 120 MHz PowerPC 603e processor. This engine of innovation laid the groundwork for seamless multitasking and efficient performance. The 15″ color CRT display breathed life into pixels, unveiling a world of vivid visuals that enthralled users.
Under the hood, the Performa 5320CD carried either 8 MB or 16 MB of RAM, a true testament to Apple's dedication to offering choices tailored to user needs. With a 1.2 GB hard drive, the computer welcomed files, data, and creativity in abundance, while the 4x CD-ROM drive and 1.44 MB floppy drive signified its versatility and adaptability.
Fast-forward 28 years, and the Performa 5320CD remains an indelible marker in Apple's storied history. Though the tides of technology have swept far beyond its shores, the echoes of its impact still resound. This machine, conceived during the mid-1990s, dared to dream big and stand as a formidable competitor in the personal computer market.
While it was short-lived, the Performa 5320CD's legacy stretches far beyond its discontinuation on August 1st, 1996. Sold exclusively in the vast expanse of Europe and Asia, it embodied the global reach and influence that Apple was starting to command.
The Performa 5320CD, with its technological might and futuristic design, played a pivotal role in Apple's journey towards becoming a global tech giant. The footsteps of innovation it left behind paved the way for the revolutionary products that now define our digital landscape.
Though time has cast its shadow, the Performa 5320CD stands as a relic of the past, a reminder of Apple's tireless pursuit of excellence, and a harbinger of the marvels that lay ahead. Its tale is etched in the annals of Apple's evolution, reminding us that even the most humble beginnings can evolve into monumental legacies.
In an ever-accelerating world, taking a moment to peer back into the past can provide insights into where we stand today and where we might be headed tomorrow. The Macintosh Performa 5320CD invites us to do just that—a thoughtful reflection on a piece of technology that once blazed a trail and remains an integral part of the grand symphony that is Apple's history.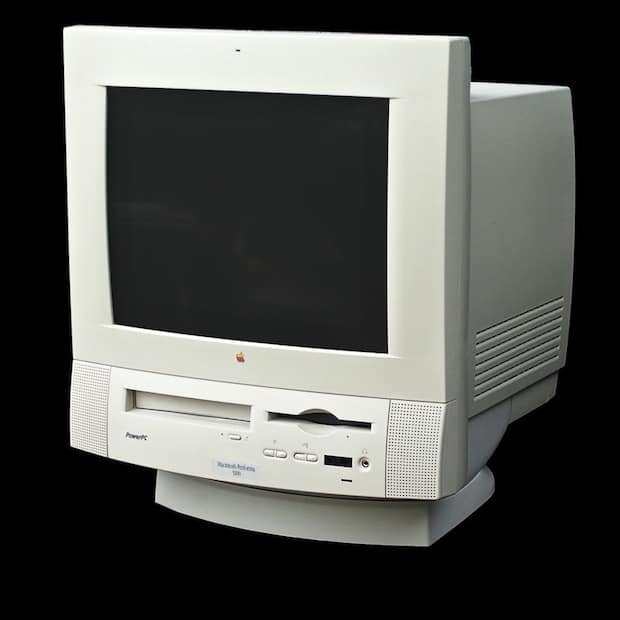 Macintosh Performa 5320CD Details
Introduced
November 1, 1995
Discontinued
August 1, 1996
Model Identifier
41
Model Number
M4450J/A
Order Number
Unknown
Original Price
Unknown
Colors
Platinum
Weight
47 Ibs.
21.318 KG
Dimensions
17.5" H x 15.1" W x 16" D
44.45 cm H x 38.35 cm W x 40.64 cm D
Mac Performa 5320CD Tech Specs
Processor
Processor
PowerPC 603e
Processor Speed
120 MHz
Architecture
32-bit
Number of Cores
1
System Bus
40 MHz
Cache
32 KB L1
256 KB L2
Coprocessor
Built-in FPU
Storage & Media
Storage
1.2 GB
Media
1 – 1.44 MB Floppy
1 – 4x CD-ROM
Memory
| | |
| --- | --- |
| Built-in Memory | 8 MB |
| Maximum Memory | 64 MB |
| Memory Slots | 2 – 72 pin SIMM |
| Minimum Speed | 80 ns |
| ROM | Unknown |
| Interleaving Support | No |
Display
Built-in Display
15″ Shadow Mask RGB CRT Display
Resolution
640×480 at 16-bit
800×600 at 8-bit
832×624 at 8-bit
Graphics
| | |
| --- | --- |
| Graphics Card | None |
| Graphics Memory | 1 MB |
| Display Connection | None |
Expansion
Expansion Slots
1 – LC PDS (Cache Bus)
1 – Comm. Slot
1 – Video I/O
1 – TV Tuner
Hard Drive Interface
IDE
Connections
Ethernet
None
Modem
None
ADB
1
Serial
2
SCSI
1 – DB-25
Floppy Port
None
Audio In
1 – 3.5-mm analog input jack
1 – Built-in microphone
Audio Out
2 – 3.5-mm analog output jack
2 – Built-in speaker
Display
None
Software
Power
| | |
| --- | --- |
| Backup Battery | 4.5 V Alkaline |
| Maximum Continuous Power | 220 W |
| Line Voltage | Unknown |
Further Reading and References
Would you like to know more about Apple products? Stay up-to-date with the latest Apple News. Check our blog for the latest releases, rumors, and updates in the world of Apple.
Disclaimer: The data presented in this article is under continuous development and has been manually collected from various sources based on their availability. The author of this article may revise this dataset as additional research is conducted and reviewed. Please note that the information is provided "as is" and "as available" without express or implied warranties. The author cannot be held responsible for any omissions, inaccuracies, or errors in the published information. Any warranties relating to this information are hereby disclaimed.
Last updated: August 29, 2023