April 22, 1996, marked a pivotal moment in tech history with the debut of the Macintosh Performa 5400CD. A beacon of innovation, this personal computer from Apple's heralded Macintosh Performa series swiftly became a darling among tech fans. Designed to seamlessly blend the power of a desktop with the portability of a laptop, it carved a niche of its own.
Sporting a robust PowerPC 603e processor, available at 120 MHz, 160 MHz, or 180 MHz, the Performa 5400CD was a force to be reckoned with. Backed by a 15-inch color CRT display, 16 MB or 24 MB of RAM, and a 1.6 GB or 2.4 GB hard drive, it was engineered for uncompromised productivity. The inclusion of a 4x or 8x CD-ROM drive and a 1.44 MB floppy drive further solidified its prowess for day-to-day tasks.
Regrettably, the Performa 5400CD's journey was fleeting. On December 1st, 1997, Apple bid adieu to this icon, leaving behind a legacy etched in the memories of its users. Today, 27 years later, the Macintosh Performa 5400CD stands as a poignant reminder of Apple's formative years in the realm of personal computing.
Much like its counterparts in the Performa 5400 and Power Macintosh 5400 series, the 5400CD boasted an all-in-one desktop design, complete with a 15″ shadow mask display. With 1 MB of VRAM, it dazzled with support for up to 8-bit color at 832 x 624 pixels and 16-bit color at 640 x 480 pixels. At its core lay the "Alchemy" logic board, housing a 120 MHz PowerPC 603e processor.
Upgradeability was a key feature, with two 168-pin DIMM slots allowing RAM expansion up to a capacious 136 MB from the base 8 MB. Expansion options abounded, with a PCI slot, Comm Slot II for internal modems or Ethernet cards, and a video-in slot for an Apple TV Tuner Card. Storage interfaced through a SCSI bus, with a 1.6 GB internal hard disk drive linked via an IDE bus. A built-in floppy drive catered to 1.44 MB high-density disks.
Out of the box, the Performa 5400CD ran on Mac OS 7.5.3, complemented by System Enabler 410 and a suite of home software. Its journey culminated with support for Mac OS 9.1, underscoring Apple's commitment to enduring performance.
While the Performa 5400CD found a global audience, its educational alter ego, the Power Macintosh 5400, was an exclusive treat for North American users.
In retrospect, the Macintosh Performa 5400CD remains a testament to Apple's early foray into personal computing. Its blend of power, versatility, and iconic design still evokes a sense of nostalgia among enthusiasts, offering a glimpse into the roots of a tech giant.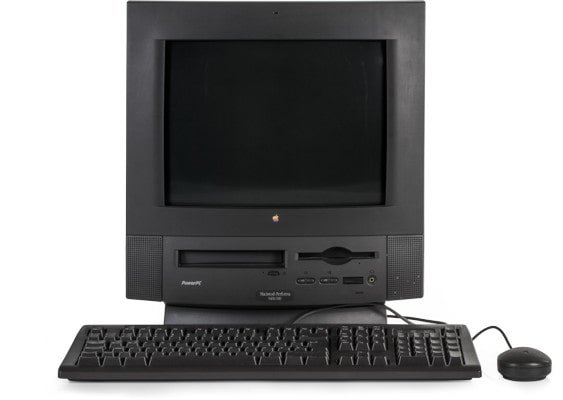 Macintosh Performa 5400CD Details
Introduced
April 22, 1996 (120 MHz)
August 1, 1996 (160 MHz & 180 MHz)
Discontinued
February 1, 1997 (120 MHz)
June 1, 1997 (180 MHz)
December 1, 1997 (160 MHz)
Model Identifier
74
Model Number
M3046
Order Number
M4796J/A
Original Price
Unknown
Colors
Platinum (120 MHz & 160 MHz)
Black (180 MHz)
Weight
47 Ibs.
21.318 KG
Dimensions
17.5" H x 15.1" W x 16" D
44.45 cm H x 38.35 cm W x 40.64 cm D
Mac Performa 5400 Tech Specs
Processor
Processor
PowerPC 603e
Processor Speed
120 MHz
160 MHz
180 MHz
Architecture
32-bit
Number of Cores
1
System Bus
40 MHz
Cache
32 KB L1
256 KB L2 (Optional)
Coprocessor
Built-in FPU
Storage & Media
Storage
1.6 GB
2.4 GB
Media
1 – 1.44 MB Floppy
1 – 4x CD-ROM or 8x CD-ROM
Memory
Built-in Memory
16 MB
24 MB
Maximum Memory
136 MB
Memory Slots
2 – 168 pin DIMM
Minimum Speed
70 ns
ROM
Unknown
Interleaving Support
No
Display
Built-in Display
15″ Shadow Mask RGB CRT Display
Resolution
640×480 at 16-bit
800×600 at 8-bit
832×624 at 8-bit
Graphics
| | |
| --- | --- |
| Graphics Card | None |
| Graphics Memory | 1 MB |
| Display Connection | None |
Expansion
Expansion Slots
1 – LC PDS (Cache Bus)
1 – Comm. II Slot
1 – Video I/O
1 – TV Tuner
Hard Drive Interface
IDE
Connections
Ethernet
1 – 10BASE-T
Modem
None
ADB
1
Serial
2
SCSI
1 – DB-25
Floppy Port
None
Audio In
1 – 3.5-mm analog input jack
1 – Built-in microphone
Audio Out
2 – 3.5-mm analog output jack
2 – Built-in speaker
Display
None
Software
Power
| | |
| --- | --- |
| Backup Battery | 4.5 V Alkaline |
| Maximum Continuous Power | 220 W |
| Line Voltage | Unknown |
Further Reading and References
Would you like to know more about Apple products? Stay up-to-date with the latest Apple News. Check our blog for the latest releases, rumors, and updates in the world of Apple.
Disclaimer: The data presented in this article is under continuous development and has been manually collected from various sources based on their availability. The author of this article may revise this dataset as additional research is conducted and reviewed. Please note that the information is provided "as is" and "as available" without express or implied warranties. The author cannot be held responsible for any omissions, inaccuracies, or errors in the published information. Any warranties relating to this information are hereby disclaimed.
Last updated: September 15, 2023