In the mid-90s, Apple introduced the Macintosh Performa 577, a personal computer that embodied the spirit of technological advancements during that era. Manufactured and sold by Apple from 1994 to 1996, the Performa 577 left an indelible mark on the memories of those who experienced its power and capabilities. Today, this 29-year-old computer serves as a nostalgic reminder of Apple's engineering prowess and design ingenuity.
Compared to its sibling, the Performa 575, the Performa 577 offered a significant performance boost. It featured an upgraded 33 MHz Motorola 68LC040 processor that brought enhanced processing power to the fingertips of its users. The 320 MB hard drive, a notable upgrade from the 575's 250 MB, provided ample storage space for files, applications, and multimedia content.
The Performa 577 boasted a vibrant 14″ color CRT display, which brought visuals to life with its impressive color reproduction and sharpness. Users found themselves immersed in a world of vibrant graphics, whether they were playing CD-ROM games or crafting school assignments. The computer's ability to render images and videos with finesse was a testament to Apple's commitment to providing a superior visual experience.
With 5 MB of RAM, the Performa 577 ensured smooth multitasking and efficient handling of applications. Users could effortlessly switch between tasks without experiencing significant slowdowns. Additionally, the inclusion of a 2x CD-ROM drive and a 1.44 MB floppy drive expanded the possibilities for content consumption and storage, allowing users to enjoy a diverse range of media.
Although the Performa 577 showcased remarkable specifications for its time, it was ultimately discontinued on April 1, 1996. However, for those who were fortunate enough to have experienced this computing marvel, the Performa 577 holds a special place in their hearts. It serves as a nostalgic portal, transporting them back to a time when CD-ROM games and colorful CRT displays were the epitome of cutting-edge technology.
The Performa 577, alongside its counterpart, the Performa 575, was an embodiment of Apple's dedication to technological innovation. Apple's engineers and designers demonstrated their brilliance through the development of these computers, which captivated users and pushed the boundaries of what was possible at the time. Today, the Performa 577 stands as a testament to Apple's commitment to delivering groundbreaking technology that resonates with users.
The Macintosh Performa 577, a remarkable personal computer from the mid-90s, has left an indelible mark on the memories of those who were fortunate enough to experience its capabilities. With its upgraded processor, ample storage space, immersive display, and versatile connectivity options, the Performa 577 was a technological marvel. Today, it serves as a nostalgic reminder of the era's technological advancements and stands as a testament to Apple's ingenuity. The Performa 577 will forever hold a special place in the hearts of those who cherish the memories it helped create.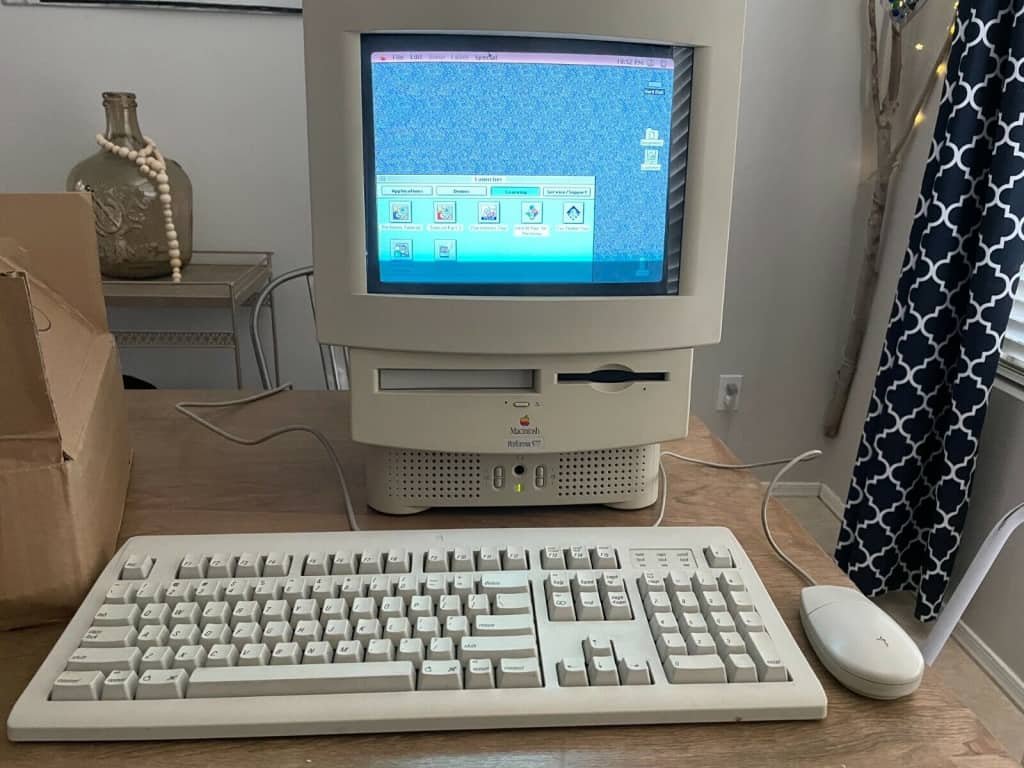 Macintosh Performa 577 Details
Introduced
February 1, 1994
Discontinued
April 1, 1996
Model Identifier
92
Model Number
M1640
Order Number
M3201LL/A
Original Price
Unknown
Colors
Platinum
Weight
40.5 Ibs.
18.370 KG
Dimensions
17.9" H x 13.5" W x 16.5" D
45.46 cm H x 34.29 cm W x 41.91 cm D
Mac Performa 577 Tech Specs
Processor
| | |
| --- | --- |
| Processor | Motorola 68LC040 |
| Processor Speed | 33 MHz |
| Architecture | 32-bit |
| Number of Cores | 1 |
| System Bus | 33 MHz |
| Cache | 8 KB L1 |
| Coprocessor | None |
Storage & Media
Storage
320 MB
Media
1 – 2x CD-ROM
1 – 1.44 MB Floppy
Memory
Built-in Memory
5 MB
Maximum Memory
68 MB (Actual)
36 MB (Apple)
Memory Slots
1 – 72 pin SIMM
Minimum Speed
80 ns
ROM
Unknown
Interleaving Support
No
Display
| | |
| --- | --- |
| Built-in Display | 14″ RGB CRT display |
| Resolution | 640 x 480 |
Graphics
| | |
| --- | --- |
| Graphics Card | None |
| Graphics Memory | 512 KB (Upgradeable to 1 MB) |
| Display Connection | 1 – DB-15 |
Expansion
Expansion Slots
1 – LC PDS (Cache Bus)
1 – Comm. Slot
Hard Drive Interface
SCSI
Connections
Ethernet
None
Modem
14.4k (internal)
ADB
2
Serial
2
SCSI
1 – DB-25
Floppy Port
None
Audio In
1 – 3.5-mm analog input jack
1 – Built-in microphone
Audio Out
2 – 3.5-mm analog output jack
2 – Built-in speaker
Display
1 – DB-15
Software
Power
| | |
| --- | --- |
| Backup Battery | 4.5 V Alkaline |
| Maximum Continuous Power | 40 W |
| Line Voltage | Unknown |
Further Reading and References
Would you like to know more about Apple products? Stay up-to-date with the latest Apple News. Check our blog for the latest releases, rumors, and updates in the world of Apple.
Disclaimer: The data presented in this article is under continuous development and has been manually collected from various sources based on their availability. The author of this article may revise this dataset as additional research is conducted and reviewed. Please note that the information is provided "as is" and "as available" without express or implied warranties. The author cannot be held responsible for any omissions, inaccuracies, or errors in the published information. Any warranties relating to this information are hereby disclaimed.
Last updated: July 17, 2023