Back in 1994, Apple revolutionized the computing world with the introduction of the Macintosh Performa 6110CD, a cutting-edge addition to its Performa series. Boasting impressive specifications and a sleek design, the Performa 6110CD quickly became a symbol of innovation and technological advancement. Let's take a journey back in time to explore the significance of this remarkable personal computer and its lasting impact on Apple's history.
The Macintosh Performa 6110CD was a marvel of its time, equipped with state-of-the-art technology that set it apart from its competitors. At its core was the 60 MHz PowerPC 601 processor, a collaborative effort between IBM and Motorola. This processor's architecture marked a significant shift in Apple's approach, providing improved performance and power efficiency compared to previous models.
Complementing the processor was 8 MB of RAM, a 250 MB hard drive, a 2x CD-ROM drive, and a 1.44 MB floppy drive, offering ample storage and exceptional data access speeds. This combination of features made the Performa 6110CD a versatile and powerful machine, appealing to professionals and enthusiasts alike.
The Performa 6110CD also shipped with a 15″ Apple color monitor, ensuring crisp visuals and vibrant colors for an enhanced computing experience.
Despite its groundbreaking success, the Macintosh Performa 6110CD had a relatively short lifespan. On July 1, 1995, after merely a year in the market, the computer was discontinued and succeeded by newer models. As technology rapidly evolved, Apple aimed to stay ahead of the curve, offering users even more advanced and feature-rich products.
Despite its relatively short time in the market, the Performa 6110CD left a lasting legacy within Apple's history. It showcased the company's commitment to innovation and its willingness to embrace new technologies. The transition to the PowerPC processor paved the way for future developments, allowing Apple to further push the boundaries of computing power and efficiency.
Today, 29 years later, the Macintosh Performa 6110CD remains an iconic piece of Apple's heritage. It serves as a reminder of the company's dedication to providing customers with top-notch technology and a glimpse into the foundation of the modern Macintosh lineup.
The impact of the Performa 6110CD extended beyond the consumer market. Its business-oriented counterpart, the Power Macintosh 6100, catered to professionals seeking reliable computing solutions. Additionally, the server version, known as the Workgroup Server 6150, facilitated seamless data management for businesses and organizations.
The Macintosh Performa 6110CD was a groundbreaking personal computer that left an indelible mark on Apple's history. With its powerful hardware, sleek design, and revolutionary PowerPC processor, it captured the imagination of technology enthusiasts during its short time in the market. Although it may no longer be part of Apple's active product lineup, the Performa 6110CD continues to stand tall as a testament to the company's innovation and dedication to providing its customers with cutting-edge technology.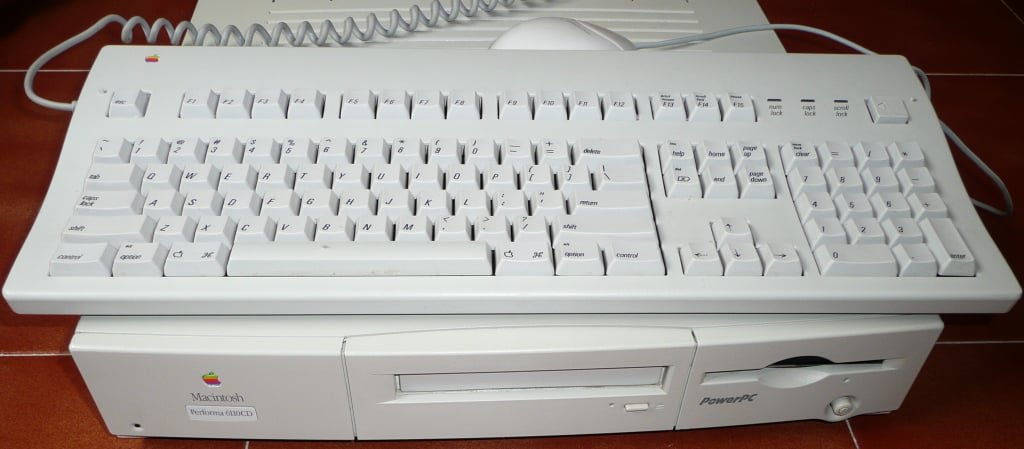 Macintosh Performa 6110CD Details
Introduced
November 1, 1994
Discontinued
July 1, 1995
Model Identifier
75
Model Number
M1596
Order Number
M3433LL/A
Original Price
$2,600
Colors
Platinum
Weight
14 Ibs.
6.350 KG
Dimensions
3.4" H x 16.3" W x 15.6" D
8.63 cm H x 41.4 cm W x 39.62 cm D
Mac Performa 6110CD Tech Specs
Processor
Processor
PowerPC 601
Processor Speed
60 MHz
Architecture
32-bit
Number of Cores
1
System Bus
30 MHz
Cache
32 KB L1
256 KB L2 (Optional)
Coprocessor
Built-in FPU
Storage & Media
Storage
250 MB
Media
1 – 1.44 MB Floppy
1 – 2x CD-ROM (Optional for AV models)
Memory
Built-in Memory
8 MB
Maximum Memory
132 MB (Actual)
72 MB (Apple)
Memory Slots
2 – 72 pin SIMMs (Group of 2)
Minimum Speed
80 ns
ROM
Unknown
Interleaving Support
No
Display
Graphics
| | |
| --- | --- |
| Graphics Card | None |
| Graphics Memory | 2 MB DRAM |
| Display Connection | 1 – HDI-45 |
Expansion
| | |
| --- | --- |
| Expansion Slots | 1 – 7″ PDS or NuBus |
| Hard Drive Interface | SCSI |
Connections
Ethernet
AAUI-15
Modem
28.8k (external)
Bluetooth
None
ADB
1
Serial
2
SCSI
1 – DB-25
Floppy Port
None
Audio In
1 – 3.5-mm analog input jack
Audio Out
1 – 3.5-mm analog output jack
1 – Built-in speaker
Display
1 – HDI-45
Software
Power
| | |
| --- | --- |
| Backup Battery | 3.6 V lithium |
| Maximum Continuous Power | 210 W |
| Line Voltage | 100-240 V |
Further Reading and References
Would you like to know more about Apple products? Stay up-to-date with the latest Apple News. Check our blog for the latest releases, rumors, and updates in the world of Apple.
Disclaimer: The data presented in this article is under continuous development and has been manually collected from various sources based on their availability. The author of this article may revise this dataset as additional research is conducted and reviewed. Please note that the information is provided "as is" and "as available" without express or implied warranties. The author cannot be held responsible for any omissions, inaccuracies, or errors in the published information. Any warranties relating to this information are hereby disclaimed.
Last updated: August 3, 2023