In the mid-90s, a tech revolution was underway, and Apple was at the forefront with its groundbreaking Power Macintosh series. Among these trailblazers was the Apple Power Macintosh 6200, a computer that not only redefined personal computing but also left an indelible mark on Apple's storied history.
In the fast-paced world of technology, innovation is the name of the game. In May 1995, Apple unleashed its Power Macintosh series upon the world, a move that would reshape the landscape of personal computing. Standing tall among these giants was the Power Macintosh 6200, a machine that dared to dream beyond the constraints of its time.
At the heart of the Power Macintosh 6200 was its 75 MHz PowerPC 603 processor. This technological marvel marked a significant departure from its predecessors and catapulted the computer into a league of its own. The marriage of this robust processor with 8 MB of RAM endowed the machine with an unprecedented ability to effortlessly handle demanding applications. Whether it was tackling intricate design projects or running resource-intensive software, the Power Macintosh 6200 proved itself as a formidable workhorse.
Diversity was the hallmark of the Power Mac 6200's features. Boasting a 500 MB hard drive, a 4x CD-ROM drive, and a 1.44 MB floppy drive, the machine provided users with a wealth of storage options. This versatility ensured that whether you were archiving critical data, enjoying multimedia content, or simply exploring the digital realm, the Power Macintosh 6200 had you covered.
Time may have marched forward, 28 years later rendering the Power Macintosh 6200 obsolete, but its legacy remains palpable. Discontinued in 1996, the 6200 made way for more advanced iterations, yet its influence on Apple's trajectory is undeniable. This machine stands as a testament to Apple's unwavering dedication to innovation and excellence.
While the Power Macintosh 6200 had a limited market, its global counterpart, the Performa 6200CD, took the world by storm. A true icon, the Performa 6200CD transcended geographical boundaries, leaving an indelible impact on users worldwide. Its legacy was not confined by borders; it was a symbol of Apple's commitment to providing cutting-edge technology to every corner of the globe.
The Power Macintosh 6200's prowess wasn't just skin deep. Behind its sleek exterior lay the ingenuity of Apple's design philosophy. The utilization of the 64-bit PowerPC 603 processor within the architecture, despite the constraints of a 25 MHz system bus inherited from the Quadra 605, showcased Apple's ability to innovate even within limitations. This strategic decision highlighted the company's determination to push boundaries and redefine possibilities.
As we reflect upon the technological milestones that have shaped our digital landscape, the Power Macintosh 6200 stands tall as a beacon of progress. It paved the way for a new era of computing, setting in motion a chain of advancements that continue to shape our lives today. Though time has moved on, the spirit of innovation embodied by the Power Mac 6200 continues to inspire, reminding us that every revolution begins with a single step into the unknown.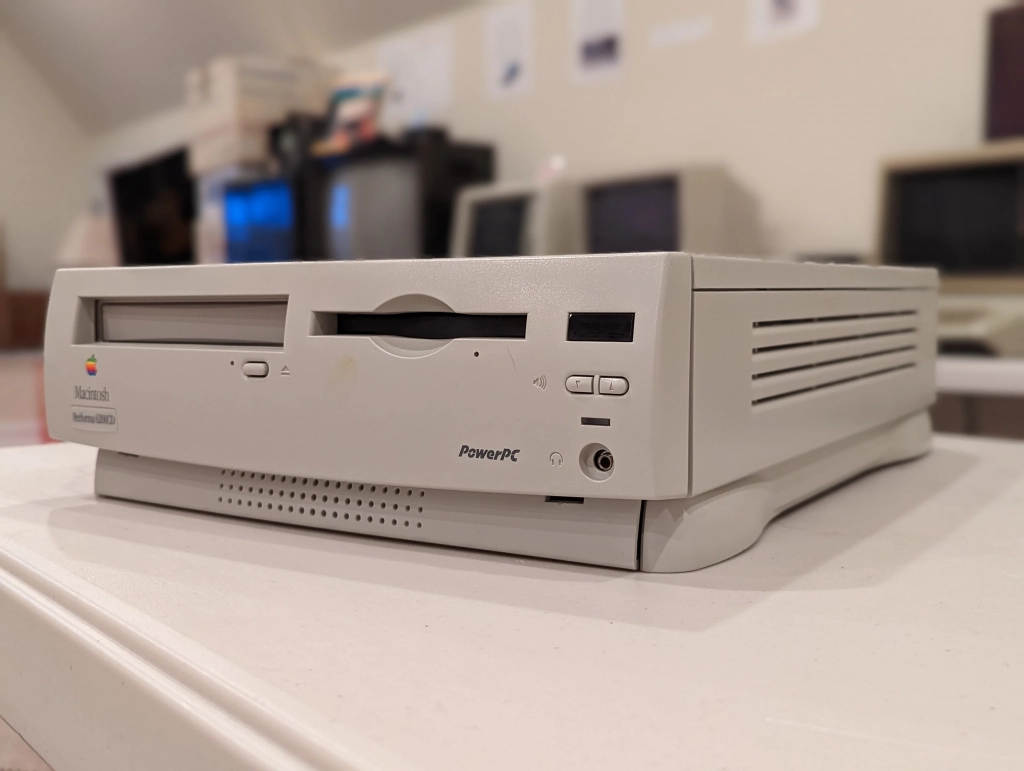 Power Macintosh 6200 Details
Introduced
May 28, 1995
Discontinued
May 1, 1996
Model Identifier
42
Model Number
Unknown
Order Number
M4147J/A
Original Price
Unknown
Colors
Platinum
Weight
19 Ibs.
8.618 KG
Dimensions
4.3" H x 12.6" W x 16.5" D
10.92 cm H x 32 cm W x 41.91 cm D
Power Mac 6200 Tech Specs
Processor
Processor
PowerPC 603
Processor Speed
75 MHz
Architecture
32-bit
Number of Cores
1
System Bus
37.5 MHz
Cache
16 or 32 KB L1
256 KB L2
Coprocessor
Built-in FPU
Storage & Media
Storage
500 MB
Media
1 – 1.44 MB Floppy
1 – 4x CD-ROM
Memory
| | |
| --- | --- |
| Built-in Memory | 8 MB |
| Maximum Memory | 64 MB |
| Memory Slots | 2 – 72 pin SIMM |
| Minimum Speed | 80 ns |
| ROM | Unknown |
| Interleaving Support | No |
Display
Graphics
| | |
| --- | --- |
| Graphics Card | None |
| Graphics Memory | 1 MB |
| Display Connection | 1 – DB-15 |
Expansion
Expansion Slots
1 – LC PDS
1 – Comm
1 – Video-In
1 – TV
Hard Drive Interface
IDE
Connections
Ethernet
None
Modem
None
Wi-Fi
None
Bluetooth
None
Infrared
Built-in IR receiver
ADB
1
Serial
2
SCSI
1 – DB-25
Floppy Port
None
Audio In
1 – 3.5-mm analog input jack
Audio Out
1 – 3.5-mm analog output jack
1 – Built-in speaker
Display
1 – DB-15
Software
Power
Backup Battery
4.5 V Alkaline
Maximum Continuous Power
150 W
Line Voltage
115 V AC (90 V to 132 V AC)
230 V AC (180 V to 264 V AC)
Further Reading and References
Would you like to know more about Apple products? Stay up-to-date with the latest Apple News. Check our blog for the latest releases, rumors, and updates in the world of Apple.
Disclaimer: The data presented in this article is under continuous development and has been manually collected from various sources based on their availability. The author of this article may revise this dataset as additional research is conducted and reviewed. Please note that the information is provided "as is" and "as available" without express or implied warranties. The author cannot be held responsible for any omissions, inaccuracies, or errors in the published information. Any warranties relating to this information are hereby disclaimed.
Last updated: August 15, 2023