In the annals of tech history, the year 1995 shines as a pivotal moment for Apple Inc. This was the year when the tech giant brought forth a groundbreaking innovation – the Apple Color OneScanner 600/27, a luminary within the illustrious Apple Scanner series. Fast forward to the present day, as we commemorate the 28-year anniversary of this marvel, we delve into its revolutionary features, its profound impact on the scanning landscape, and its enduring legacy.
Introducing the Apple Color OneScanner 600/27, a true trailblazer in the realm of scanning technology. This scanner, proudly designed, manufactured, and released by Apple, emerged into the world on June 1, 1995. Its arrival was nothing short of transformative.
Equipped with an impressive arsenal of features, the Apple Color OneScanner 600/27 rapidly established itself as a game-changer. Boasting an astounding scanning resolution of up to 2400 dpi, a staggering 27-bit color depth, and a scanning area stretching to 8.5″ x 14″, this scanner was far ahead of its contemporaries. The inclusion of a cutting-edge SCSI-2 port added another feather to its cap, ensuring lightning-fast data transfer rates.
In the dynamic world of technology, benchmarks are set and broken with each passing moment. The Apple Color OneScanner 600/27, with its state-of-the-art features, deftly set the bar for competitors and sent ripples of inspiration throughout the industry. Apple, once again, proved its mettle as an innovator beyond compare.
As we bask in the glow of its 28-year, the scanner's legacy resonates powerfully. The Apple Color OneScanner 600/27 not only catalyzed Apple's journey into the scanning landscape but also laid the foundation for the exceptional products that would follow in its wake.
Today, as we traverse the digital landscape, the Apple Color OneScanner 600/27 might have faded from some memories, but its impact remains imprinted in the DNA of subsequent Apple offerings. This scanner was more than just a device; it was a testament to Apple's commitment to pushing the boundaries of innovation.
The Apple Color OneScanner 600/27 wasn't just a feat of technological brilliance; it was designed with the user in mind. The scanner's sleek, compact form and ease of use made it a staple for cost-conscious home, office, and education users seeking superior scan quality without the complexity.
At its heart lay the innovative OneScanner Dispatcher 2.0 software, a revolutionary application that seamlessly integrated scanning and related functions, simplifying tasks that were once arduous. Imagine a virtual copier, a fax machine, and a text and graphics scanner, all wrapped into a single elegant solution.
The Apple Color OneScanner 600/27 wasn't merely about functionality; it was about delivering unparalleled quality. With an optical resolution of 300- by 600-dot-per-inch and an impressive 27-bit color depth, this scanner produced images that were nothing short of breathtaking. Its recognition of over 134 million colors internally and support for ColorSync 2.1 color matching ensured that the vibrancy and authenticity of the original were meticulously preserved.
No marvel is complete without its supporting cast, and the Apple Color OneScanner 600/27 was no exception. The OneScanner Dispatcher software elevated scanning and document handling to an art form, offering seamless integration with Mac OS computers, fax modems, and printers. This marriage of convenience and productivity was further embellished by Xerox TextBridge 3.0 OCR software, obliterating the need for laborious rekeying with its impressive accuracy rate of up to 98.5 percent.
Amidst its myriad strengths, the Apple Color OneScanner 600/27 remained surprisingly affordable. Whether you're a visionary educator crafting a student newsletter, a freelance graphic artist weaving a brochure, or an individual seeking to infuse your annual holiday letters with a dash of flair, the Apple Color OneScanner 600/27 emerged as the perfect companion.
In the sphere of innovation, Apple had once again taken the lead. The Apple Color OneScanner 600/27 wasn't just a scanner; it was a testament to Apple's relentless pursuit of excellence. From the powerful OneScanner Dispatcher software to its cutting-edge image quality, from the comprehensive software suite to its affordability, the Apple Color OneScanner 600/27 stood tall.
This scanner's journey was more than just technological evolution; it was a leap into the future. A leap that carved a path for devices yet to come, ensuring that its legacy continues to resonate through time.
In the grand tapestry of Apple's history, the Apple Color OneScanner 600/27 emerges as a chapter that continues to inspire. With its unmatched features, ease of use, and enduring legacy, this scanner isn't just a piece of history – it's a testament to Apple's unyielding commitment to innovation.
As we celebrate 28 years of the Apple Color OneScanner 600/27, let us raise a toast to a device that wasn't merely ahead of its time – it redefined it.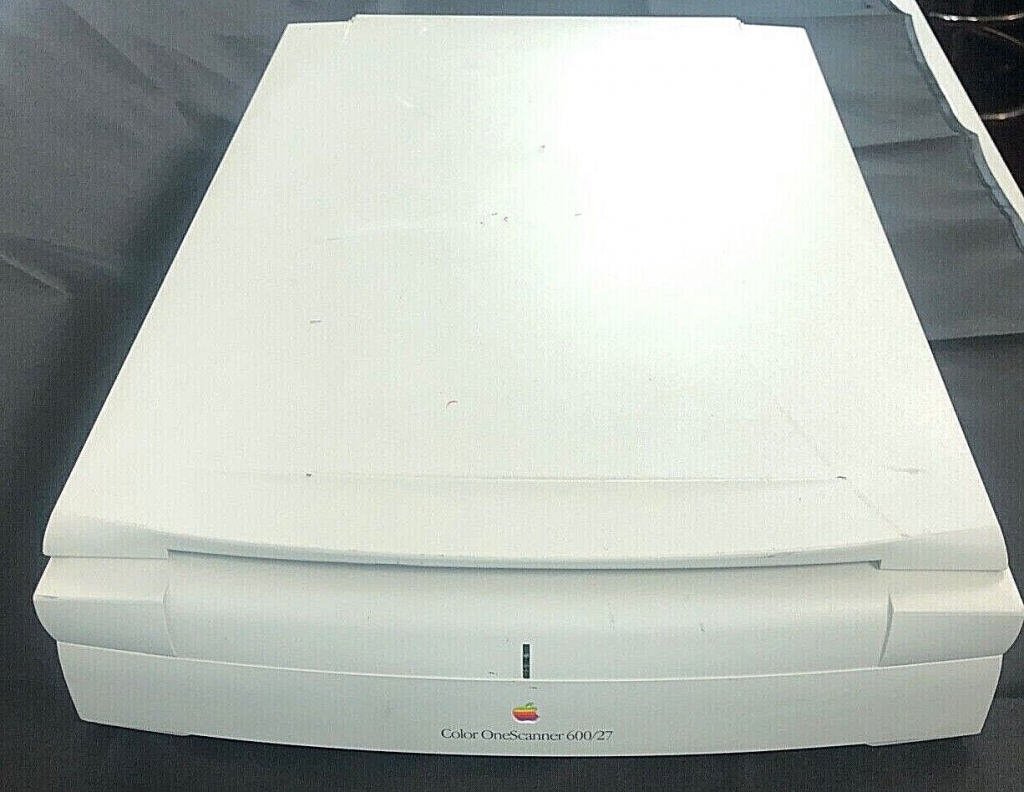 Apple Color OneScanner 600/27 Details
Introduced
June 1, 1995
Discontinued
Unknown
Model Number
Unknown
Original Price
Unknown
Colors
Platinum
Weight
13.2 Ibs.
5.987 KG
Dimensions
3.1" H x 11.3" W x 16.3" D
7.87 cm H x 28.7 cm W x 41.4 cm D
Scanner Specs
Type
Flatbed
Resolution
300 x 600 dpi (optical)
2400 x 2400 dpi (interpolated)
Color Depth
27-bit
Scanning Area
8.5″ x 11.5″ or 8.5″ x 14″ with optional Automatic Document Feeder
21.59 cm x 29.21 cm or 21.59 cm x 35.56 cm
Speed
10 sec (monochrome)
20 sec (color)
Connections
Power
| | |
| --- | --- |
| Maximum Continuous Power | 35 W |
Further Reading and References
Would you like to know more about Apple products? Stay up-to-date with the latest Apple News. Check our blog for the latest releases, rumors, and updates in the world of Apple.
Disclaimer: The data presented in this article is under continuous development and has been manually collected from various sources based on their availability. The author of this article may revise this dataset as additional research is conducted and reviewed. Please note that the information is provided "as is" and "as available" without express or implied warranties. The author cannot be held responsible for any omissions, inaccuracies, or errors in the published information. Any warranties relating to this information are hereby disclaimed.
Last updated: August 16, 2023