On October 21, 1991, Apple introduced the Macintosh PowerBook 100, a groundbreaking addition to their lineup of Macintosh computers. This portable powerhouse was specifically designed for professionals who required a portable computing solution. Although its time on the market was relatively short-lived, the PowerBook 100 remains an important part of Apple's history and serves as a reminder of the company's early ventures into the notebook market.
At the time of its launch, the PowerBook 100 boasted impressive specifications. It featured a 16 MHz Motorola 68000 processor, a 9.8″ monochrome LCD display, 2 MB or 4 MB of RAM, and a 20 MB or 40 MB hard drive. Priced at $2,500, it was considered a high-end option for professionals seeking cutting-edge technology in a portable form factor.
One of the most significant achievements of the PowerBook 100 was its weight reduction compared to its predecessor, the Mac Portable. Weighing just 5.1 pounds, the PowerBook 100 was a third of the weight of its predecessor, making it far more portable and convenient for users on the go. This reduction in weight was accomplished through the use of lighter plastics, the elimination of the internal floppy drive, and a smaller, more compact battery.
Apple's decision to eliminate the internal floppy drive and opt for a physically smaller hard drive contributed to cost savings for the PowerBook 100. Additionally, the company partnered with Sony to manufacture the PowerBook 100, utilizing their expertise in reducing the size and weight of components while maintaining performance.
Despite its short lifespan of just over a year, the PowerBook 100 made a lasting impact on the industry. In 2005, Mobile PC even named it the "Best Gadget of All Time." This recognition speaks to the significance of the PowerBook 100 and its influence on subsequent innovations in the notebook market.
The PowerBook 100's compact design was another standout feature. It held the title of the most compact PowerBook until 2001 when the Titanium PowerBook G4 was released. Measuring just 127 cubic inches, it was a testament to Apple's commitment to delivering powerful computing capabilities in a small form factor. The PowerBook 100 also boasted a small footprint, rivaled only by the PowerBook 2400c and the 12″ PowerBook G4, before being surpassed by the 11″ MacBook Air.
Another notable feature of the PowerBook 100 was its introduction of SCSI Disk Mode. This allowed desktop users to connect the PowerBook 100 as an external drive, providing a convenient and efficient means of transferring data between devices. However, this feature was exclusive to the PowerBook 100, as the concurrently released 140 and 170 models did not offer this capability.
For users with sufficient memory, the PowerBook 100 offered a persistent RAM Disk, allowing the system to be loaded into the RAM for booting purposes. This feature was particularly useful for users with demanding applications, provided they had enough RAM to accommodate both the operating system and the RAM Disk.
Although the PowerBook 100 may no longer be in production, its legacy lives on in the advancements and innovations that followed in the notebook market. Apple's early efforts with the PowerBook 100 set the stage for the company's future successes in the portable computing arena.
Today, 32 years later, the Macintosh PowerBook 100 continues to hold a special place in the hearts of Apple enthusiasts and collectors alike. It represents a pivotal moment in Apple's history, showcasing its commitment to delivering powerful computing experiences in a portable form factor. The PowerBook 100's impact reverberates through time, reminding us of the company's dedication to pushing boundaries and shaping the future of technology.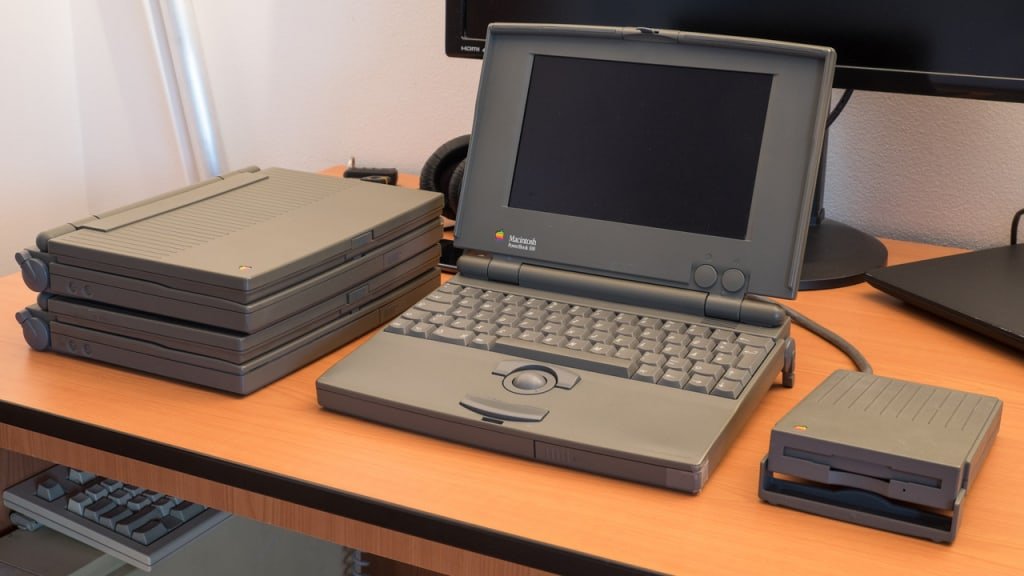 Macintosh PowerBook 100 Details
Introduced
October 21, 1991
Discontinued
August 3, 1992
Model Identifier
24
Model Number
M1506
Order Number
M0567LL/A
M1045LL/A
Original Price
$2,500
Colors
Dark grey
Weight
5.1 Ibs.
2.313 KG
Dimensions
1.8" H x 11" W x 8.5" D
4.57 cm H x 27.94 cm W x 21.59 cm D
PowerBook 100 Tech Specs
Processor
| | |
| --- | --- |
| Processor | Motorola 68000 |
| Processor Speed | 16 MHz |
| Architecture | Unknown |
| Number of Cores | 1 |
| System Bus | 16 MHz |
| Cache | None |
| Coprocessor | None |
Storage & Media
Storage
20 MB
40 MB
Media
None
Memory
Built-in Memory
2 MB
4 MB
Maximum Memory
8 MB
Memory Slots
1 – PowerBook 1xx (70-pin connector)
Minimum Speed
100 ns
ROM
Unknown
Interleaving Support
No
Display
| | |
| --- | --- |
| Built-in Display | 9.8″ diagonal passive matrix reflective monochrome LCD display |
| Resolutions | 640 x 400 |
Graphics
| | |
| --- | --- |
| Graphics Card | None |
| Graphics Memory | None |
| Display Connection | None |
Expansion
| | |
| --- | --- |
| Expansion Slots | Internal 20-pin connector for the optional 2400-baud modem card |
| Hard Drive Interface | 40-pin SCSI |
| Bays | Unknown |
Software
Connections
Wi-Fi
None
Ethernet
None
Modem
None
Bluetooth
None
ADB
1
Serial
1
SCSI
HDI-30
Floppy Port
HDI-20
Audio In
None
Audio Out
1 – 3.5-mm analog output jack
1 – Built-in speaker
Infrared
None
Display
None
Keyboard and trackpad
| | |
| --- | --- |
| Keyboard | Built-in 64-key (U.S.) or 64-key (ISO) 3.0-mm travel keyboard |
| Trackpad | Built-in 25-mm trackball pointing device |
Power
| | |
| --- | --- |
| System Battery | Sealed lead-acid 2.5-ampere-hour battery |
| Backup Battery | 3 – 3.5 V lithium |
| Maximum Continuous Power | 17 W |
| Line Voltage | Unknown |
| Power Adapter | Unknown |
Further Reading and References
Would you like to know more about Apple products? Stay up-to-date with the latest Apple News. Check our blog for the latest releases, rumors, and updates in the world of Apple.
Disclaimer: The data presented in this article is under continuous development and has been manually collected from various sources based on their availability. The author of this article may revise this dataset as additional research is conducted and reviewed. Please note that the information is provided "as is" and "as available" without express or implied warranties. The author cannot be held responsible for any omissions, inaccuracies, or errors in the published information. Any warranties relating to this information are hereby disclaimed.
Last updated: June 3, 2023