In 1989, Apple made a daring leap into the world of portable computing with the introduction of the Macintosh Portable. As the company's first notebook, it signaled Apple's determination to push the boundaries of technology and cater to the evolving needs of computer users. Equipped with impressive specifications and an innovative design, the Macintosh Portable was poised to revolutionize the industry.
However, despite its potential, this pioneering device failed to capture the market's attention, leading to its discontinuation just two years later. Today, as we celebrate its 33rd anniversary, we reflect on the Macintosh Portable's significance in shaping Apple's journey toward the incredibly successful MacBook line.
The Macintosh Portable arrived on the scene in September 1989, captivating audiences with its cutting-edge features. Its sleek design showcased a 9.8-inch monochrome LCD display, which, at the time, was a significant achievement in terms of clarity and responsiveness.
The hinged design of the laptop allowed users to cover the keyboard when not in use, providing protection and portability. However, its elegance came at a cost—weighing a hefty 16 pounds and measuring 4 inches in thickness, the Macintosh Portable was far from lightweight.
Under the hood, the Macintosh Portable boasted a 16 MHz Motorola 68000 processor, offering substantial processing power for its time. Users had the option to choose between 1 MB, 2 MB, or 4 MB of RAM, enabling multitasking capabilities and accommodating different computing needs. The inclusion of a 40 MB hard drive and a 1.44 MB floppy drive provided ample storage space and versatile data transfer options.
Despite its impressive specifications, the Macintosh Portable failed to capture the market's attention and struggled to gain traction in terms of sales. The device's initial price of $6,500 positioned it as a high-end luxury item rather than a mainstream computing device.
Critics also highlighted its bulkiness, weight, and outdated design compared to other portable computers available at the time. The Los Angeles Times, for instance, criticized the Macintosh Portable, stating that it was "too big, too heavy, and too expensive."
Furthermore, the Portable suffered from poor readability in low-light situations, hampering its usability. Apple responded to this issue in February 1991 with the introduction of a backlit model, but the battery life took a hit as a result.
The Macintosh Portable's lead-acid battery, a major contributor to its weight, had its own set of problems. It drew the same amount of power when turned off or in sleep mode, and a dead battery rendered the computer inoperable since it was wired in series with the AC power supply. These battery-related challenges, coupled with supply issues for the active matrix screen, resulted in significant delays in the device's launch.
Although the Macintosh Portable may have been a commercial disappointment, its impact on Apple's trajectory cannot be understated. This first foray into the world of notebooks laid the foundation for future innovations and paved the way for the success of Apple's MacBook line, which has become one of the most popular and sought-after laptop brands in the industry.
Apple's willingness to take risks and push technological boundaries with the Macintosh Portable set a precedent for the company's future endeavors. The lessons learned from its shortcomings ultimately led to the development of sleeker, more powerful, and user-friendly laptops that have become synonymous with Apple's brand identity.
The Macintosh Portable, with its bold design and ambitious features, marked a pivotal moment in Apple's history. Although it faced commercial challenges and fell short of expectations, its significance as Apple's first notebook cannot be overlooked.
Today 34 years later we recognize the Macintosh Portable's role in shaping the path for Apple's subsequent successes in the portable computing arena. The Macintosh Portable's legacy is a reminder that even failures can serve as stepping stones toward innovation and progress.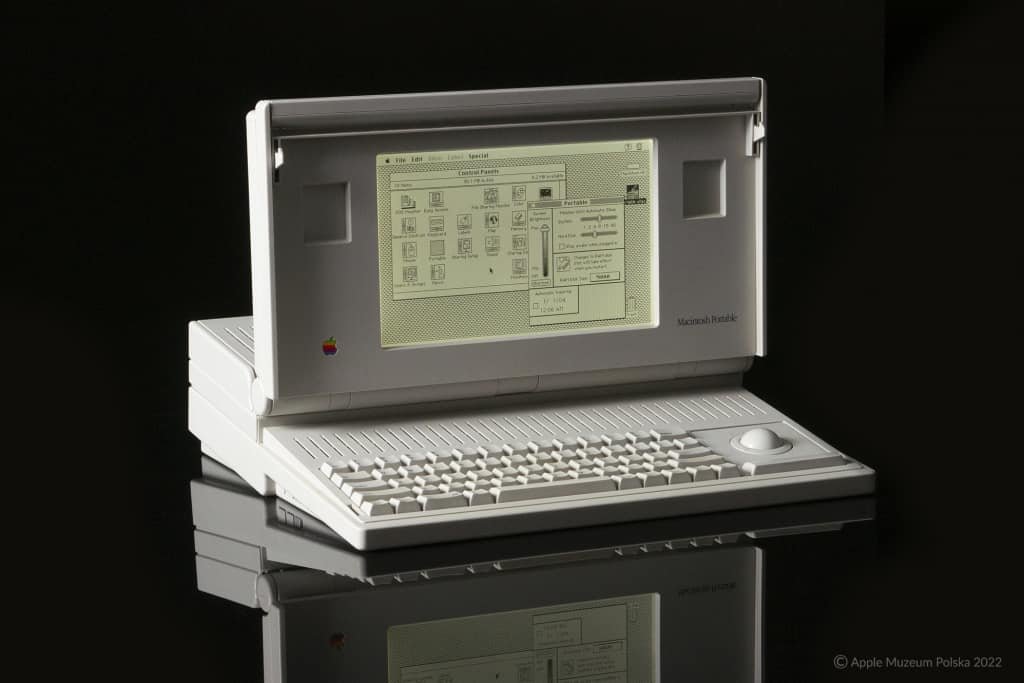 Macintosh Portable Details
Introduced
September 20, 1989 (Original)
February 11, 1991 (Backlit)
Discontinued
February 11, 1991 (Original)
October 21, 1991 (Backlit)
Model Identifier
10
Model Number
M5120 (Original)
M5126 (Backlit)
Original Price
$6,500
$7,300 (with optional hard drive)
Colors
Platinum
Weight
15.8 Ibs.
7.166 KG
Dimensions
4.05" H x 15.25" W x 14.83" D
10.28 cm H x 38.73 cm W x 37.66 cm D
Mac Portable Tech Specs
Processor
| | |
| --- | --- |
| Processor | Motorola 68000 |
| Processor Speed | 16 MHz |
| Architecture | 32-bit |
| Number of Cores | 1 |
| System Bus | 16 MHz |
| Cache | 0.5 KB L1 |
| Coprocessor | None |
Storage & Media
Storage
40 MB (Original) – Optional
40 MB (Backlit)
Media
1.44 MB Floppy
Memory
Built-in Memory
1 MB
Maximum Memory
9 MB (Original)
8 MB (Backlit)
Memory Slots
1 – Portable
Minimum Speed
100 ns
ROM
Unknown
Interleaving Support
No
Display
| | |
| --- | --- |
| Built-in Display | 9.8″ diagonal active matrix reflective monochrome LCD display |
| Resolutions | 640 x 400 |
Graphics
| | |
| --- | --- |
| Graphics Card | None |
| Graphics Memory | None |
| Display Connection | DB-15 |
Expansion
| | |
| --- | --- |
| Expansion Slots | Modem |
| Hard Drive Interface | SCSI |
| Bays | Unknown |
Software
Connections
Wi-Fi
None
Ethernet
None
Modem
2400 bps (Optional)
Bluetooth
None
ADB
1
Serial
2
SCSI
1 – DB-25
Floppy Port
1 – DB-19
Audio In
None
Audio Out
1 – 3.5-mm stereo output jack
1 – Built-in speaker
Infrared
None
Display
DB-15
Keyboard and trackpad
| | |
| --- | --- |
| Keyboard | Built-in keyboard |
| Trackpad | Built-in trackball replaceable by optional keypad |
Power
| | |
| --- | --- |
| System Battery | Sealed lead-acid battery |
| Backup Battery | 9 V transistor battery |
| Maximum Continuous Power | 5 W |
| Line Voltage | Unknown |
| Power Adapter | Unknown |
Further Reading and References
Would you like to know more about Apple products? Stay up-to-date with the latest Apple News. Check our blog for the latest releases, rumors, and updates in the world of Apple.
Disclaimer: The data presented in this article is under continuous development and has been manually collected from various sources based on their availability. The author of this article may revise this dataset as additional research is conducted and reviewed. Please note that the information is provided "as is" and "as available" without express or implied warranties. The author cannot be held responsible for any omissions, inaccuracies, or errors in the published information. Any warranties relating to this information are hereby disclaimed.
Last updated: May 20, 2023