In the ever-evolving landscape of personal computing, Apple has consistently pushed the boundaries of innovation. Among its diverse lineup of personal computers, one particular model stands out as a testament to Apple's experimental spirit and willingness to challenge convention: the Macintosh TV. Introduced on October 25, 1993, this pioneering device sought to merge the worlds of computers and television, creating a unique multimedia experience for users. Despite its short-lived existence, the Macintosh TV remains an intriguing chapter in Apple's rich history.
The Macintosh TV, part of Apple's renowned Macintosh series, boasted an array of impressive features that were considered cutting-edge for its time. At its core was a powerful 32 MHz Motorola 68030 processor, delivering substantial processing power for a seamless user experience. Complementing this was a vibrant 14-inch color display, providing crisp visuals that captivated users. With 5 MB of RAM and a 160 MB hard drive, the Macintosh TV offered ample storage and memory capabilities to accommodate various multimedia needs.
One of the standout features of the Macintosh TV was its ability to function as both a computer and a television. With a built-in TV tuner, users could effortlessly switch the 14-inch Sony Trinitron CRT display between a computer screen and a cable-ready television. Although the Macintosh TV lacked the capability to show television within a desktop window, it compensated by allowing users to capture still frames to PICT files, providing a unique way to preserve memorable moments.
Boasting an elegant and sleek design, the Mac TV was positioned as a luxury product within Apple's lineup, with a starting price of $2,097. This premium price tag, coupled with its limited features, may have contributed to its eventual discontinuation on February 1, 1995. Nonetheless, Macintosh TV's impact on the personal computing industry cannot be overlooked.
Today, the Macintosh TV stands as a fascinating relic of the past, reminding us of Apple's fearless experimentation with multimedia products in the 1990s. Despite not achieving the same level of success as its contemporary, the Macintosh Classic, the Macintosh TV remains a symbol of Apple's unwavering commitment to innovation. With its distinctive black exterior—a departure from Apple's traditional aesthetic—the Macintosh TV made a statement, standing as the only black desktop Macintosh ever released in North America.
Despite its shortcomings and ultimate discontinuation, the Macintosh TV holds a special place in Apple's storied heritage. It served as the company's first foray into integrating computers and televisions, representing a bold vision that was ahead of its time. The Macintosh TV's inclusion of a credit card-sized remote control, compatible with both the device itself and Sony televisions, further highlighted its versatility and potential as a multimedia hub.
In terms of software, the Mac TV came bundled with an array of applications to enhance the user experience. System 7.1 provided a stable and intuitive operating environment, while the inclusion of QuickTime 1.6.1 enabled seamless multimedia playback. Additionally, software offerings such as Grolier's Multimedia Encyclopedia and Mavis Beacon Teaches Typing from The Software Toolworks expanded the Macintosh TV's capabilities, making it a valuable educational tool.
Despite its relatively low production volume of only 10,000 units, the Macintosh TV left an indelible mark on the personal computing landscape. Its failure to gain widespread commercial success was attributed, in part, to its underwhelming graphics performance and limited bus speed. Nevertheless, Macintosh TV's legacy as a pioneering attempt to blend computers and televisions remains intact.
As Macintosh TV celebrates its 29-year anniversary, it serves as a reminder of Apple's willingness to push boundaries and explore uncharted territories. While it may not have achieved the same level of recognition as some of Apple's other iconic products, its impact on the trajectory of multimedia integration within personal computing is undeniable. The Macintosh TV stands as a testament to Apple's relentless pursuit of innovation, cementing its place in the annals of technological history.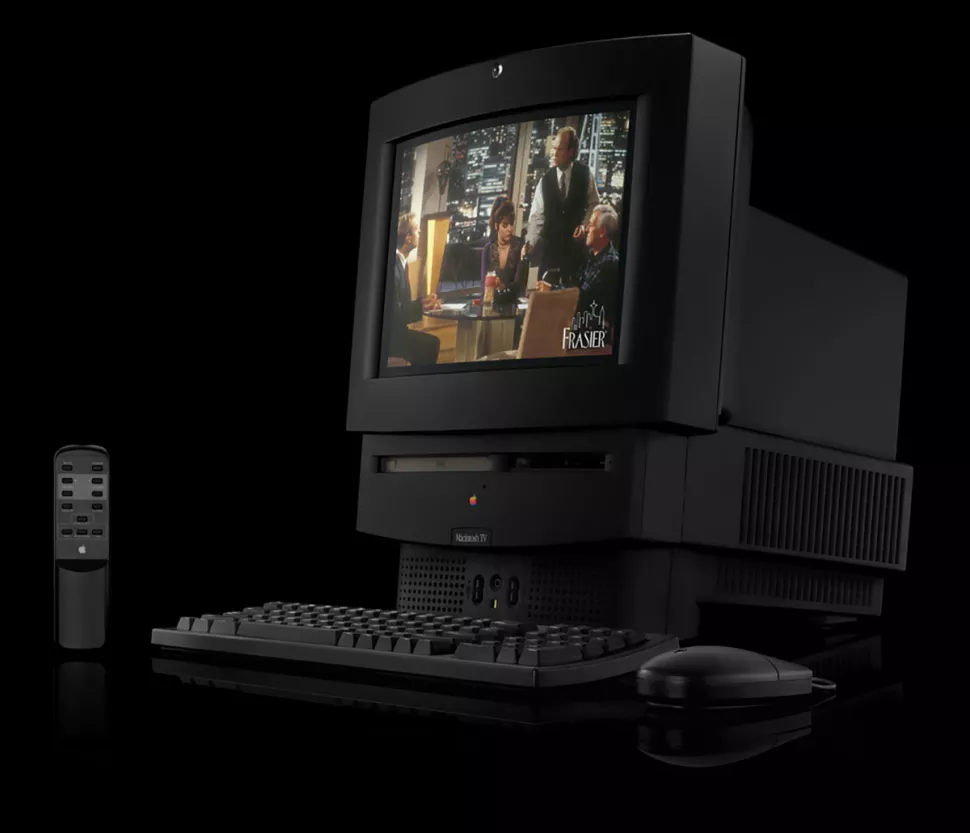 Macintosh TV Details
Introduced
October 25, 1993
Discontinued
February 1, 1995
Model Identifier
88
Model Number
M1580
Order Number
Unknown
Original Price
$2,097
Colors
Black
Weight
40.5 Ibs.
18.370 KG
Dimensions
17.9" H x 13.5" W x 16.5" D
45.46 cm H x 34.29 cm W x 41.91 cm D
Mac TV Tech Specs
Processor
| | |
| --- | --- |
| Processor | Motorola 68030 |
| Processor Speed | 32 MHz |
| Architecture | 32-bit |
| Number of Cores | 1 |
| System Bus | 16 MHz |
| Cache | 0.5 KB L1 |
| Coprocessor | None |
Storage & Media
Storage
160 MB
Media
1 – 1.44 MB floppy
1 – CD-ROM
Memory
| | |
| --- | --- |
| Built-in Memory | 5 MB |
| Maximum Memory | 8 MB |
| Memory Slots | 1 – 72 pin SIMM |
| Minimum Speed | 100 ns |
| ROM | Unknown |
| Interleaving Support | No |
Display
| | |
| --- | --- |
| Built-in Display | 14" RGB CRT display |
| Resolution | 640 x 480 |
| Pixel Density | Unknown |
Graphics
| | |
| --- | --- |
| Graphics Card | None |
| Graphics Memory | 512 KB |
| Display Connection | None |
Expansion
| | |
| --- | --- |
| Expansion Slots | None |
| Hard Drive Interface | SCSI |
Connections
Ethernet
None
Modem
None
ADB
2
Serial
2
SCSI
1 – DB-25
Floppy Port
None
Audio In
1 – 3.5-mm analog input jack
1 – Built-in microphone
Audio Out
1 – 3.5-mm analog output jacks
1 – Built-in speaker
Display
N/A
Software
Power
| | |
| --- | --- |
| Backup Battery | 3.6 V lithium |
| Maximum Continuous Power | 60 W |
| Line Voltage | N/A |
Further Reading and References
Would you like to know more about Apple products? Stay up-to-date with the latest Apple News. Check our blog for the latest releases, rumors, and updates in the world of Apple.
Disclaimer: The data presented in this article is under continuous development and has been manually collected from various sources based on their availability. The author of this article may revise this dataset as additional research is conducted and reviewed. Please note that the information is provided "as is" and "as available" without express or implied warranties. The author cannot be held responsible for any omissions, inaccuracies, or errors in the published information. Any warranties relating to this information are hereby disclaimed.
Last updated: July 16, 2023