In the ever-evolving landscape of tech, there are moments that stand out as pivotal in shaping the gadgets we use today. For those who recall the days of personal digital assistants (PDAs) when smartphones were mere dreams on the horizon, the Apple Newton MessagePad 100 undoubtedly brings back a flood of memories. A true trailblazer in its time, this device played a crucial role in the history of mobile computing.
The MessagePad 100 made its debut on March 4, 1994, and was far ahead of its peers, boasting cutting-edge features that set it apart from the crowd. At its core, it packed a 20 MHz ARM 610 RISC processor, 640 KB of RAM, 4 MB of ROM, and a 336 x 240 monochrome touchscreen. Powered by 4 AAA batteries or an external power supply, this compact companion proved to be the epitome of portability.
While its legacy may have been overshadowed by subsequent advancements, the impact of the MessagePad 100 has not been forgotten. Even after 29 years, it remains a milestone in the history of personal digital assistants and serves as a testament to Apple's innovative spirit.
What set the MessagePad 100 apart was its attempt to recognize natural handwriting and utilize a basic form of artificial intelligence to organize relevant information seamlessly. This feature was revolutionary at the time and laid the groundwork for the intuitive interfaces we now take for granted on modern devices.
Although the MessagePad 100 was discontinued on April 1, 1995, its contributions to the tech world are etched in the annals of history. It was a stepping stone towards the seamless integration of technology into our daily lives, paving the way for the smartphones we can't live without today.
Let's dive into the technical aspects of the MessagePad 100. With its 20 MHz ARM 610 processor, 4 MB of ROM, and 640 KB of RAM (with 150 KB usable), this handheld device showcased the potential of compact computing. The infrared-beaming capabilities added a touch of futuristic charm, making data transfer between devices a breeze.
One important distinction to note is that the Newton MessagePad series was not technically part of the Mac lineup, as it operated on the NewtonOS, a system specially developed by Apple for these PDAs.
Shipping with a newer version of the Newton OS (version 1.2), the MessagePad 100 was virtually identical to its predecessor, the original Newton MessagePad. However, its more affordable price tag of $499 made it more accessible to a wider audience.
The device's monochrome display, featuring 336 x 240 pixels, might seem rudimentary by today's standards, but back then, it was a glimpse into the future of handheld computing. An optional 9600 baud fax modem further expanded its utility, showcasing the potential of mobile communication in the early '90s.
Apple's commitment to improvement was evident when, on January 30, 1995, they released a software update to Newton OS 1.3, further enhancing the functionality of the MessagePad 100 and its successor, the MessagePad 110.
Interestingly, the success of the original MessagePad inspired Sharp Corporation to license and produce a variant known as the Sharp Expert Pad PI-7100. This demonstrated the broader impact the MessagePad series had on the industry.
As we reminisce about the Apple Newton MessagePad 100, it serves as a reminder of the incredible strides made in mobile technology. While our current smartphones have far surpassed their capabilities, we owe a debt of gratitude to this groundbreaking device. So, the next time you unlock your cutting-edge smartphone, take a moment to appreciate the Apple Newton MessagePad 100—a true pioneer that continues to hold a special place in tech history books.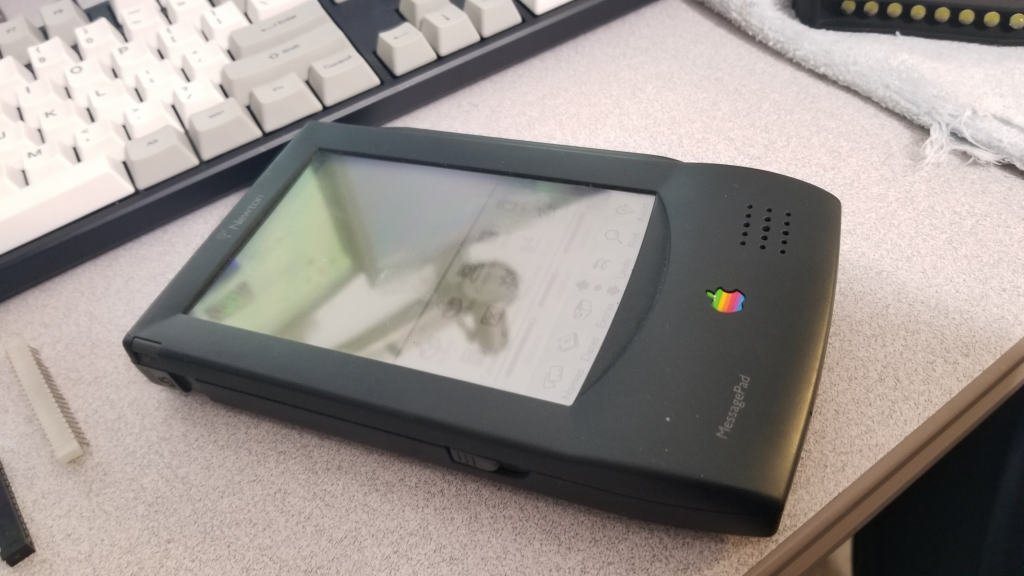 Newton MessagePad 100 Details
Introduced
March 4, 1994
Discontinued
April 1, 1995
Model Identifier
2
Model Number
Unknown
Order Number
H0123LL/A
Original Price
$499
Colors
Dark Grey
Weight
0.9 Ibs.
408.23 Grams
Dimensions
7.25" H x 4.5" W x 0.75" D
18.41 cm H x 11.43 cm W x 1.9 cm
MessagePad 100 Tech Specs
Processor
| | |
| --- | --- |
| Processor | ARM 610 RISC |
| Processor Speed | 20 MHz |
| Architecture | 32-bit |
| Number of Cores | 1 |
Memory
Display
| | |
| --- | --- |
| Input Method | Flat Pen |
| Resolution | 336 x 240 |
Expansion
| | |
| --- | --- |
| Expansion Slots | 1 – PCMCIA-Slot II |
Connections
| | |
| --- | --- |
| Serial | 1 – LocalTalk compatible |
| Infrared | 1 – Low-power, half-duplex |
Software
Power
Battery
4 AAA or NiCd re-chargeable battery or external power supply
Battery Life
10-28 hours (4 AAA)
4-12 hours (NiCd)
Further Reading and References
Would you like to know more about Apple products? Stay up-to-date with the latest Apple News. Check our blog for the latest releases, rumors, and updates in the world of Apple.
Disclaimer: The data presented in this article is under continuous development and has been manually collected from various sources based on their availability. The author of this article may revise this dataset as additional research is conducted and reviewed. Please note that the information is provided "as is" and "as available" without express or implied warranties. The author cannot be held responsible for any omissions, inaccuracies, or errors in the published information. Any warranties relating to this information are hereby disclaimed.
Last updated: July 29, 2023