In the mid-90s, Apple revolutionized the computing world with the launch of the Power Macintosh 6100 on March 14, 1994. This powerful personal computer represented a significant milestone for Apple, as it marked the transition from the Motorola 68000 processor to the cutting-edge PowerPC processor co-developed by IBM and Motorola. For a year, from its launch until October 14, 1995, the Power Macintosh 6100 remained a popular choice for professionals seeking exceptional power and performance in their machines.
The Power Macintosh 6100 was designed to cater to the needs of professionals who demanded nothing but the best. With its 60 MHz or 66 MHz PowerPC 601 processor, 8 MB or 16 MB of RAM, and a choice of 160 MB, 250 MB, 350 MB, or 500 MB hard drive, the 6100 packed a serious punch in terms of computing power. Furthermore, it featured a 2x CD-ROM drive and a 1.44 MB floppy drive, making it a complete workhorse for its time.
Apple also made an interesting move by offering a PC version of the Power Macintosh 6100, which came equipped with a 66 MHz Intel 486DX2 processor, solely dedicated to running MS-DOS or Windows. This innovative choice allowed users the flexibility to choose between Apple's proprietary operating system and Microsoft's Windows, catering to a wider audience and expanding the 6100's appeal.
In its heyday 29 years ago, the Power Macintosh 6100 received accolades from critics and users alike. MacWorld's review of the 6100/60 pointed out that Apple had regained the performance lead it lost years ago when PCs appeared with Intel's 80386 CPU. The 6100 outperformed its predecessor, the Quadra 610, in CPU, disk, video, and floating-point performance, showcasing Apple's commitment to delivering high-performance computers.
The Power Macintosh 6100 came in various models, such as the Macintosh Performa series for the consumer market and the Apple Workgroup Server 6150 for the server market. The consumer models were re-branded with different model numbers to denote bundled software and hard drive sizes, offering a tailored experience to customers. The server variant, the Apple Workgroup Server 6150, came with additional server software to meet the demands of professional environments.
Although the Power Macintosh 6100 was discontinued without a direct replacement, its legacy continued through various third-party upgrades. Users were able to enhance the 6100's performance with upgrades like the Sonnet Technologies Crescendo G3 NuBus (up to 500 MHz) and G4 NuBus (up to 360 MHz) and Newer Technology's MaxPower G3 processor upgrades. These upgrades ensured that the 6100 remained relevant and powerful even after its original production run.
Notably, the Power Macintosh 6100 featured unique startup and "sad Mac" chimes, setting it apart from its predecessors. The startup chime featured a guitar chord strummed by jazz guitarist Stanley Jordan, while the "sad Mac" error sound was replaced by the sound of a car crashing and glass breaking.
The Power Macintosh 6100 may seem outdated by today's standards, but its historical significance cannot be overlooked. It played a crucial role in Apple's journey to deliver high-performance computers and marked the company's shift to the PowerPC processor. With its powerful hardware, flexibility to run both Mac OS and Windows, and iconic design, the Power Macintosh 6100 left a lasting impact on the world of computing.
Though the 6100 series has long been discontinued, its influence lives on in the advancements and innovations that followed Apple's product line. While today's Apple devices have come a long way since the 90s, the Power Macintosh 6100 remains a cherished piece of Apple's rich history and a reminder of the company's commitment to pushing the boundaries of computing power.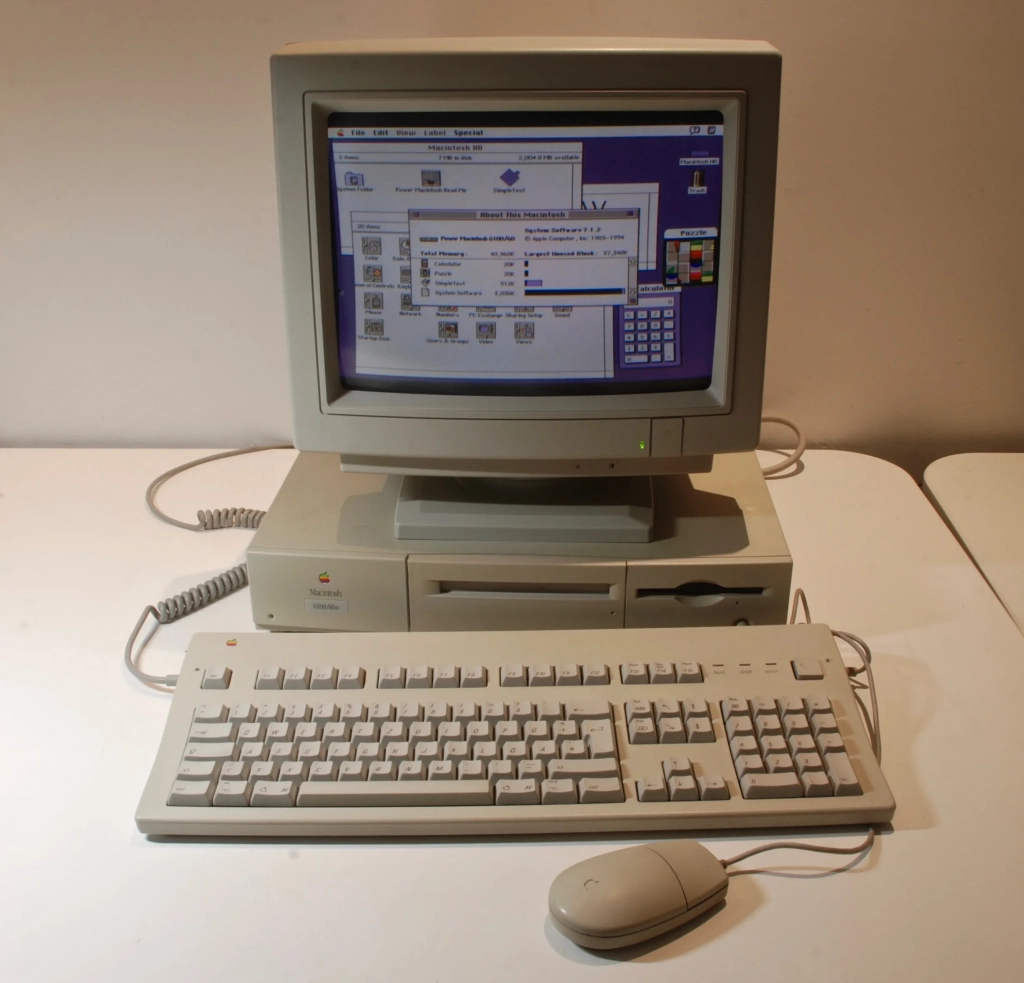 Power Macintosh 6100 Details
Introduced
March 14, 1994 (60 MHz)
January 3, 1995 (66 MHz)
Discontinued
January 3, 1995 (60 MHz)
October 14, 1995 (66 MHz)
Model Identifier
75 (60 MHz)
100 (66 MHz)
Model Number
M3631
M3632
M3633
M3634
Order Number
M2197LL/A
M1878LL/A
M3078LL/A
M2738LL/A
M2837LL/A
M3631LL/A
M3632LL/A
M3972LL/A
Original Price
$1,700
$1,750
$1,820
$1,950
$2,000
$2,150
$2,350
$2,700
Colors
Platinum
Weight
14 Ibs.
6.350 KG
Dimensions
3.4" H x 16.3" W x 15.6" D
8.63 cm H x 41.4 cm W x 39.62 cm D
Power Mac 6100 Tech Specs
Processor
Processor
PowerPC 601
PowerPC 601 and Intel 486DX2*
Processor Speed
60 MHz
66 MHz
Architecture
32-bit
Number of Cores
1
System Bus
30 MHz
Cache
32 KB L1 Optional (60 MHz)
256 KB L2 (66 MHz)
Coprocessor
Built-in FPU
*PC version only
Storage & Media
Storage
160 MB
250 MB
350 MB
500 MB
Media
1 – 1.44 MB Floppy
1 – 2x CD-ROM (Optional for AV models)
Memory
Built-in Memory
8 MB
16 MB
Maximum Memory
132 MB (Actual)
72 MB (Apple)
Memory Slots
2 – 72 pin SIMMs (Group of 2)
Minimum Speed
80 ns
ROM
Unknown
Interleaving Support
No
Display
Graphics
Graphics Card
None
Graphics Memory
None
2 MB (AV models)
Display Connection
1 – DB-15
1 – HDI-45
Expansion
| | |
| --- | --- |
| Expansion Slots | 1 – 7″ PDS or NuBus (AV card installed on AV models) |
| Hard Drive Interface | SCSI |
Connections
Ethernet
AAUI-15
Modem
None
Bluetooth
None
ADB
1
Serial
2
SCSI
1 – DB-25
Floppy Port
None
Audio In
1 – 3.5-mm analog input jack
Audio Out
1 – 3.5-mm analog output jack
1 – Built-in speaker
Display
1 – DB-15
1 – HDI-45
Software
Power
| | |
| --- | --- |
| Backup Battery | 3.6 V lithium |
| Maximum Continuous Power | 210 W |
| Line Voltage | 100-240 V |
Further Reading and References
Would you like to know more about Apple products? Stay up-to-date with the latest Apple News. Check our blog for the latest releases, rumors, and updates in the world of Apple.
Disclaimer: The data presented in this article is under continuous development and has been manually collected from various sources based on their availability. The author of this article may revise this dataset as additional research is conducted and reviewed. Please note that the information is provided "as is" and "as available" without express or implied warranties. The author cannot be held responsible for any omissions, inaccuracies, or errors in the published information. Any warranties relating to this information are hereby disclaimed.
Last updated: July 29, 2023