In the ever-evolving realm of technology, where innovation can swiftly render yesterday's marvels obsolete, there exists a piece of history that defies this trend. Cast your mind back to the year 1995, a time when Apple was already crafting its unique narrative in the tech landscape. It was during this year that Apple unveiled a game-changing addition to its Apple Scanner series – the Apple Color OneScanner 1200/30, a revolutionary device that remains relevant even after 28 years.
June 1st, 1995 marked the birth of the Apple Color OneScanner 1200/30, a scanner that would go on to define excellence in scanning technology. Apple's commitment to quality manifested in this device, boasting features that were ahead of its time. With an awe-inspiring scanning resolution of up to 4800 dpi, a color depth of 30 bits, a scanning area of 8.5″ x 14″, and the inclusion of a cutting-edge SCSI-2 port, the Color OneScanner 1200/30 was truly exceptional.
The scanner's high-resolution capabilities enabled users to seamlessly convert their physical documents and photos into digital treasures, capturing even the minutest details with astonishing accuracy. This capability was a game-changer for professionals and enthusiasts alike, who could now digitize their precious memories without compromise.
Fast forward to today, and the Apple Color OneScanner 1200/30 still finds itself in the limelight. Its enduring relevance is a testament to Apple's dedication to crafting enduring technology. Despite the leaps and bounds the tech industry has taken since its inception, this scanner continues to serve as a coveted piece of equipment for those who value the preservation of memories in the digital realm.
But what makes the Color OneScanner 1200/30 a standout even today? It seamlessly integrates a multitude of document creation and processing tasks, streamlining workflows and maximizing efficiency. Ideal for publishing, business, and educational needs that demand superior image scanning and OCR capabilities, this scanner remains an invaluable asset.
The magic of the Color OneScanner 1200/30 lies not only in its hardware but also in the software ecosystem it brings to the table. Bundled with Apple's OneScanner Dispatcher 2.0 application and an array of other software, the scanner offers users a comprehensive suite of tools. This enables tasks ranging from scanning, printing, and archiving, to OCR, and even automatic conversion to HTML for effortless web authoring.
The scanner's features, including its remarkable 600- by 1,200-dot-per-inch resolution (interpolated to 4,800- by 4,800-dpi) and 30-bit color depth, ensure that image quality remains uncompromised. The incorporation of Xerox TextBridge 3.0h OCR software further adds value by simplifying OCR-to-HTML text document conversion, making it a quintessential tool for content creators.
What sets the Color OneScanner 1200/30 apart from its contemporaries is Apple's unrelenting pursuit of excellence. The scanner's 30-bit color gamut, an advancement beyond the 24-bit scanning prevalent during its era, is a testament to this commitment. ColorSync 2.1 color matching technology ensures that the colors captured in scans mirror the originals as closely as possible, catering to the discerning eye of creatives.
The scanner's superiority over its sibling, the Color OneScanner 600/27, is evident in its enhanced optical and interpolative resolution, allowing it to recognize over a billion colors. This elevated capability also empowers the Color OneScanner 1200/30 to make the most of accessories like the Transparent Media Adapter and the Automatic Document Feeder option.
The Apple Color OneScanner 1200/30 is more than a scanner – it's a symbol of Apple's legacy in technological innovation. As the years go by, its relevance remains undiminished, continuing to cater to those who demand the highest quality and functionality. So, whether you're an archivist aiming to digitize history or a creative looking to craft digital art with unparalleled precision, this iconic scanner stands ready to serve, bridging the gap between the past and the present.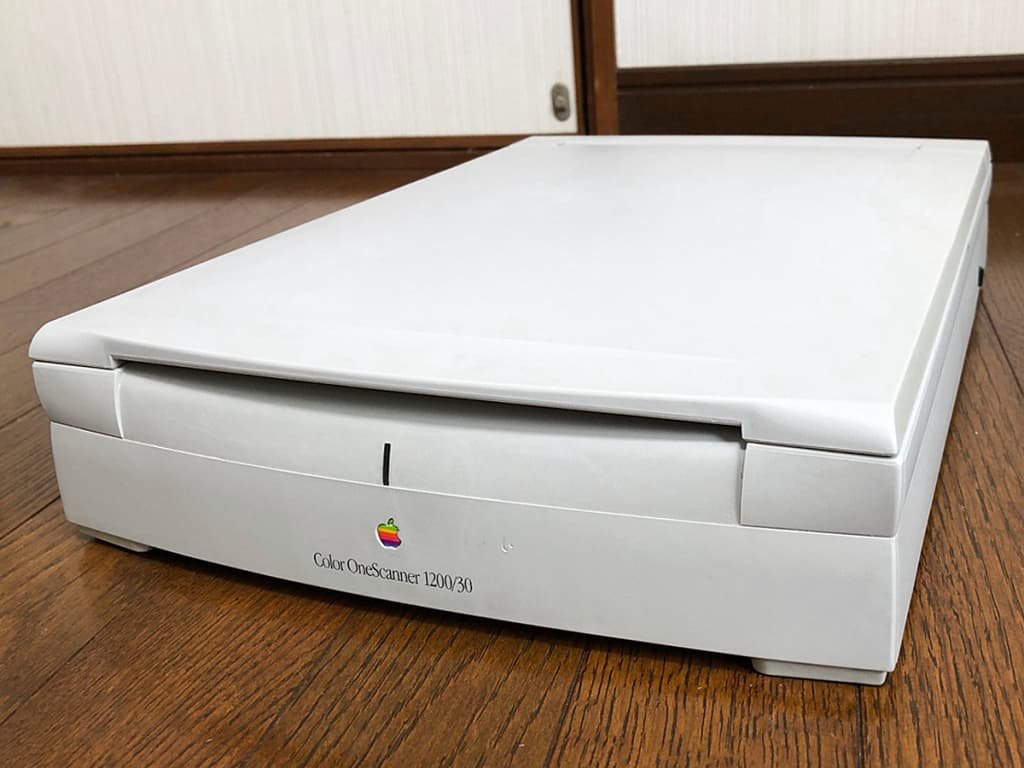 Apple Color OneScanner 1200/30 Details
Introduced
June 1, 1995
Discontinued
Unknown
Model Number
Unknown
Original Price
Unknown
Colors
Platinum
Weight
12.1 Ibs.
5.488 KG
Dimensions
3.1" H x 11.3" W x 16.3" D
7.87 cm H x 28.7 cm W x 41.4 cm D
Scanner Specs
Type
Flatbed
Resolution
600 x 1200 dpi (optical)
4800 x 4800 dpi (interpolated)
Color Depth
30-bit
Scanning Area
8.5″ x 11.5″ or 8.5″ x 14″ with optional Automatic Document Feeder
21.59 cm x 29.21 cm or 21.59 cm x 35.56 cm
Speed
10 sec (monochrome)
20 sec (color)
Connections
Power
| | |
| --- | --- |
| Maximum Continuous Power | 35 W |
Further Reading and References
Would you like to know more about Apple products? Stay up-to-date with the latest Apple News. Check our blog for the latest releases, rumors, and updates in the world of Apple.
Disclaimer: The data presented in this article is under continuous development and has been manually collected from various sources based on their availability. The author of this article may revise this dataset as additional research is conducted and reviewed. Please note that the information is provided "as is" and "as available" without express or implied warranties. The author cannot be held responsible for any omissions, inaccuracies, or errors in the published information. Any warranties relating to this information are hereby disclaimed.
Last updated: August 17, 2023