When discussing the iconic milestones of computing history, the Apple Power Macintosh 9500 undoubtedly secures its spot in the pantheon. Unveiled on June 19, 1995, this computing marvel not only pushed the boundaries of innovation but also helped sculpt the very essence of modern computing. A masterpiece of its era, the Power Macintosh 9500, hailing from Apple's distinguished Power Macintosh series, was a revolutionary workstation tailored to the demands of professionals.
The Power Macintosh 9500 was an embodiment of cutting-edge features that set it leagues apart from its competitors. With its beating heart resonating at 120 MHz / 132 MHz or 150 MHz, powered by either the PowerPC 604 or the Dual 180 MHz or 200 MHz PowerPC 604e processor, this computing powerhouse shattered performance benchmarks. Backed by 16 MB or 32 MB of RAM and a formidable 1 GB or 2 GB hard drive, the 9500 was unrelenting in its pursuit of excellence.
This trailblazing machine boasted additional refinements, including a 4x CD-ROM or 8x CD-ROM drive, a 1.44 MB floppy drive, and the impressive 2 MB ixMicro Twin Turbo graphics card. Each element was meticulously engineered to culminate in an unparalleled user experience.
Despite its groundbreaking achievements, the Power Macintosh 9500 was discontinued on February 17, 1997. Today, as the 28-year anniversary of its birth approaches, the 9500 continues to resonate with the Apple faithful, etching its place as a paragon of innovation. The synthesis of its design, performance, and advanced features laid the cornerstone for the evolution of modern computing devices that grace our lives today.
The Power Macintosh 9500 ascended as the flagship model of the Power Macintosh series, marking a pivotal moment as Apple Computer introduced the first-ever PCI-based Macintosh on that fateful June day in 1995. Outshining even the Power Macintosh 7500 and 8500 by a two-month margin, the 9500 was an emblem of progress.
This prodigious machine embraced a single PowerPC 604e processor or, for the ambitious, two PowerPC 604e processors mounted on a daughter card ingeniously fitted onto the motherboard. However, its role as a desktop publishing (DTP) champion rendered it distinct from multimedia production. Strikingly, it arrived sans RCA-style audio jacks or video input/output ports, necessitating a separate purchase of the Apple Accelerated Graphics Card or a third-party graphics card to facilitate monitor connectivity.
The Power Macintosh 9500 didn't just offer speed; it exuded power and potential. A plenitude of expansion options beckoned, with the capability to house up to 6 PCI slots and support a whopping 768 MB of RAM. This behemoth was unequivocally the embodiment of a high-end Macintosh powerhouse, transcending boundaries.
Further solidifying its pioneering spirit, the Power Macintosh 9500 was the first-ever multiprocessor Mac. The 1990s saw Apple's experimentation with and discontinuation of multiprocessor Macs, ultimately paving the way for their mainstream integration with the advent of Power Mac G4 and G5 computers. The era-defining shift was fully realized with the arrival of Intel Core Duo Macintosh computers, etching the legacy of the Power Macintosh 9500 into the annals of history.
In retrospect, the Power Macintosh 9500 was a symphony of technological prowess, a masterpiece that charted the course for the future of computing. As we stand on the precipice of modern innovation, let us not forget the roots that gave rise to the marvels we wield today.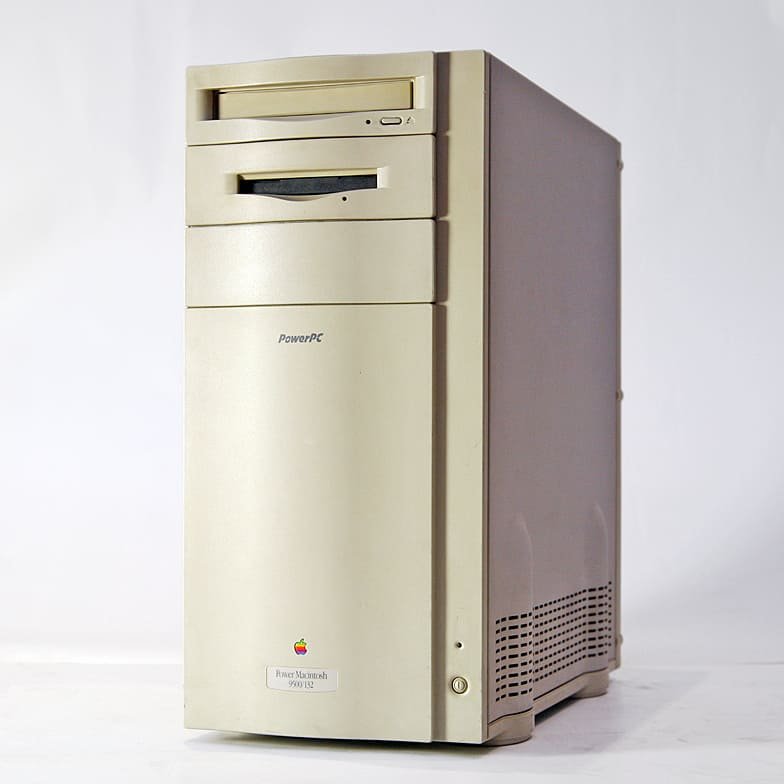 Power Macintosh 9500 Details
Introduced
June 19, 1995 (120 MHz & 132 MHz)
April 22, 1996 (150 MHz)
August 7, 1996 (180 MHz & 200 MHz)
Discontinued
July 1, 1996 (132 MHz)
August 3, 1996 (150 MHz)
November 1, 1996 (120 MHz)
February 17, 1997 (180 MHz & 200 MHz)
Model Identifier
67
Model Number
M3098
Order Number
M3093LL/A
M4742LL/A
M4423LL/A
M5399LL/A
M5389LL/A
M5397LL/A
Original Price
$4,700
$4,800
$4,900
$5,300
$5,700
Colors
Platinum
Weight
36.8 Ibs.
16.692 KG
Dimensions
16.9" H x 7.7" W x 15.75" D
42.9 cm H x 19.5 cm W x 40 cm D
Power Mac 9500 Tech Specs
Processor
Processor
PowerPC 604
PowerPC 604e
Processor Speed
120 MHz
132 MHz
150 MHz
Dual 180 MHz
200 MHz
Architecture
32-bit
Number of Cores
1
System Bus
40 MHz
45 MHz
50 MHz
Cache
16/32 KB L1
512 KB L2
Coprocessor
Built-in FPU
Storage & Media
Storage
1 GB
2 GB
Media
1 – 1.44 MB Floppy
1 – 4x CD-ROM or 8x CD-ROM
Memory
Built-in Memory
16 MB
32 MB
Maximum Memory
1.5 GB
Memory Slots
12 – 168 pin DIMM
Minimum Speed
70 ns
ROM
Unknown
Interleaving Support
Yes
Display
Graphics
| | |
| --- | --- |
| Graphics Card | ixMicro Twin Turbo |
| Graphics Memory | 2 MB (Upgradable to 4 MB) |
| Display Connection | 1 – DB-15 |
Expansion
| | |
| --- | --- |
| Expansion Slots | 6 – PCI |
| Hard Drive Interface | SCSI |
Connections
Ethernet
AAUI-15
10BASE-T
Modem
None
Wi-Fi
None
Bluetooth
None
Infrared
None
ADB
1
Serial
2
SCSI
1 – DB-25
Floppy Port
None
Audio In
1 – 3.5-mm analog input jack
Audio Out
1 – 3.5-mm analog output jack
1 – Built-in speaker
Display
1 – DB-15
Software
Power
Backup Battery
4.5 V Alkaline
Maximum Continuous Power
225 W
Line Voltage
100-125 V
200-240 V
Further Reading and References
Would you like to know more about Apple products? Stay up-to-date with the latest Apple News. Check our blog for the latest releases, rumors, and updates in the world of Apple.
Disclaimer: The data presented in this article is under continuous development and has been manually collected from various sources based on their availability. The author of this article may revise this dataset as additional research is conducted and reviewed. Please note that the information is provided "as is" and "as available" without express or implied warranties. The author cannot be held responsible for any omissions, inaccuracies, or errors in the published information. Any warranties relating to this information are hereby disclaimed.
Last updated: August 22, 2023