In 1994, Apple Computer welcomed a remarkable addition to its prestigious Apple Printer series—the LaserWriter 16/600 PS. This cutting-edge printer, exclusively designed, manufactured, and sold by Apple, made its grand entrance into the market on September 1st of that year. With a powerful 25 MHz AMD 29030 processor and 4 MB of ROM, the LaserWriter 16/600 PS was undeniably ahead of its time.
At the core of the LaserWriter 16/600 PS's appeal was its capacity to deliver outstanding performance. Although it printed solely in one color, this innovative printer boasted an impressive high resolution of up to 600 dpi, ensuring impeccable print quality. Its rapid printing speed of up to 17 pages per minute meant users could breeze through large print jobs without any hassle.
Not only did the LaserWriter 16/600 PS excel in performance, but it also offered users an array of connectivity options. With a LocalTalk port, Centronics Parallel port, and Ethernet connection, this printer seamlessly integrated into various environments, making it a versatile choice for both home and office users alike. Its adaptability allowed it to become an integral part of any productive workspace.
The LaserWriter 16/600 PS was the cornerstone of the second-generation LaserWriter 600 family, solidifying its position as a dependable and accessible option for printing enthusiasts. For PC users, it came equipped with a parallel port, while its LocalTalk capability facilitated networked printing. The integration of the Canon EX print engine, responsible for its impressive 17 pages-per-minute output, further solidified its reputation as a high-end monochrome laser printer.
Apple's FinePrint technology, featured in the LaserWriter 16/600 PS, meticulously adjusted individual dot sizes to simulate smoother edges often associated with higher-resolution printers. Additionally, upgrading the printer's RAM from the base configuration of 8 MB to at least 12 MB unlocked PhotoGrade, a feature that enhanced the printed appearance of grayscale images with finer halftones, delighting users with crisp and detailed prints.
Beyond its remarkable printing capabilities, the LaserWriter 16/600 PS supported a range of connectivity options. Users could transmit data through a LocalTalk network via its RS-422 serial port, establish a direct PC connection through its parallel port, and even enjoy EtherTalk networking through its proprietary AAUI Ethernet port. The addition of a compact HDI-30 SCSI port provided the convenience of attaching an external drive to store additional fonts, catering to users' individual needs.
As time marched on, the LaserWriter 16/600 PS proved its mettle, capturing the hearts of tech enthusiasts worldwide. However, on June 15, 1996, it gracefully bowed out, paving the way for the LaserWriter 12/640 PS, which featured a faster 30 MHz AMD 29040 processor. Apple's decision to switch to a Fuji Xerox P893 mechanism for duplexing capabilities showcased the company's commitment to continuously pushing the boundaries of printing technology.
Though the LaserWriter 16/600 PS has been succeeded by newer models, its legacy lives on. This groundbreaking printer remains etched in history as the printer that revolutionized the world of printing technology. Its powerful features and advanced design continue to inspire and influence modern printing devices, proving that true innovation stands the test of time.
The Apple LaserWriter 16/600 PS remains a testament to Apple's unwavering commitment to excellence and innovation. Pioneering impressive print quality, rapid speeds, and a plethora of connectivity options, this printer forever changed the landscape of printing technology. As we commemorate 29 years since its launch, we celebrate the impact it made and the remarkable journey it undertook, solidifying its place in the hearts of tech enthusiasts worldwide. The LaserWriter 16/600 PS will forever be remembered as a true game-changer that left an indelible mark on the tech world.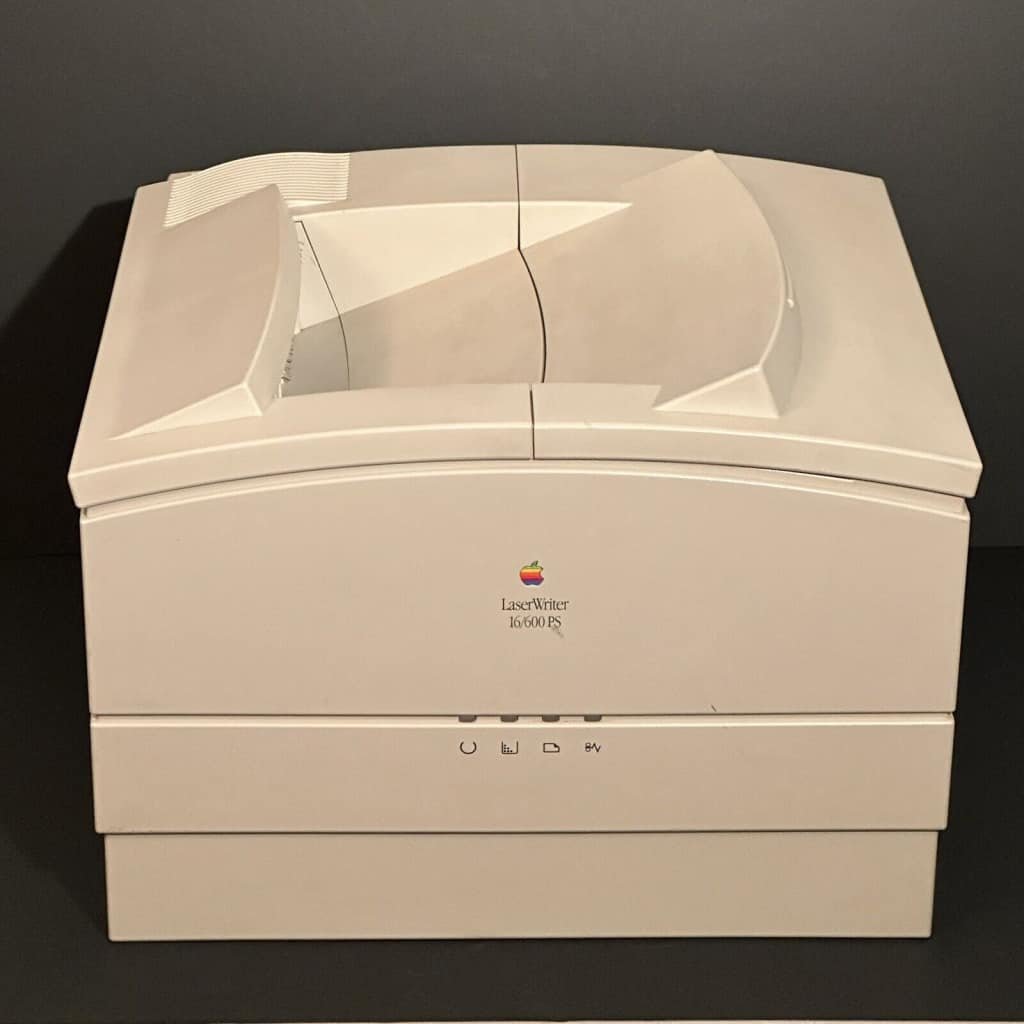 LaserWriter 16/600 PS Details
Introduced
September 1, 1994
Discontinued
Unknown
Original Price
Unknown
Model Number
Unknown
Order Number
Unknown
Weight
40 Ibs.
18.143 KG
Dimensions
12.1" H x 16.1" W x 16.9" D
30.73 cm H x 42.41 cm W x 42.92 cm D
Printer Specs
Type
Electrophotography
Colors
1
Pages Per Minute
17
DPI
600
Language
PostScript Level 2
PCL 5
Cartridge
M2473G/A
Hardware
| | |
| --- | --- |
| Processor | AMD 29030 |
| Processor Speed | 25 MHz |
| ROM Size | 4 MB |
| Maximum Memory | 32 MB |
| Memory Slots | 2 – 72-pin SIMMs |
| Minimum Speed | 80 ns |
Connections
Connection
LocalTalk
Centronics Parallel
Ethernet
Power
| | |
| --- | --- |
| Maximum Continuous Power | 790 W |
Further Reading and References
Would you like to know more about Apple products? Stay up-to-date with the latest Apple News. Check our blog for the latest releases, rumors, and updates in the world of Apple.
Disclaimer: The data presented in this article is under continuous development and has been manually collected from various sources based on their availability. The author of this article may revise this dataset as additional research is conducted and reviewed. Please note that the information is provided "as is" and "as available" without express or implied warranties. The author cannot be held responsible for any omissions, inaccuracies, or errors in the published information. Any warranties relating to this information are hereby disclaimed.
Last updated: August 3, 2023