On March 2nd, 1987, Apple introduced the world to the Apple Standard Keyboard as part of their Apple Keyboard series. This pointing device was designed, manufactured, and sold by Apple from 1987 to 1990 and was introduced alongside the Macintosh II and Macintosh SE.
The Apple Standard Keyboard also known as Apple Keyboard was similar to the Apple Desktop Bus Keyboard, but featured a more solid and thicker frame. It utilized the new input connection method of the Apple Desktop BUS (ADB) and was designed to be compatible with both the Macintosh and Apple II series product lines.
However, the keyboard's lifespan was short-lived as it was discontinued on January 15th, 1990. Today, the Apple Standard Keyboard is 36 years old and holds a special place in the history of Apple's computer peripherals. Despite its discontinuation, the Apple Standard Keyboard remains a beloved device among vintage Apple enthusiasts and collectors.
It's interesting to see how far Apple's keyboard designs have come in the last 36 years, but the Apple Standard Keyboard will always hold a special place in the company's history. As technology continues to advance, it's important to remember and appreciate the devices that paved the way for the innovations we have today.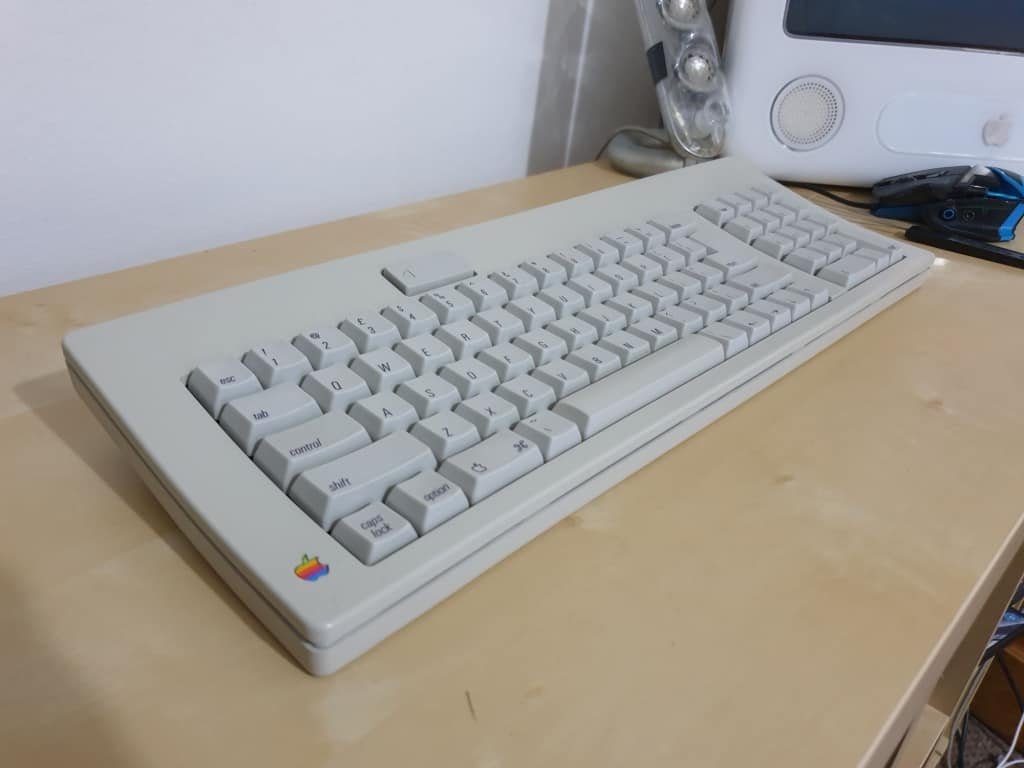 Apple Standard Keyboard Details
Introduced
March 2, 1987
Discontinued
January 15, 1990
Model Number
M0116
Original Price
Unknown
Weight
2.25 Ibs.
1.02 KG
Dimensions
1.75" H x 16.6" W x 5.6" D
4.44 cm H x 42.16 cm W x 14.22 cm D
System Requirements
Apple II computer or Macintosh with ADB port
Keyboard Specs
| | |
| --- | --- |
| Keys in Total | 81 |
| Alphanumeric | 48 |
| Special | 1 – Power |
| Numeric | 18 |
| Cursor-control | 4 |
Connections
Further Reading and References
Would you like to know more about Apple products? Stay up-to-date with the latest Apple News. Check our blog for the latest releases, rumors, and updates in the world of Apple.
Disclaimer: The data presented in this article is under continuous development and has been manually collected from various sources based on their availability. The author of this article may revise this dataset as additional research is conducted and reviewed. Please note that the information is provided "as is" and "as available" without express or implied warranties. The author cannot be held responsible for any omissions, inaccuracies, or errors in the published information. Any warranties relating to this information are hereby disclaimed.
Last updated: April 30, 2023