In the fast-paced world of technology, there are rare moments when a device captures the essence of innovation and convenience, leaving a lasting impact on its users. The Macintosh Duo Dock II, a revolutionary docking station designed and sold by Apple from 1994 to 1995, was one such marvel of its time. Part of the Duo Dock series of PowerBook Duo computers, this cutting-edge device reshaped the way users interacted with their Macintosh devices, seamlessly transitioning from mobile to desktop computing.
On May 16, 1994, the Macintosh Duo Dock II made its grand entrance into the tech market. Its sleek design, combined with its versatile functionality, made it an instant hit among Macintosh enthusiasts. Priced at $530, it may have been a premium investment, but the vast array of features it offered justified every penny.
The Macintosh Duo Dock II boasted an impressive lineup of features, many of which were way ahead of their time. Under the hood, it housed a powerful Motorola 68882 FPU coprocessor, ensuring smooth multitasking and enhanced computational capabilities. The station also featured a spacious 230 MB hard drive, providing ample storage for files and applications.
In terms of memory, users had the option of 4 MB or 8 MB RAM, which was considered generous back in the mid-90s. A 1.44 MB floppy drive offered a convenient means of data transfer and backup. The 1 MB video memory delivered crisp graphics and visuals, enhancing the overall user experience.
To complete the package, the Macintosh Duo Dock II came equipped with a built-in speaker, 3.5-mm input jack, and 3.5-mm output jack, allowing users to enjoy multimedia content with ease. The inclusion of an ADB port and two Serial connection ports expanded the device's versatility, accommodating various peripherals and accessories. Furthermore, with an Ethernet connection and a DA-15 video connection, users could effortlessly connect to networks and external displays, transforming their PowerBook Duo into a full-fledged desktop Macintosh.
The true magic of the Macintosh Duo Dock II was its ability to transform the PowerBook Duo into a powerful desktop workstation with just a single connection. This seamless transition between mobile and desktop computing set it apart from the conventional docking stations of its era. For professionals on the go, it was a game-changer, allowing them to maximize productivity without compromising on mobility.
For owners of Macintosh PowerBook Duo computers, the Macintosh Duo Dock II was an invaluable asset. It streamlined their workflow, eliminating the need to transfer files or adjust to different interfaces when switching between mobile and desktop modes. This unparalleled convenience made it a must-have for business travelers, designers, and creatives who valued efficiency and flexibility.
Alas, like all great technological wonders, the Macintosh Duo Dock II was discontinued on May 15, 1995, marking the end of an era. Today, the device has turned 29 years old, but its legacy lives on in the hearts of Macintosh fans worldwide. For those who were fortunate enough to own and use the Macintosh Duo Dock II, it remains a nostalgic and revered piece of technology.
The Macintosh Duo Dock II was more than just a docking station; it represented a paradigm shift in the world of computing. Its revolutionary design and advanced features made it a cherished piece of technology for Macintosh enthusiasts, offering a seamless transition between mobile and desktop computing. Though it may no longer be in production, its impact on the tech industry and the fond memories it evokes for its users ensure that the Macintosh Duo Dock II will forever be remembered as a timeless symbol of innovation and convenience.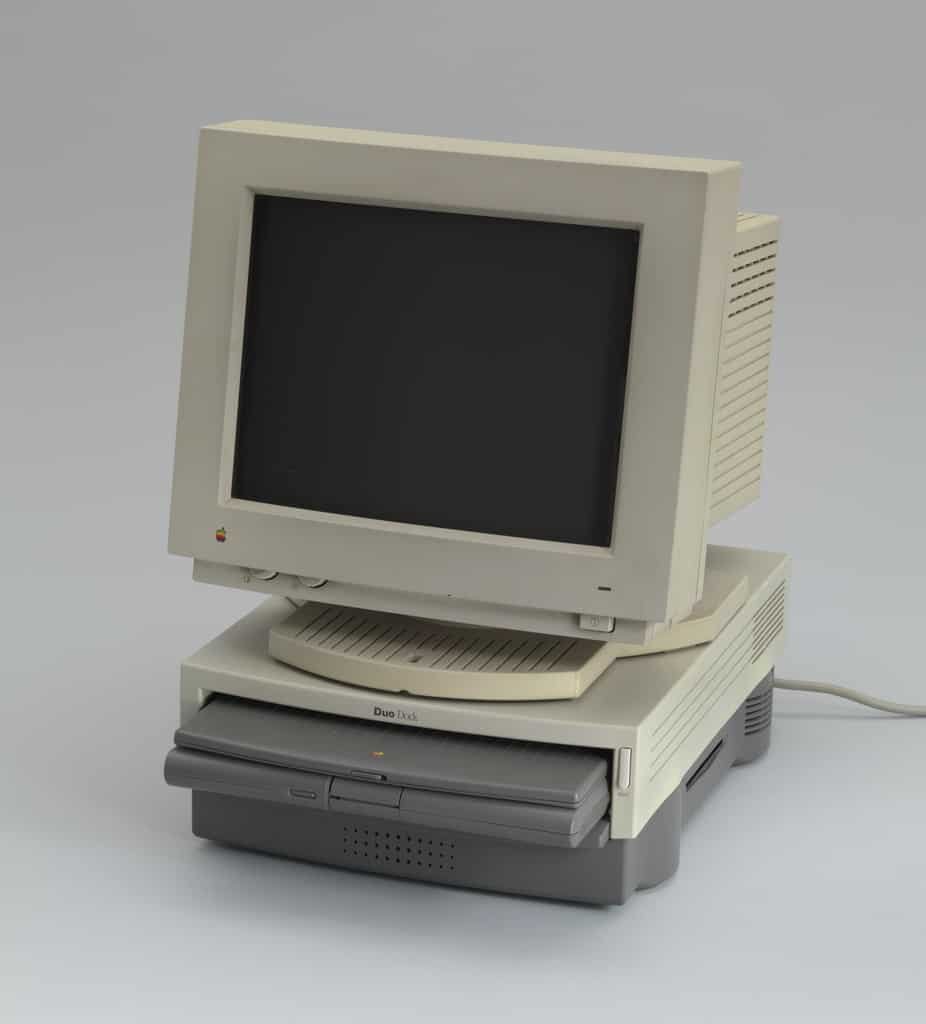 Macintosh Duo Dock II Details
Introduced
May 16, 1994
Discontinued
May 15, 1995
Model Identifier
38
Model Number
M1865LL/A
Original Price
$530
Colors
Grey
Weight
13.5 Ibs.
6.123 KG
Dimensions
5.1″ H x 12.3" W x 16.3" D
12.95 cm H x 31.24 cm W x 41.4 cm D
Duo Dock II Station Tech Specs
Processor
| | |
| --- | --- |
| Processor | None |
| Processor Speed | N/A |
| Architecture | N/A |
| Number of Cores | 1 |
| System Bus | N/A |
| Cache | N/A |
| Coprocessor | Motorola 68882 FPU |
Storage & Media
| | |
| --- | --- |
| Storage | 230 MB (Optional) |
| Media | 1 – 1.44 MB floppy |
Memory
Built-in Memory
4 MB of PSRAM
8 MB of PSRAM
Maximum Memory
36 MB
40 MB
Memory Slots
1 – PowerBook 53xx
Minimum Speed
70 ns
ROM
Unknown
Interleaving Support
No
Display
| | |
| --- | --- |
| Built-in Display | None |
| Resolutions | N/A |
Graphics
| | |
| --- | --- |
| Graphics Card | None |
| Graphics Memory | 1 MB |
| Display Connection | 1 – DA-15 |
Expansion
Expansion Slots
2 – 15 W
1 – 25 W NuBus cards
Hard Drive Interface
SCSI
Bays
N/A
Connections
Wi-Fi
None
Ethernet
AAUI-15
Modem
None
Bluetooth
None
ADB
1
Serial
2
SCSI
HDI-30
Floppy Port
None
Audio In
1 – 3.5-mm analog input jack
Audio Out
1 – 3.5-mm analog output jack
1 – Built-in speaker
Infrared
None
Display
1 – DA-15
Software
| | |
| --- | --- |
| Original OS | N/A |
| Maximum OS | N/A |
| Firmware | Macintosh ROM |
Power
| | |
| --- | --- |
| System Battery | N/A |
| Backup Battery | N/A |
| Maximum Continuous Power | 75 W |
| Line Voltage | N/A |
| Power Adapter | N/A |
Further Reading and References
Would you like to know more about Apple products? Stay up-to-date with the latest Apple News. Check our blog for the latest releases, rumors, and updates in the world of Apple.
Disclaimer: The data presented in this article is under continuous development and has been manually collected from various sources based on their availability. The author of this article may revise this dataset as additional research is conducted and reviewed. Please note that the information is provided "as is" and "as available" without express or implied warranties. The author cannot be held responsible for any omissions, inaccuracies, or errors in the published information. Any warranties relating to this information are hereby disclaimed.
Last updated: July 30, 2023