The 90s marked an era of remarkable technological advancements, and one product that stood out as a key player in this movement was the Apple Macintosh PowerBook 520c. Unveiled on May 16, 1994, this sleek and powerful notebook quickly became synonymous with cutting-edge technology. In this article, we delve into the PowerBook 520c's impressive features, its lasting impact on the industry, and why it remains a beloved collector's item for vintage tech enthusiasts.
At the heart of the PowerBook 520c was its 25 MHz Motorola 68LC040 processor, which catapulted it to the forefront of computing speed during its time. This performance boost made it a preferred choice for professionals seeking unmatched productivity on the go. Complementing the processor was a remarkable 9.5-inch color LCD display, a groundbreaking leap from the black and white displays dominating the market. With vibrant colors and sharp visuals, it delivered an immersive experience that was unparalleled.
The PowerBook 520c came with either 4 MB or 12 MB of RAM and storage options of 160 MB, 240 MB, or 320 MB hard drives. Additionally, the 1.44 MB floppy drive provided convenience for data transfer and backups, showcasing Apple's foresight in catering to user needs.
A trailblazer in every sense, the PowerBook 520c introduced several pioneering features that shaped the course of notebook design. One such innovation was the introduction of the "trackpad," a touch-sensitive input device where users could move the cursor with the swipe of a finger. This revolutionary concept has since become a ubiquitous feature in modern notebooks, proving Apple's penchant for foreseeing future trends.
Moreover, the PowerBook 500 series was the first to include dual swappable "bays," which offered flexibility in accommodating either one battery and a PCMCIA adapter or dual batteries for extended runtime. The inclusion of stereo speakers and built-in Ethernet further demonstrated Apple's dedication to providing cutting-edge functionality to its users.
Despite its groundbreaking features and outstanding performance, the PowerBook 520c was discontinued after merely one year on the market. However, its short-lived existence did not diminish its legacy. Today, after 29 years, the PowerBook 520c has become a sought-after collector's item for tech enthusiasts who appreciate vintage technology and design.
The sleek aesthetics, impressive computing capabilities, and pioneering features make it an object of desire among nostalgia seekers and tech historians alike. Owning a PowerBook 520c is akin to holding a piece of technological history, a testament to Apple's commitment to delivering top-notch products even in its early days.
The PowerBook 500 series, codenamed "Blackbird," was Apple's first foray into PowerBooks based on the 68LC040 processor. This series brought numerous firsts to the market, including the trackpad, PCMCIA slot, stereo speakers, built-in Ethernet, intelligent NiMH battery, expansion bay, and the automatic sleep feature when the lid was shut. These groundbreaking features not only set new standards for the industry but also laid the foundation for future notebook designs.
The Apple Macintosh PowerBook 520c stands as a remarkable example of 90s technological brilliance. Its cutting-edge performance, innovative design, and trailblazing features were ahead of its time and continue to inspire nostalgia among tech enthusiasts. As a pioneering product that shaped the course of notebook design, the PowerBook 520c will forever be remembered as an iconic milestone in Apple's journey of innovation and dedication to delivering exceptional products to its users.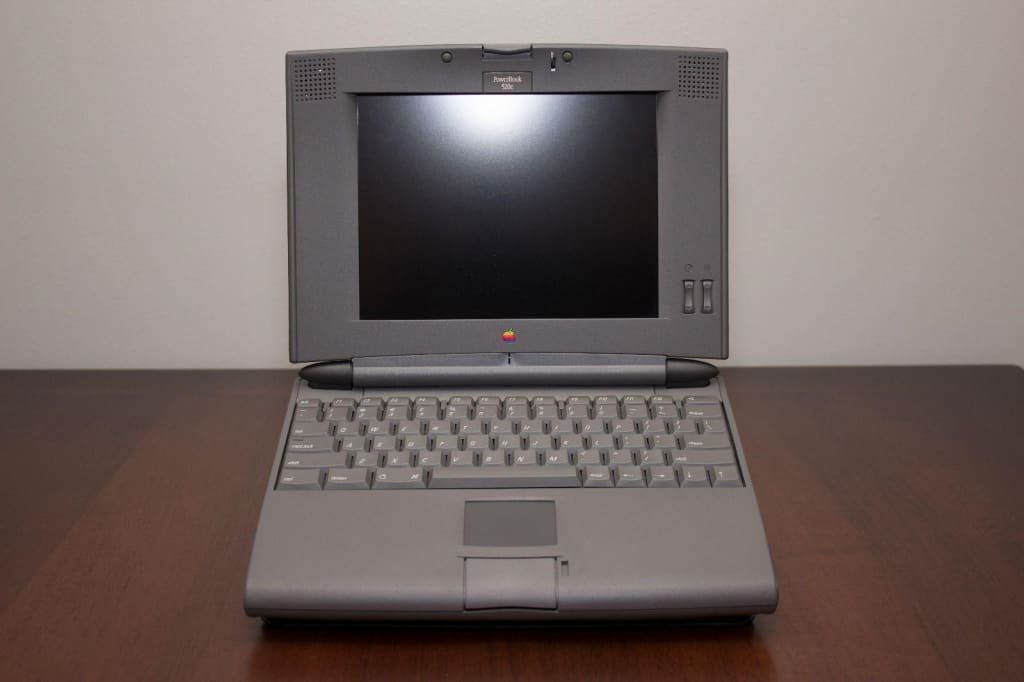 Macintosh PowerBook 520c Details
Introduced
May 16, 1994
Discontinued
September 16, 1995
Model Identifier
72
Model Number
M4880
Order Number
M1845LL/A
Original Price
$2,800
$2,900
$4,000
Colors
Dark Grey
Weight
6.4 Ibs.
2.900 KG
Dimensions
2.3" H x 11.5" W x 9.7" D
5.84 cm H x 29.21 cm W x 24.63 cm D
PowerBook 520c Tech Specs
Processor
| | |
| --- | --- |
| Processor | Motorola 68LC040 |
| Processor Speed | 25 MHz |
| Architecture | 32-bit |
| Number of Cores | 1 |
| System Bus | 25 MHz |
| Cache | 8 KB L1 |
| Coprocessor | None |
Storage & Media
Storage
160 MB
240 MB
320 MB
Media
1 – 1.44 MB floppy
Memory
Built-in Memory
4 MB
12 MB
Maximum Memory
36 MB
Memory Slots
1 – PB 5xx
Minimum Speed
70 ns
ROM
Unknown
Interleaving Support
No
Display
| | |
| --- | --- |
| Built-in Display | 9.5″ color dual-scan 8-bit LCD |
| Resolutions | 640 x 480 |
Graphics
| | |
| --- | --- |
| Graphics Card | None |
| Graphics Memory | 512 KB |
| Display Connection | 1 – Mini-15 |
Expansion
Expansion Slots
Modem
Optional Type II/III PC Card Bay
Hard Drive Interface
SCSI
Bays
PowerBook Expansion Bay PDS (90-pin)
Connections
Wi-Fi
None
Ethernet
1 – AAUI-15
Modem
None
Bluetooth
None
ADB
1
Serial
1
SCSI
1 – HDI-30
Floppy Port
None
Audio In
1 – 3.5-mm analog input jack
1 – Built-in microphone
Audio Out
1 – 3.5-mm analog output jack
1 – Built-in speaker
Infrared
None
Display
1 – Mini-15
Keyboard and trackpad
| | |
| --- | --- |
| Keyboard | Built-in 64-key (U.S.) or 64-key (ISO) 3.0-mm travel keyboard |
| Trackpad | Built-in trackpad pointing device |
Software
Power
| | |
| --- | --- |
| System Battery | PowerBook 500 Intelligent Battery M1906 (NiMH) |
| Backup Battery | Unknown |
| Maximum Continuous Power | 40 W |
| Line Voltage | Unknown |
| Power Adapter | Unknown |
Further Reading and References
Would you like to know more about Apple products? Stay up-to-date with the latest Apple News. Check our blog for the latest releases, rumors, and updates in the world of Apple.
Disclaimer: The data presented in this article is under continuous development and has been manually collected from various sources based on their availability. The author of this article may revise this dataset as additional research is conducted and reviewed. Please note that the information is provided "as is" and "as available" without express or implied warranties. The author cannot be held responsible for any omissions, inaccuracies, or errors in the published information. Any warranties relating to this information are hereby disclaimed.
Last updated: July 31, 2023