In the fast-paced world of technology, milestones often mark significant turning points for companies. The Apple Workgroup Server 9150 was undeniably one of those landmarks for Apple Inc. Launched on April 25, 1994, this server computer, part of the Workgroup Server series, targeted business users with its impressive specs and innovative design. Although it wasn't a commercial success and met its end in just two years, the WG Server 9150 remains a crucial piece of Apple's history, representing the company's early aspirations in the business market.
At its core, the Mac Workgroup Server 9150 was a powerhouse equipped with an 80 MHz or 120 MHz PowerPC 601 processor, accompanied by 8 MB, 16 MB, or 24 MB of RAM, and a 1 GB or 2 GB hard drive. Additionally, it boasted a 2x or 4x CD-ROM drive and a 1.44 MB Floppy drive – all of which were impressive specs for its era.
What set the WGS 9150 apart was its distinctive design, housed in a modified Quadra 950 case. In a unique move, Apple placed the floppy drive at the bottom of the case, deviating from the norm. This unusual configuration, coupled with the regular Mac DA-15 video connector, set it apart from other early Power Macintosh models.
Although the Workgroup Server 9150 didn't achieve commercial success, it occupies a special place in Apple's history. As the only Apple Workgroup Server model not based on a desktop Mac, it represented the company's ambition to explore new avenues in server computing. It served as a stepping stone for Apple, paving the way for future innovations in the business-oriented market.
Today, the Workgroup Server 9150 may be 29 years old, but its legacy lives on as one of Apple's earliest forays into server computers. Despite the discontinuation of the machine in February 1996 and being overshadowed by subsequent successful models, it stands as a testament to Apple's unwavering spirit of innovation and risk-taking.
Notably, the Workgroup Server 9150 was the only model in its series for which an equivalent Power Mac counterpart was never released. This made it even more unique and special, solidifying its position as a collector's item and a piece of tech history for enthusiasts worldwide.
For those who still cherish the Workgroup Server 9150, it's worth noting that upgrades can breathe new life into this classic machine. Processor direct slot (PDS) upgrades, not to be confused with NuBus CPU upgrades, can add power to the system. By adding a video card, instead of relying on the motherboard video, users can experience the best performance, unlocking the full potential of this aging marvel.
The Apple Workgroup Server 9150 might not have been a commercial hit, but it played a pivotal role in shaping Apple's history. As an essential part of the Workgroup Server series and the first of its kind not based on a desktop Mac, it showcased Apple's early commitment to business computing.
Though it has long been discontinued, the Macintosh Workgroup Server 9150 remains a symbol of innovation and a milestone that paved the way for Apple's future endeavors. So, whether you're an avid Apple fan or a server aficionado, the Workgroup Server 9150 undoubtedly deserves to be remembered, celebrated, and cherished for the lasting impact it made on the tech giant's journey.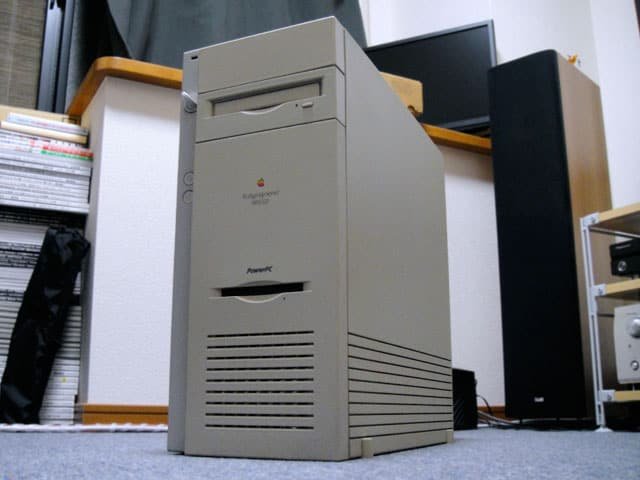 Workgroup Server 9150 Details
Introduced
April 25, 1994 (80 MHz)
April 3, 1995 (120 MHz)
Discontinued
April 3, 1995 (80 MHz)
February 26, 1996 (120 MHz)
Model Identifier
39 (80 MHz)
57 (120 MHz)
Model Number
M3125
Order Number
M4064LL/A
M4038LL/A
M41445LL/A
M4008LL/A
M4041LL/A
Original Price
$9,230
$11,350
Colors
Platinum
Weight
36.8 Ibs.
16.692 KG
Dimensions
18.6" H x 8.9" W x 20.6" D
47.24 cm H x 22.6 cm W x 52.32 cm D
Mac WGS 9150 Tech Specs
Processor
Processor
PowerPC 601
Processor Speed
80 MHz
120 MHz
Architecture
32-bit
Number of Cores
1
System Bus
40 MHz
Cache
32 KB L1
512 KB (80 MHz) or 1 MB (120 MHz) L2
Coprocessor
Built-in FPU
Storage & Media
Storage
1 GB
2 GB
Media
1 – 1.44 MB Floppy
1 – 2x CD-ROM (80 MHz)
1 – 4x CD-ROM (120 MHz)
Memory
Built-in Memory
8 MB
16 MB
24 MB
Maximum Memory
264 MB
Memory Slots
8 – 72 pin SIMMs (Group of 2)
Minimum Speed
80 ns
ROM
Unknown
Interleaving Support
No
Display
Graphics
| | |
| --- | --- |
| Graphics Card | None |
| Graphics Memory | 1 MB DRAM |
| Display Connection | 1 – DB-15 |
Expansion
Expansion Slots
4 – NuBus
1 – PDS
Hard Drive Interface
SCSI
Connections
Ethernet
AAUI-15
Modem
None
Wi-Fi
None
Bluetooth
None
ADB
1
Serial
2
SCSI
1 – DB-25
Floppy Port
None
Audio In
1 – 3.5-mm analog input jack
Audio Out
1 – 3.5-mm analog output jack
1 – Built-in speaker
Display
1 – DB-15 (Resolutions up to 832 x 624)
Software
Original OS
System Software 7.1.2 (80 MHz)
System Software 7.5 (120 MHz)
Maximum OS
Mac OS 9.1
Firmware
Macintosh ROM
Power
| | |
| --- | --- |
| Backup Battery | 3.6 V lithium |
| Maximum Continuous Power | 303 W |
| Line Voltage | 100-240 V |
Further Reading and References
Would you like to know more about Apple products? Stay up-to-date with the latest Apple News. Check our blog for the latest releases, rumors, and updates in the world of Apple.
Disclaimer: The data presented in this article is under continuous development and has been manually collected from various sources based on their availability. The author of this article may revise this dataset as additional research is conducted and reviewed. Please note that the information is provided "as is" and "as available" without express or implied warranties. The author cannot be held responsible for any omissions, inaccuracies, or errors in the published information. Any warranties relating to this information are hereby disclaimed.
Last updated: July 30, 2023