In 1997, the tech world witnessed a groundbreaking moment that would shape the future of personal computing. Apple, the company known for its innovative approach to technology, introduced the Power Macintosh 5500, a computer that would quickly become iconic in its own right.
With its blend of power, style, and advanced features, the Power Macintosh 5500 set a new standard for personal computers in its era. As we celebrate its 26-year anniversary, let's take a trip down memory lane and explore the impact of this classic machine.
On February 17, 1997, Apple unveiled the Power Macintosh 5500 to the world, with a starting price tag of $2,000. This sleek and powerful computer was equipped with a range of impressive features that made it stand out from the competition. Under the hood, it boasted a robust 225 MHz, 250 MHz, or 275 MHz PowerPC 603e processor, ensuring that it could handle the demands of both casual users and professionals alike.
One of the most striking elements of the Power Macintosh 5500 was its 15-inch color CRT display, a marvel of its time. This display brought vibrant colors and sharp visuals to users, making it a delight for multimedia enthusiasts. Complementing the display, the computer featured 32 MB of RAM, a 1 GB or 4 GB hard drive, a 12x or 24x CD-ROM drive, a 1.44 MB floppy drive, and a 2 MB ATI Rage IIc graphics card. It was a powerhouse packed into a sleek, all-in-one design.
The Power Macintosh 5500 wasn't just another computer; it was a game-changer. This machine offered users 2D/3D graphics acceleration and pre-installed video input/output expansion cards, making it an attractive choice for those in creative fields. The 15″ multiscan color monitor added a touch of elegance to the setup, making it a statement piece on any desk.
Originally targeted at the North American education and international consumer markets, the Power Macintosh 5500 quickly garnered attention. Apple recognized the demand among North American consumers and expanded its availability, bringing this technological marvel to a wider audience.
While the Power Macintosh 5500 shone brightly in its own right, it also had some unique variants. Notably, there was no LC-branded version, but Apple introduced the Power Macintosh One in the UK market. These variants added an extra layer of diversity to Apple's product lineup, catering to different regions and customer preferences.
Regrettably, the Power Macintosh 5500's production run was short-lived, as it was discontinued on August 31, 1998. However, its legacy endures. This computer served as a pioneer in its time, offering users an unmatched blend of power and style. It exemplifies the innovative spirit that has become synonymous with Apple and the lasting impact it had on the personal computing industry.
As we celebrate 26 years since the Power Macintosh 5500's introduction, let's take a moment to appreciate the legacy it left behind. Its influence on the world of technology cannot be overstated, and it serves as a testament to the constant pursuit of excellence that defines Apple's ethos.
The Power Macintosh 5500 was more than just a computer; it was a symbol of innovation and a beacon of progress in the tech world. Its sleek design, powerful features, and lasting impact make it a classic piece of technology worth celebrating, even 26 years later. Here's to the Power Macintosh 5500, a true icon in the world of personal computing.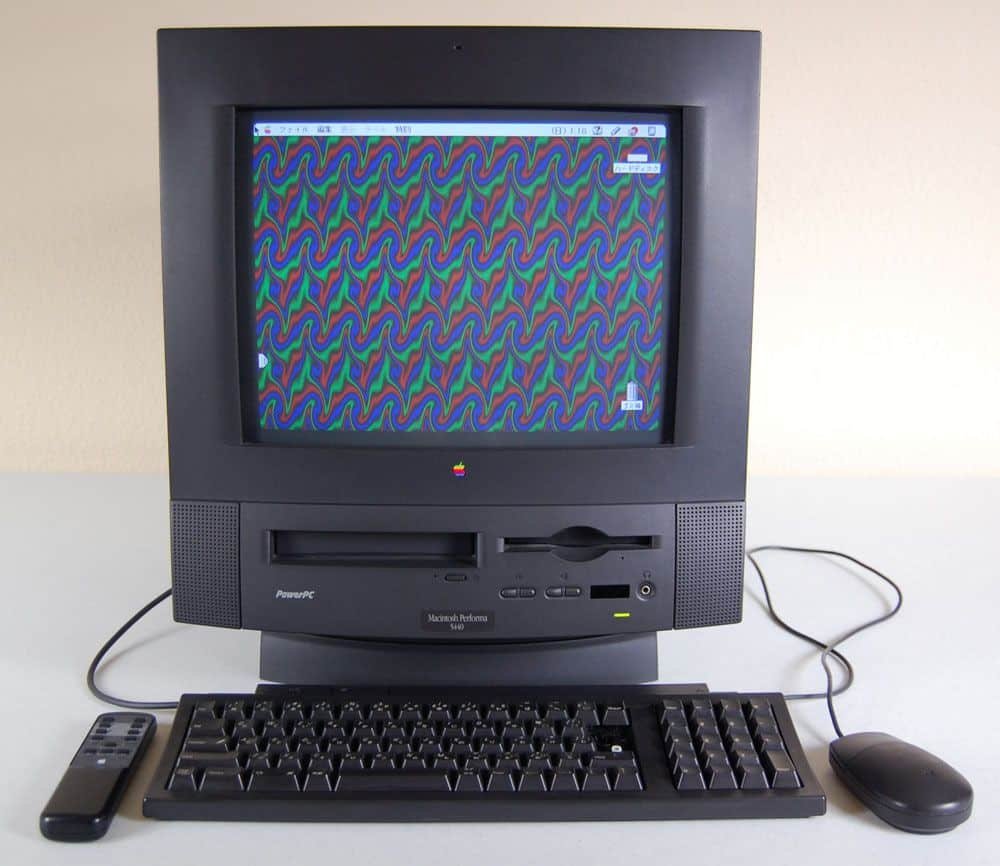 Power Macintosh 5500 Details
Introduced
February 17, 1997 (225 MHz & 250 MHz)
March 1, 1997 (275 MHz)
Discontinued
March 31, 1998 (225 MHz & 250 MHz)
August 31, 1998 (275 MHz)
Model Identifier
512
Model Number
Unknown
Order Number
M6149LL/A
M5761LL/A
M6148LL/B
Original Price
$2,000
$2,200
Colors
Platinum
Black
Weight
47 Ibs.
21.318 KG
Dimensions
17.5" H x 15.1" W x 16" D
44.45 cm H x 38.35 cm W x 40.64 cm D
Power Mac 5500 Tech Specs
Processor
Processor
PowerPC 603e
Processor Speed
225 MHz
250 MHz
275 MHz
Architecture
32-bit
Number of Cores
1
System Bus
50 MHz
Cache
32 KB L1
256 KB or 512 KB L2
Coprocessor
Built-in FPU
Storage & Media
Storage
2 GB
4 GB
Media
1 – 1.44 MB Floppy
1 – 12x CD-ROM or 24x CD-ROM
Memory
| | |
| --- | --- |
| Built-in Memory | 32 MB |
| Maximum Memory | 128 MB |
| Memory Slots | 2 – 168 pin EDO DIMM |
| Minimum Speed | 60 ns |
| ROM | Unknown |
| Interleaving Support | No |
Display
Built-in Display
15″ Multiscan RGB CRT Display
Resolution
512×384 at 24-bit
640×480 at 24-bit
800×600 at 24-bit
832×624 at 24-bit
1024×768 at 16-bit
1152×870 at 16-bit
1280×1024 at 8-bit
Graphics
| | |
| --- | --- |
| Graphics Card | ATI Rage IIc |
| Graphics Memory | 2 MB SGRAM |
| Display Connection | 1 – DB-15 |
Expansion
Expansion Slots
1 – PCI
1 – Comm. II Slot
1 – Video In
1 – TV Tuner
Hard Drive Interface
IDE
Connections
Ethernet
10BASE-T
Modem
None
ADB
1
Serial
2
SCSI
1 – DB-25
Floppy Port
None
Audio In
1 – 3.5-mm analog input jack
1 – Built-in microphone
Audio Out
2 – 3.5-mm analog output jack
2 – Built-in speaker
Display
1 – DB-15
Software
Power
| | |
| --- | --- |
| Backup Battery | 4.5 V Alkaline |
| Maximum Continuous Power | 220 W |
| Line Voltage | 100-240 V |
Further Reading and References
Would you like to know more about Apple products? Stay up-to-date with the latest Apple News. Check our blog for the latest releases, rumors, and updates in the world of Apple.
Disclaimer: The data presented in this article is under continuous development and has been manually collected from various sources based on their availability. The author of this article may revise this dataset as additional research is conducted and reviewed. Please note that the information is provided "as is" and "as available" without express or implied warranties. The author cannot be held responsible for any omissions, inaccuracies, or errors in the published information. Any warranties relating to this information are hereby disclaimed.
Last updated: September 2, 2023