In the mid-90s, Apple was a pioneer in the tech world, and its lineup of Macintosh computers was causing quite a stir. One model that left a significant mark on that era was the Performa 6218CD. Unveiled on July 11, 1995, this sleek machine quickly captured the hearts of both home users and business professionals. Despite its relatively short existence, this computer embodied Apple's innovation and commitment to excellence.
Priced at $2,300, the Performa 6218CD wasn't just a computer; it was a gateway to the future. Boasting remarkable specifications for its time, it featured a 75 MHz PowerPC 603 processor, a whopping 16 MB of RAM, a 1 GB hard drive, a 4x CD-ROM drive, and a trusty 1.44 MB floppy drive. In an era when these specs were cutting-edge, this machine symbolized Apple's dedication to pushing technological boundaries.
Alas, like many technological marvels, the Performa 6218CD's time under the spotlight was short-lived. On April 1, 1996, Apple took the model off the market to make way for newer and more advanced computers. This move was the company's way of ensuring that users were always at the forefront of innovation, even if it meant saying goodbye to a beloved product.
However, even after 28 years, the Performa 6218CD remains a cherished relic for Apple aficionados. Its iconic design and groundbreaking features stand as a testament to Apple's commitment to creating exceptional products. In a world that's now intricately connected and abuzz with technology, this computer transports us back to a simpler era of personal computing.
What set the Apple Macintosh Performa 6218CD apart was its capacity to bring multimedia to life. Designed as a modular system that was a breeze to set up, it featured a PowerPC processor-based technology that promised not only high performance but also the ability to evolve with the users' ever-growing multimedia and computing demands.
Packaged neatly in one box, you found not just the computer itself, but also an array of goodies: a color display, keyboard, mouse, and the software powerhouse of Apple's System 7.5 operating software. And let's not forget the cherry on top – a plethora of home, education, and home-business programs, plus CD multimedia titles that showcased the vast potential of the Macintosh applications.
The Performa 6218CD was more than just a computer; it was an invitation to explore the extraordinary. It offered features that other computers could only dream of having. A quadruple-speed CD-ROM drive, for instance, effortlessly accessed CD-based data, while the stereo 16-bit sound treated users to high-quality audio playback from their beloved CDs. The audio-input port even allowed users to create their own sounds, tapping into a creative realm.
But it didn't stop there. This machine was an early adopter of communication innovation, housing an internal 14.4-kilobits-per-second data and electronic fax modem with a full-duplex speakerphone and digital answering machine. It was a glimpse into a future where communication would be redefined.
The Performa 6218CD was not just a device; it was an experience. Its advanced multimedia expansion options allowed users to dive into a world of possibilities. With a video-in card, users could seamlessly connect to external video sources like VCRs or camcorders, bridging the gap between the digital and analog worlds. The video-out interface box was an open invitation to grand presentations on large-screen TVs, taking business meetings and creative showcases to a whole new level.
With its eWorld on-line service option and its subsequent replacement with America Online, the Performa 6218CD embodied the era's internet transition. The bundled eWorld application acted as a portal, connecting users via the modem to a server where they could access the America Online software. It was a snapshot of a time when the internet was in its infancy, shaping the digital landscape we know today.
While the Performa 6218CD was globally embraced, its business counterpart, the Power Macintosh 6200, was exclusively sold in Asia. This touch of exclusivity gave the model a unique aura, making it a symbol of sophistication in the tech world.
In the grand tapestry of tech history, the Apple Macintosh Performa 6218CD holds a cherished spot. Its impact extended beyond its short time on the market, reminding us of Apple's unwavering commitment to innovation, quality, and design. This computer wasn't just a machine; it was a portal to a simpler yet groundbreaking time in personal computing. And even today, as we look back at its legacy, we can't help but appreciate the journey it represents – a journey of technological evolution and unbridled creativity.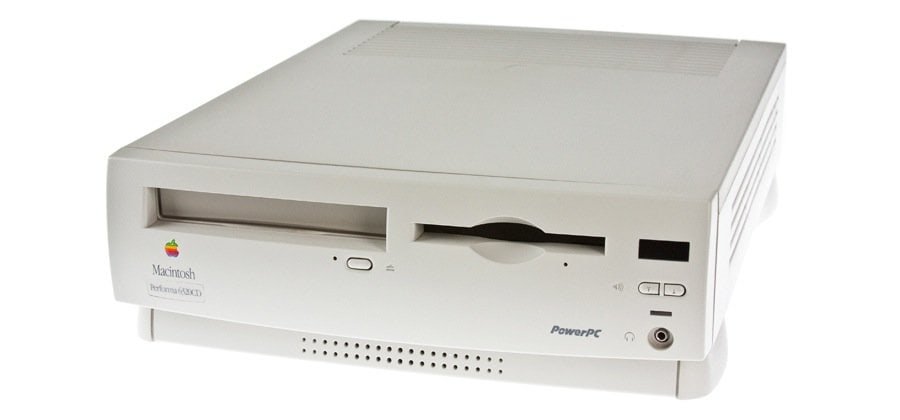 Macintosh Performa 6218CD Details
Introduced
July 11, 1995
Discontinued
April 1, 1996
Model Identifier
42
Model Number
M3076
Order Number
M4102LL/A
Original Price
$2,300
Colors
Platinum
Weight
19 Ibs.
8.618 KG
Dimensions
4.3" H x 12.6" W x 16.5" D
10.92 cm H x 32 cm W x 41.91 cm D
Mac Performa 6218CD Tech Specs
Processor
Processor
PowerPC 603
Processor Speed
75 MHz
Architecture
32-bit
Number of Cores
1
System Bus
37.5 MHz
Cache
16 KB L1
256 KB L2
Coprocessor
Built-in FPU
Storage & Media
Storage
1 GB
Media
1 – 1.44 MB Floppy
1 – 4x CD-ROM
Memory
| | |
| --- | --- |
| Built-in Memory | 16 MB |
| Maximum Memory | 64 MB |
| Memory Slots | 2 – 72 pin SIMM |
| Minimum Speed | 80 ns |
| ROM | Unknown |
| Interleaving Support | No |
Display
Graphics
| | |
| --- | --- |
| Graphics Card | None |
| Graphics Memory | 1 MB |
| Display Connection | 1 – DB-15 |
Expansion
Expansion Slots
1 – LC PDS
1 – Comm
1 – Video I/O
1 – TV
Hard Drive Interface
IDE
Connections
Ethernet
None
Modem
14.4k (external)
Wi-Fi
None
Bluetooth
None
ADB
1
Serial
2
SCSI
1 – DB-25
Floppy Port
None
Audio In
1 – 3.5-mm analog input jack
Audio Out
1 – 3.5-mm analog output jack
1 – Built-in speaker
Display
1 – DB-15
Software
Power
| | |
| --- | --- |
| Backup Battery | 4.5 V Alkaline |
| Maximum Continuous Power | 55 W |
| Line Voltage | Unknown |
Further Reading and References
Would you like to know more about Apple products? Stay up-to-date with the latest Apple News. Check our blog for the latest releases, rumors, and updates in the world of Apple.
Disclaimer: The data presented in this article is under continuous development and has been manually collected from various sources based on their availability. The author of this article may revise this dataset as additional research is conducted and reviewed. Please note that the information is provided "as is" and "as available" without express or implied warranties. The author cannot be held responsible for any omissions, inaccuracies, or errors in the published information. Any warranties relating to this information are hereby disclaimed.
Last updated: August 26, 2023