In the ever-evolving landscape of technology, we often forget the groundbreaking innovations of yesteryears. Back in 1996, Apple unveiled a marvel that embodied the pinnacle of computing excellence in its time – the Macintosh Performa 6320CD. This machine, though short-lived, was a testament to Apple's unwavering commitment to innovation and design.
On April 22nd, 1996, the Macintosh Performa 6320CD emerged as a technological marvel, setting hearts racing in the tech world. Retailing at a starting price of $2,600, it was considered a worthy investment. For good reason, too, as beneath its sleek exterior lay a powerhouse of features that made it a forerunner in the world of personal computing.
At the heart of this machine was the 120 MHz PowerPC 603e processor, a true marvel of its time. Paired with 16 MB of RAM, a 1.2 GB hard drive, a 4x CD-ROM drive, and a 1.44 MB floppy drive, it was a speed demon that could handle tasks with ease.
Even today, the specs stand as a testament to its engineering prowess. The 120 MHz processor was cutting-edge, ensuring a blazing performance that was unmatched in its era. The 1.2 GB hard drive, which seemed extravagant back then, now serves as a quaint reminder of the times when storage space was a premium commodity.
The Macintosh Performa 6320CD was not just about raw power; it was a multimedia masterpiece. Equipped with a quadruple-speed CD-ROM drive, it could access CD-based data swiftly, offering smooth playback of audio and video. The inclusion of a 16-bit stereo sound system ensured high-quality audio output.
One of its standout features was the Apple TV/Video System, which allowed users to connect external video sources and even capture images. With the aid of a TV antenna, you could even watch television programming right on your computer, a feature ahead of its time.
This Macintosh was not just a computer; it was a gateway to the digital world. It came bundled with a trial version of America Online, granting access to the World Wide Web, internet email, and a treasure trove of news and information.
The Macintosh Performa 6320CD was versatile in every sense. It doubled as a telephony hub, thanks to its high-speed internal fax modem and bundled Apple PlainTalk microphone and software. This meant you could use it as a speakerphone and even a digital answering machine – features way ahead of contemporary technology.
When you bought the Performa 6320CD, you weren't just getting a computer. In one neatly packed box, you received the computer, a color display, a keyboard, a mouse, an internal modem, and a microphone. What's more, it came with over a dozen home, education, and home-business programs, along with a collection of multimedia reference CDs.
For those in Asia, Apple also offered the business-oriented Power Macintosh 6300, a close sibling of the 6320CD. This exclusive variant catered to the unique needs of the Asian market.
As we look back on the Macintosh Performa 6320CD, we can't help but be awed by its pioneering spirit. It was a glimpse into the future, a testament to Apple's dedication to innovation and design. Even 27 years after its debut, it remains a symbol of technological excellence that continues to capture the imagination of tech enthusiasts. While we've moved on to newer and faster machines, the Performa 6320CD reminds us that every step in the evolution of technology is a milestone worth celebrating.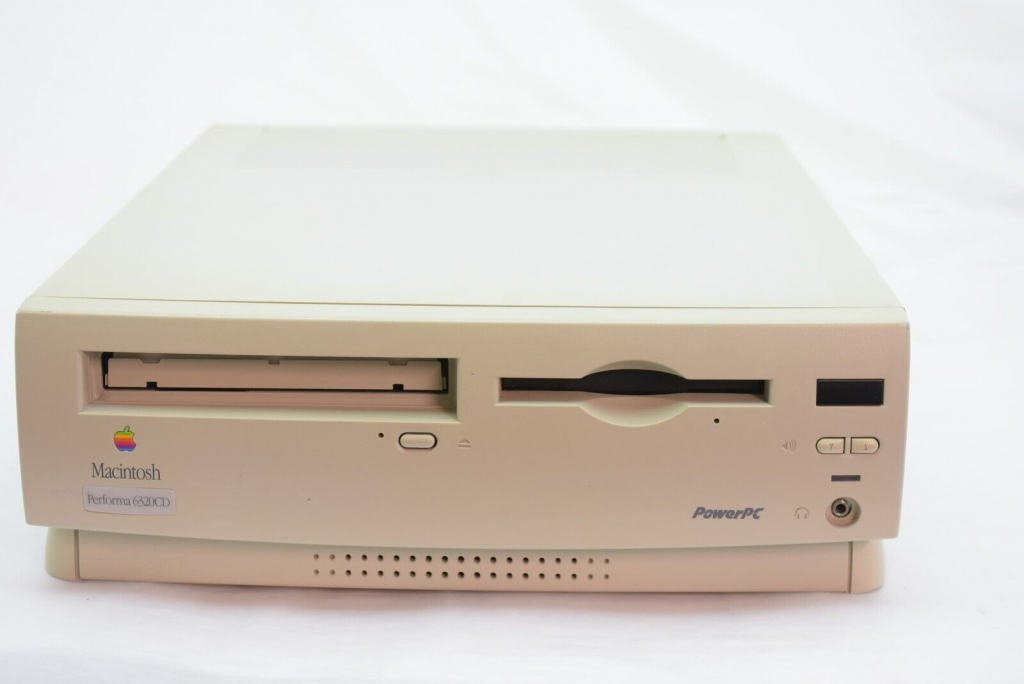 Macintosh Performa 6320CD Details
Introduced
April 22, 1996
Discontinued
September 1, 1996
Model Identifier
42
Model Number
M3076
Order Number
M4957LL/A
Original Price
$2,600
Colors
Platinum
Weight
19 Ibs.
8.618 KG
Dimensions
4.3" H x 12.6" W x 16.5" D
10.92 cm H x 32 cm W x 41.91 cm D
Mac Performa 6320CD Tech Specs
Processor
Processor
PowerPC 603e
Processor Speed
120 MHz
Architecture
32-bit
Number of Cores
1
System Bus
40 MHz
Cache
32 KB L1
256 KB L2
Coprocessor
Built-in FPU
Storage & Media
Storage
1.2 GB
Media
1 – 1.44 MB Floppy
1 – 4x CD-ROM
Memory
| | |
| --- | --- |
| Built-in Memory | 16 MB |
| Maximum Memory | 64 MB |
| Memory Slots | 2 – 72 pin SIMM |
| Minimum Speed | 80 ns |
| ROM | Unknown |
| Interleaving Support | No |
Display
Graphics
| | |
| --- | --- |
| Graphics Card | None |
| Graphics Memory | 1 MB |
| Display Connection | 1 – DB-15 |
Expansion
Expansion Slots
1 – LC PDS
1 – Comm
1 – Video I/O
1 – TV
Hard Drive Interface
IDE
Connections
Ethernet
None
Modem
None
Wi-Fi
None
Bluetooth
None
ADB
1
Serial
2
SCSI
1 – DB-25
Floppy Port
None
Audio In
1 – 3.5-mm analog input jack
Audio Out
1 – 3.5-mm analog output jack
1 – Built-in speaker
Display
1 – DB-15
Software
Power
| | |
| --- | --- |
| Backup Battery | 4.5 V Alkaline |
| Maximum Continuous Power | 55 W |
| Line Voltage | Unknown |
Further Reading and References
Would you like to know more about Apple products? Stay up-to-date with the latest Apple News. Check our blog for the latest releases, rumors, and updates in the world of Apple.
Disclaimer: The data presented in this article is under continuous development and has been manually collected from various sources based on their availability. The author of this article may revise this dataset as additional research is conducted and reviewed. Please note that the information is provided "as is" and "as available" without express or implied warranties. The author cannot be held responsible for any omissions, inaccuracies, or errors in the published information. Any warranties relating to this information are hereby disclaimed.
Last updated: September 4, 2023