In the ever-evolving landscape of personal computing, one name has consistently pushed boundaries and set new standards: Apple. In 1996, the tech giant introduced the Power Macintosh 6300, a machine that would leave an indelible mark on the industry.
Back in 1996, Apple unveiled the Power Macintosh 6300, a jewel in their Power Macintosh line of computers. This sleek personal computer was a testament to Apple's dedication to innovation. From its inception on June 27, 1996, the 6300 quickly gained a fervent following among Mac enthusiasts.
At its core, the Power Macintosh 6300 was a powerhouse. It boasted a formidable 120 MHz or 160 MHz PowerPC 603e processor, catapulting it to the forefront of the market. With 16 MB of RAM and a capacious 1.2 GB hard drive, it catered seamlessly to both personal and professional needs. The option of a 4x or 8x CD-ROM drive added a layer of versatility, while a 1.44 MB floppy drive ensured easy data handling.
The Power Macintosh 6300 was more than just clock speed. It embraced the cutting-edge "Alchemy" architecture, akin to its sibling, the Power Macintosh 5400. This translated to performance enhancements beyond what the processor speed alone could achieve. Notably, it featured an L2 cache slot that could be transformed into a processor direct slot, allowing for an upgrade to a PowerPC G3 processor.
In a move that highlighted Apple's global vision, the Power Macintosh 6300 found its consumer avatar as the Macintosh Performa 6360. This iteration brought the Power Macintosh experience to a broader audience, with worldwide availability and the inclusion of a TV/video system.
Regrettably, the journey of the Power Macintosh 6300 was relatively brief, ceasing production on July 1, 1997. However, its legacy lives on, resonating through the annals of computing history. Even after 27 years, it remains a testament to Apple's unwavering dedication to innovation and creativity.
While primarily sold in Asia, the Performa 6320CD, the consumer variant, made waves worldwide. Its integration of a TV/video system added a unique dimension to the user experience.
In retrospect, the Power Macintosh 6300 was more than a computer; it was a beacon of Apple's relentless pursuit of excellence. Its powerful specs, innovative architecture, and global reach marked it as a milestone in the evolution of personal computing.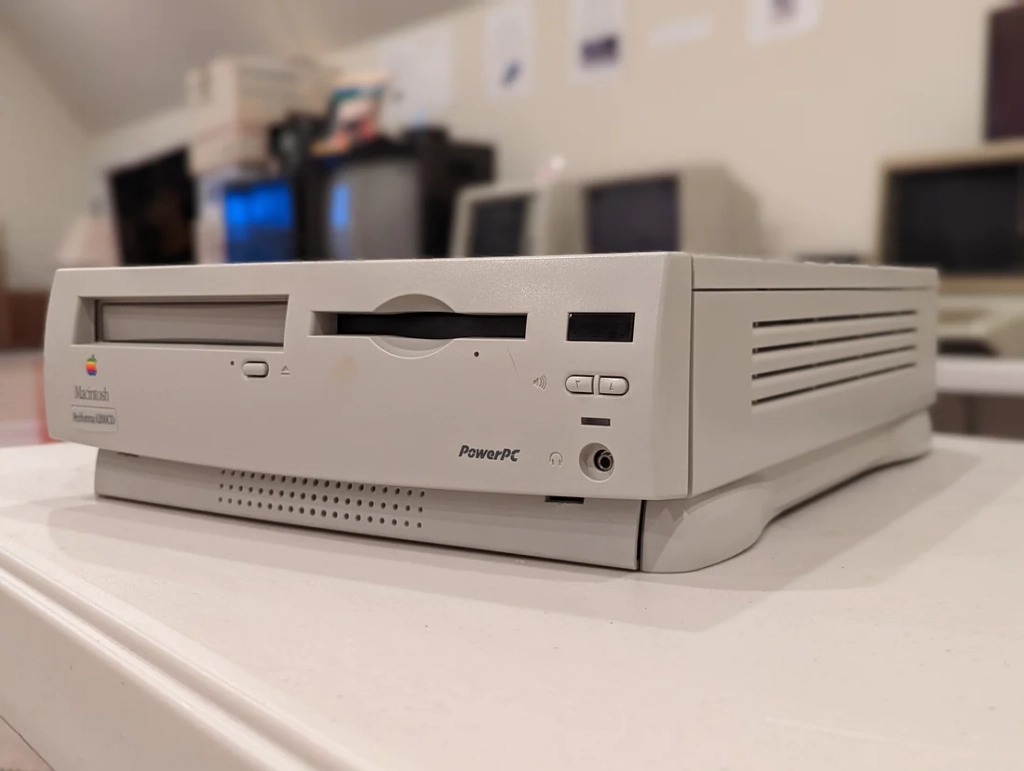 Power Macintosh 6300 Details
Introduced
June 27, 1996
Discontinued
July 1, 1997
Model Identifier
42
Model Number
M3076
Order Number
M4975J/A
Original Price
Unknown
Colors
Platinum
Weight
19 Ibs.
8.618 KG
Dimensions
4.3" H x 12.6" W x 16.5" D
10.92 cm H x 32 cm W x 41.91 cm D
Power Mac 6300 Tech Specs
Processor
Processor
PowerPC 603e
Processor Speed
120 MHz
160 MHz
Architecture
32-bit
Number of Cores
1
System Bus
40 MHz
Cache
32 KB L1
256 KB L2
Coprocessor
Built-in FPU
Storage & Media
Storage
1.2 GB
Media
1 – 1.44 MB Floppy
1 – 4x CD-ROM or 8x CD-ROM
Memory
Built-in Memory
16 MB
Maximum Memory
64 MB
Memory Slots
2 – 72 pin SIMM (120 MHz)
2 – 168 pin DIMM (160 MHz)
Minimum Speed
80 ns
ROM
Unknown
Interleaving Support
No
Display
Graphics
| | |
| --- | --- |
| Graphics Card | None |
| Graphics Memory | 1 MB |
| Display Connection | 1 – DB-15 |
Expansion
Expansion Slots
1 – LC PDS (120 MHz)
1 – PCI (160 MHz)
1 – Comm
1 – Video I/O
1 – TV
Hard Drive Interface
IDE
Connections
Ethernet
None
Modem
None
Wi-Fi
None
Bluetooth
None
ADB
1
Serial
2
SCSI
1 – DB-25
Floppy Port
None
Infrared
Built-in IR receiver
Audio In
1 – 3.5-mm analog input jack
Audio Out
2 – 3.5-mm analog output jack
1 – Built-in speaker (160 MHz)
2 – Built-in speaker (120 MHz)
Display
1 – DB-15
Software
Power
Backup Battery
4.5 V Alkaline
Maximum Continuous Power
55 W (120 MHz)
150 W (160 MHz)
Line Voltage
115 V AC (90 V to 132 V AC) or 230 V AC (180 V to 264 V AC)
Further Reading and References
Would you like to know more about Apple products? Stay up-to-date with the latest Apple News. Check our blog for the latest releases, rumors, and updates in the world of Apple.
Disclaimer: The data presented in this article is under continuous development and has been manually collected from various sources based on their availability. The author of this article may revise this dataset as additional research is conducted and reviewed. Please note that the information is provided "as is" and "as available" without express or implied warranties. The author cannot be held responsible for any omissions, inaccuracies, or errors in the published information. Any warranties relating to this information are hereby disclaimed.
Last updated: September 17, 2023